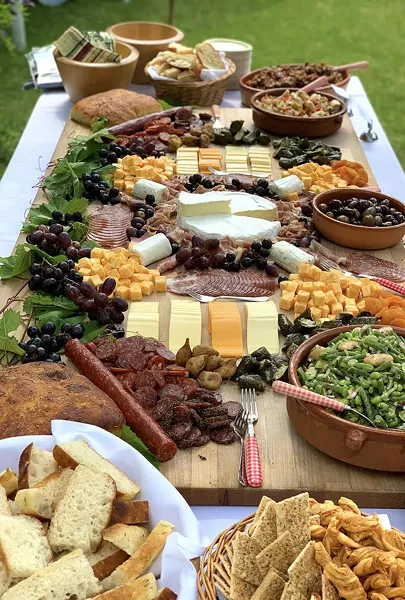 Photos courtesy of Blue Mountain Bistro-To-Go

Getting married in the Hudson Valley is a bit like an Instagram fever dream come to life. And it's not just the stunning scenery that makes couples crazy for tying the knot here. The region is second to none when it comes to its farm-to-table ethos, so you can treat your guests to food and drink that is produced, raised, brewed, or distilled just miles away.

Working with a Hudson Valley caterer who focuses on seasonality is a little different from working with caterers whose menus are the same all year round. So if you're looking to showcase the bounty of the seasons at your wedding, here are a few things you should keep in mind.


Shape Your Budget Around Your Food

Getting married is an expensive undertaking. According to Mary Anne Erickson, who co-owns Kingston's Blue Mountain Bistro-To-Go with her husband Richard, food cost can quickly become one of your top line items with a seasonal or local wedding menu. Bistro-To-Go on Route 28 is known for their locally influenced catering, which is driven by the same local sourcing philosophy the Ericksons developed at their former Woodstock restaurant, Blue Mountain Bistro, over 25 years ago.

If locally sourced food is a top priority for your wedding and you're trying to stay on budget, Erickson suggests taking a good hard look at your guest list. "I know it's hard to cut headcount," she says, "But limiting the number of guests means you can actually feed people the way you want and have the quality that you want."

Ask About Sourcing and Sustainability Practices
If you're paying for a locally sourced menu, don't be afraid to ask your prospective caterer which farms and producers they source from. "The whole farm-to-table movement has really changed people's food awareness," Erickson says. "We love being able to support organizations that are committed to the highest standards for their animals and production, like Hudson Valley Fresh." The dairy cooperative sources from 10 family farms in Duchess, Ulster, and Columbia counties and delivers fresh milk to Bistro-To-Go within 36 hours of milking on the farms.
Photos courtesy of Blue Mountain Bistro-To-Go
Roll with the Seasons
Caterers who source seasonally also have more freedom to improvise their menus based on the available harvest, so it's important to be flexible with your expectations. "You're not going to have the typical foods you might find at a more standardized wedding venue in New York City," says Erickson. When starting conversations with prospective caterers, keep your mind and your menu open—and trust them when they say that Brussels sprouts aren't going to make an appearance at your May wedding.
This wisdom also holds true with it comes to your tasting. It's standard practice for most caterers to offer a full tasting to help you lock down your menu selections. But you might not be able to try your late-harvest September dishes in February. If you can't try the exact set of dishes you'd like to have at your wedding, ask your prospective caterer if there's a way to try what they're serving right now.
"People can come in and taste what we do every day," says Erickson, referring to the Bistro-To-Go's daily array of takeaway options. "And it's going to be the exact same quality as what you'll get at your wedding." Trying your caterer's food before you sign a contract can give you peace of mind to make it to the formal tasting, where you'll get to taste your dishes in the season they're actually intended for.
To find out more about Blue Mountain Bistro-To-Go's catering options, visit bluemountainbistro.com.