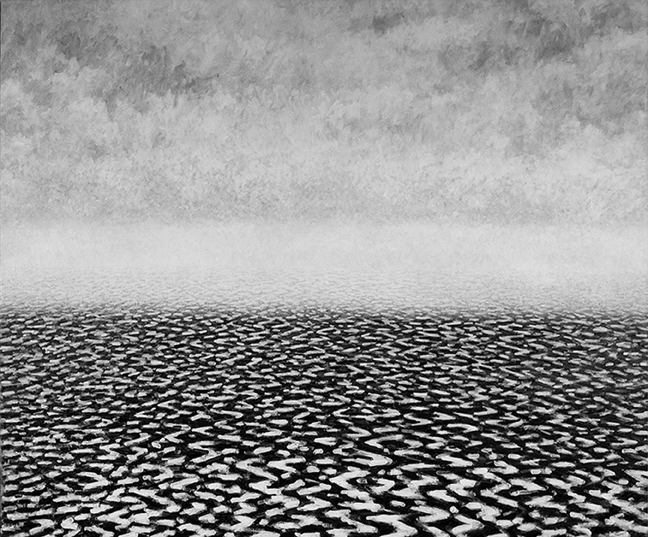 Transition, Tom Sarrantonio, oil on canvas, 2006
As I write this, the results are in—and apparently, the majority of American voters have decided that it's time for a change. I have the feeling that we are about to see more changes than any of us could anticipate, what with the global economic recession, the state government thrown into a budget crunch, and a half dozen other crisis points and instabilities thrown in for good measure. Change can be a scary prospect, even when the time is ripe and embracing it will ultimately bring better times, a better situation.
I find myself at something of a crossroads here as well—after writing this column, "Lucid Dreaming" for the past nine years, I find that the time has come to let it go. I recently started a full-time lecturer position at SUNY New Paltz, which this semester involves teaching four courses plus organizing an exhibition for the Dorsky Museum, a workload that makes writing the monthly column an impossible task to keep up. This was not an easy decision to reach, and certainly not one to be made lightly, but at a certain point I need to realize that there's only so much of me to go around. I do recall that back when Brian Mahoney first asked me to write the regular art column, back in 1999, my first response was to say that I needed to consider the offer, mostly so I could decide whether I would be capable of making the proper commitment to a regular monthly review. As it turns out, I only skipped two months of that time altogether, producing 108 columns, totaling something in the vicinity of 120,000 words. (How's that for commitment?)
Of course, my primary commitment over these years has been to recognize and to articulate something of the amazing, constantly developing art scene up and down the length of the Hudson Valley (and sometimes a bit beyond). If I were to sit down and make a list of all the many talented, smart, oddball, fascinating artists, gallery owners, and general art-world characters I've met—most of them as a direct result of writing the column—I could fill these pages twice over. There's definitely a critical mass of thoughtful, artistically inclined people in our region, and this makes possible the rich, eccentric, magnificently nuanced mix of people, ideas, and work that has made up the scene that I've come to know and appreciate so well all these years.
There are many artists I first discovered in the context of a group exhibition here, an intriguing press release there, and whose work I've witnessed as it has developed over time. Indelibly engraved on my memory, for example, are the beautiful and moving performances of Eeo Stubblefield, in particular Who Cares?, which she staged in a storefront for the Ellenville "10x10x10" show a few years ago. Focused on the human tragedy of civilian deaths in Iraq, she collected terrible images from the conflict of dead men, women, and children from various sources on the internet, and printed them onto simple pieces of cloth. Dressed in a black burqa, she then constructed a ritualized process of scrubbing these imprinted cloths (as though trying to remove the bloodstains), then pinning them to a simple white cloth that served as a tunic for bundles of fresh-cut grasses and flowers, totem-like reminders of the children killed and injured. Accompanied by plaintive a capella singing, witnessing one of these performances was by turns emotionally raw and engaging, cathartic and draining. The power of Eeo's ability to channel her immense compassion into such communicable form is something that I feel truly privileged to have experienced firsthand.
On a very different note, I was also awestruck by Luba Donskoj, the extremely industrious, nonagenarian mother of Kingston gallerist George Donskoj, who lived a long, at times tumultuous life, eventually discovering in her old age an insatiable need to transform virtually everything that passed through her hands into art. (I owe a major shout-out to Linda Montano for making the introduction for me.) Paintings on silk, on wood, on ostrich eggs, and even on canvas—she did them all. When she wasn't painting something, she was gluing sequins or seashells onto some chance knickknack to convert it into an impromptu sculpture. I've never met a more natural artist, one who lived and breathed her creativity without a whit of self-consciousness about it. Luba passed away a year ago last August, and the world is a much poorer place for it.
The painting that illustrates this last column is by Tom Sarrantonio—literally the first artist I met when I moved to the Hudson Valley in 1994. He was the subject of my first-ever Lucid Dreaming column in October 1999, and so I thought it appropriate to have him here for the last edition of this feature as well. Over the years, I have remained consistently impressed with Tom's ability to adapt, change, and continue to push the horizon of his aesthetic vision, all within the constraints of the deceptively modest genre of landscape painting. Sometimes the simplest things are the hardest to realize, and Tom achieves what he does because he is thoughtful, disciplined, dedicated, and utterly without arrogance or hubris about what he does.
True artists are people who dedicate themselves to doing what they are compelled to do—they live most fully in the act of creation itself, and invite us along to share the experience. I'm immensely grateful for the many artists who've invited me into their studios, spoken at length with me at art openings, and otherwise opened up elements of their work and their thought process for me to write about.
I've also got to thank Brian Mahoney, Jason Stern, and the staff at Chronogram, who have been nothing but supportive of my efforts, offering me a blank slate each month to write about whatever I wished, making whatever critical judgments I felt were warranted. (This is unheard of in any other publication I've ever heard of, by the way.) I do hope to return to the pages of the magazine from time to time, writing previews of worthwhile exhibitions and other art-related events, and perhaps something a bit more on occasion, if Brian will give me the space.
In the meantime, I'll be turning my energies toward my responsibilities at SUNY New Paltz, with plans to continue working with and writing about artists and projects of particular interest that I first encountered in the context of writing Lucid. So while I may be gone from these particular pages on a monthly basis, I'll still be working (if a bit more behind the scenes) to continue the path that Lucid Dreaming started me on, all those years ago.