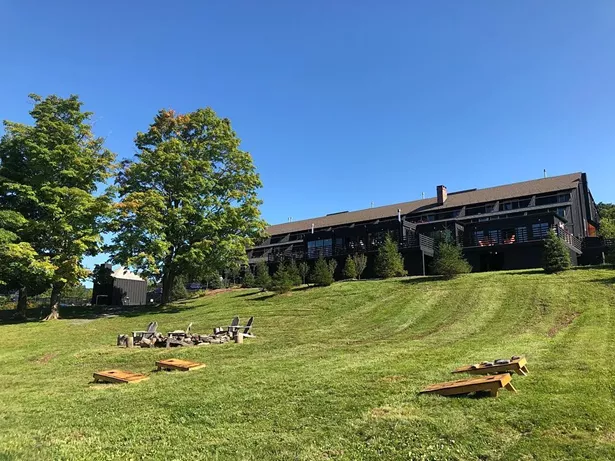 Since 1966, Scribner's Catskill Lodge in Hunter has been a meeting place for travelers and adventurers. Surrounded by the idyllic peaks of the Catskills, this chic mountain lodge is endlessly comfortable, boasting warm interiors and friendly staff.
A History in Hospitality

Before the Scribner's Catskill Lodge became a mainstay of the Hudson Valley, the Hunter Mountain Prospect House, erected on the same site in 1881, was an opulent beacon amid the mountains for travelers and locals alike. The grand hotel could sleep hundreds and became known as a summer social center and recreational haven for those looking to escape from the daily grind. Though, as steamboat travel was replaced by more efficient and economical travel, the lodge, situated along the Hudson River, soon lost most of its visitors to more conveniently located hotels and restaurants.
Fast forward to the 1960s, and the forgotten site was rehabilitated and turned into the Scribner Hollow Motor Lodge. In its motor lodge incarnation, Scribner was legendary for its indoor swimming "grotto" and the wild parties that remained a mystery, tucked inside the walls of the popular local estate. For decades, it served guests visiting to hit the slopes at the Hunter Mountain Ski Bowl, still located across the street from the lodge, and tourists looking to explore the nearby towns and nature trails.
A New Era for Scribner

Though, as with all things that age over time, it became clear that the lodge needed a new purpose and mission—along with a massive facelift. Reopening in November of 2016 following extensive renovations, Scribner's Catskill Lodge was born out of a desire to modernize the building's existing bones while still honoring its history.
"The history of the space was considered as a factor, but the purpose of the property remains the same—a refuge for people looking to escape, as well as a venue for hosting events," says Sarah Simon, Marketing and Communications Director of the lodge.
The lodge was largely reimagined by owner Marc Chodock and eventually executed by creative group Studio Tack. After the remodel, the 38 rooms, a full-service restaurant, pool, and thoughtful common spaces were redesigned with dark maple floors, vintage rugs, fireplaces, and custom furniture.
Prospect, the on-site restaurant, serves up quintessential American dining with a twist, with an ever-changing menu and cuisine that incorporates locally-sourced products and vegetables grown on the premises. Between meals, guests can sip cocktails and local beers and ciders either inside the dining room, featuring floor to ceiling windows, or out on the surrounding deck.
With its unmatched scenery and impeccably designed interior, Scribner's Catskill Lodge is yet again becoming the ultimate siren song to travelers on any part of their journey.