When David Cavallaro and Dan Giessinger bought the Jacob Hasbrouck House—one of High Falls's most historic properties, also known as Shadow Lawn, situated on six acres at the top of the waterfall—the art educator and jewelry-designer-turned-property-manager had a very clear idea of what an 18th-century stone house should look like. That vision did not include garish `70s wallpaper. Exposed electrical wires? Perish the thought. When a house is almost three centuries old, you don't just run to Home Depot for a new door; you have one made, milled to period dimensions. Hence costs add up quickly.
"You want your restoration and renovation to be as faithful as possible, but you also need to be physically comfortable and at ease in your home," says Giessinger. He confides that nevertheless playing with the idea of "all candlelight" and other antediluvian follies was initially seductive. But the open flames would spike the risk of structural fires, while also spewing soot. So that "Let's be really authentic" train of thought quickly broached insanity, even in the unlikely event that Cavallaro and Giessinger could have slid the anachronism past the mortgage holder and property insurer.
Thus, however pure their curatorial intentions, every update entails compromise. "Trying to minimize the visibility of the electrical wiring, for example, in a house like this is a messy, labor-intensive endeavor," says Giessinger. "You do your best to hide all the modern systems, and that means there's a lot of dismantling and replastering of walls."
Giessinger standing in the rear door of the three-story barn, renovated to host events.
Adjacent the High Falls Co-Op
Although the Hasbrouck house was a commodious residence for the era, back in the day, life was hard, dark, and often cold. One grim reminder: the slave's quarters, once under the rafters, now updated and offered on a semester basis to a fortunate SUNY New Paltz student. Cavallaro is the Assistant to the Dean of Fine and Performing Arts. That's where the couple met 24 years ago, too. Giessinger, a native of North Dakota, was attracted to the school's top-rated metals MFA program; they met at a party and have been together ever since.
The couple was looking at houses in Maine when they found Shadow Lawn just as it was about to be listed for sale. It's next to the High Falls Co-Op, a community-oriented health food store that's also a local icon, where Cavallaro and Giessinger are regulars. Their other neighbor is an 80-year-old lady who belongs to an organization called "The Manhattan Club." "They get together on Fridays at 5:15 and drink Manhattans," says Giessinger. "We've had the group meet here, and sometimes I join them elsewhere."
A wedding reception hosted in the barn in early October.
Giessinger and Cavallaro declined to say what they paid for Shadow Lawn in 2004. They don't know everything they'd like to learn about the property's history, but the estate was owned by the Sahler family for almost 200 years. When Jacob Hasbrouck owned it, the High Falls waterfall powered a mill, and the tract spanned 300 acres, most of which were farmed. Occasionally people with connections to the property stop by—Giessinger graciously invites them inside for a tour. To recoup some of the renovation expenses, the couple occasionally rents Shadow Lawn for weddings and other private parties. Giessinger and Cavallaro are considering eventually converting Shadow Lawn into a bed-and-breakfast.
"We won't retire here. It's just too much constant work," says Giessinger.
Over the years, the main house, which has a section that may date to 1730, was expanded in phases to its present size of about 4,000 square feet and 14 rooms. That meant that a certain unification of stylistic and functional detail was required to maximize the home's aesthetic potential. The couple replaced modern-ish windows with styles more appropriate to the period of the house. A particular success: The exterior trim is all painted "Cabbage Patch" by Benjamin Moore. "We held up a lot of swatches, and this color goes perfectly with the stone," says Giessinger.
The dining room features a former library table that came with the house as its centerpiece. The artwork on the rear wall is by Myra Mimlisch Gray.
Keeping the main house as period as possible—yet tucking a flat-screen television discreetly into the corner of the most-used room—they've modernized without erasing history. The redone guest house has a new full bath plus a laundry room, while the gigantic party barn is illuminated with inexpensive Chinese lanterns. The glowing rice-paper bubbles of light elegantly contrast the remarkable rectilinear carpentry of the 1897 barn, the proverbial circle inside the square. The barn has vaulted ceilings and measures 30 by 60 feet; it's been completely restored. Cavallaro adores his haute Hudson Valley party barn, but with a touch of wistfulness, because it came at the expense of his dream kitchen. Their much-loved carpenter, Taylor Richey, warned that if the homeowners did not invest quickly in the structure, it would fall down. That meant that the couple, who practically speak in close harmony, had to fix up the kitchen on a tight budget. It's nevertheless lovely, with a bay window and two interior stone walls—the 1930s addition is grafted onto what was once the home's exterior. But it's relatively modest. "Of course I'm glad we listened to Taylor about saving the barn. But I haven't given up. We are going to really do the kitchen up right one of these days," says Cavallaro, whom Giessinger describes as a "wonderful cook."
Septic Hell
Cavallaro and Giessinger would rather whinge about onerous process of getting Shadow Lawn tagged for historic designation in New York—the paperwork takes about 80 hours—in lieu of sharing the story of their septic-upgrade hell. But the fact that it cost them three attempts, over $30,000, and the expertise of both an engineer and an excavator to solve their problem is by far the strangest aspect of their home-renovation venture.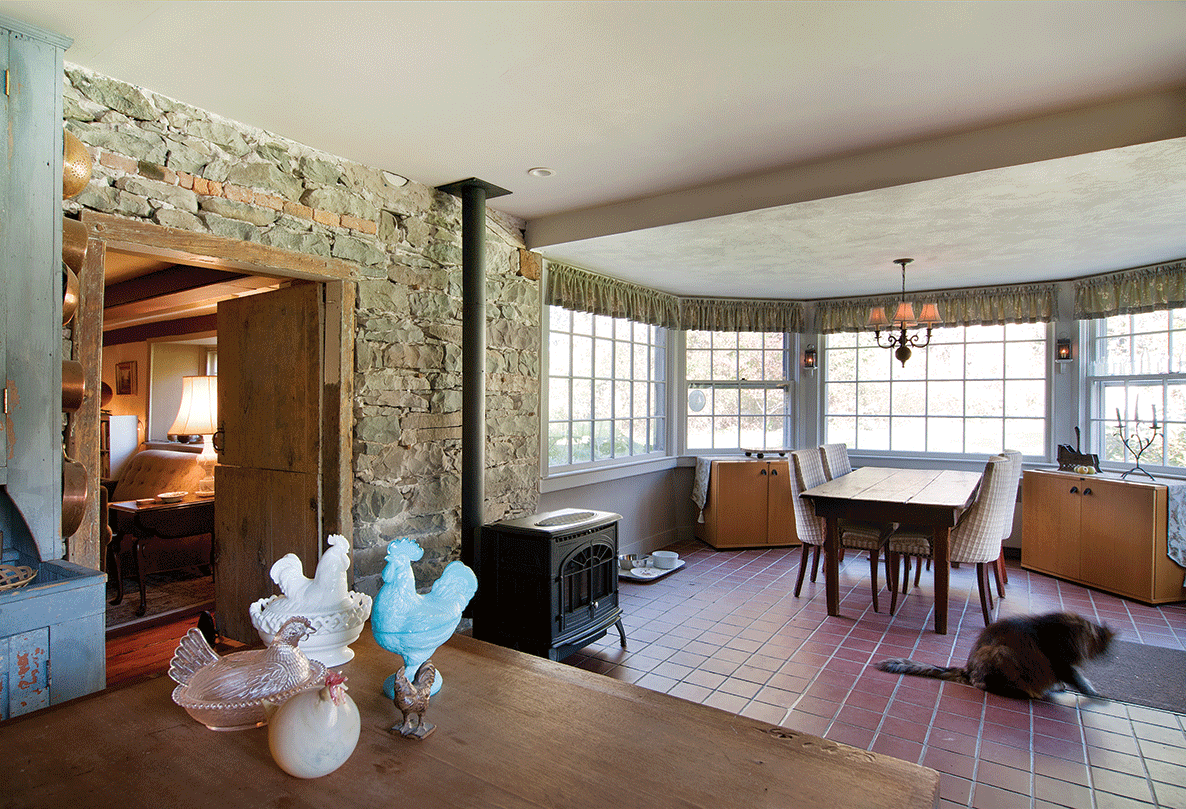 Cavallaro and Giessinger's Maine coon cat, Otis, in the kitchen, which was added in the 1930s when the building housed an inn. The original exterior stone wall is on the left.
A septic system is a small-scale sewage treatment scheme common in rural areas with no connection to public sewage pipes. Of course, when Shadow Lawn was built, there wasn't even indoor plumbing. But what's important to know if you are considering purchasing an old stone house in the Hudson Valley that's not in the best of shape is that bringing the septic system up to code may not be a simple or inexpensive endeavor.
Shadow Lawn's main house sits on very sandy soil. The old septic tank, which Giessinger says appeared to be a reclaimed agricultural holding tank, was located downhill from it, in a patch of rocky clay.
"We knew we'd bought a house with serious issues. The home inspection report made it clear there were a lot of unknowns, but we bit the bullet," says Giessinger.
Giessinger and Cavallaro's first attempt at an upgrade was to simply replace all of the equipment in its original location. However, that didn't work. The problem was that clay acts as a vessel—the effluence leaches upward—and that meant that their backyard was always smelly and spongy. In sandy soil, the waste water drains downward and everything works as intended. After a second effort also failed, test holes were drilled and the problem identified. They started over. Although it's counterintuitive, in the case of Shadow Lawn, the septic tank works best placed uphill of the main house, in the sandy soil. There's no unpleasant odor, everything functions perfectly. But it's actually rather complex.
"We have a pumping system, a manhole, and an alarm," exclaims Giessinger. "You expect manholes in a municipality, not in rural High Falls. But that's what we had to do. The Board of Health came constantly for a while. It wasn't until 2007 that we finally got it right. These are the things no one tells you about buying a really old house."
The sitting room, featuring an early 20th-century fireplace mantel faced with ebonized black paint.