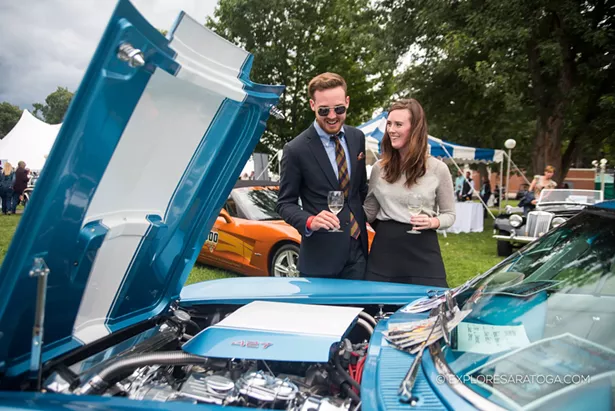 Saratoga Performing Arts Center (SPAC) has a star-studded weekend coming up. Celebrity chefs David Burke and Todd English will headline the 2018 Saratoga Wine & Food Festival along with renowned, former Boston Red Sox player David Ortiz.


The three-day affair is certain to be both educational and delicious with six different events. On Friday, September 7, the festival kicks off with the Fired Up! Grill Competition. Burke and three soon-to-be-announced celebrities will judge a cook-off, where one capital-region chef will walk away the 2018 Saratoga Grill Master. Guests can help judge while enjoying music, gourmet food, Stella Artois, wine, and spirits. Ortiz will make a guest appearance at the event, followed by a meet-and-greet and VIP party with the heavy hitting baseball star.


As always, the festival will partner with Saratoga Automobile Museum to display automobiles from around the world. And a
t Saturday's Grand Tasting, guests will enjoy an exclusive display of over 80 luxury Bugatti cars, including the only two 1936 Bugatti Type 57SC Atlantics in existence, valued at $40+ million. This is the first time that the International Bugatti Tour has ever been to New York State. Don't miss the rare opportunity to view these jaw-dropping automobiles, while tasting some of New York's finest food and wine.

The main stage will feature speeches, special guest appearances, live music, and an "Iron Chef"-style competition. VIP ticket holders can also test their wine-making skills in the VIP lounge. This year marks an inaugural collaboration with the Colin Cowie Lifestyle. On Sunday morning, Cowie will host a brunch party alongside Todd English. The upbeat event features live music, an irresistible menu, and specialty drinks from The Cocktail Architect's Yusef Austin. Check the SPAC website for a full list of events and more details.
The 2018 Saratoga Wine & Food Festival returns to Saratoga Springs on September 7, 8, and 9, with event times varying. Visit SPAC's website to buy tickets, which start at $100.