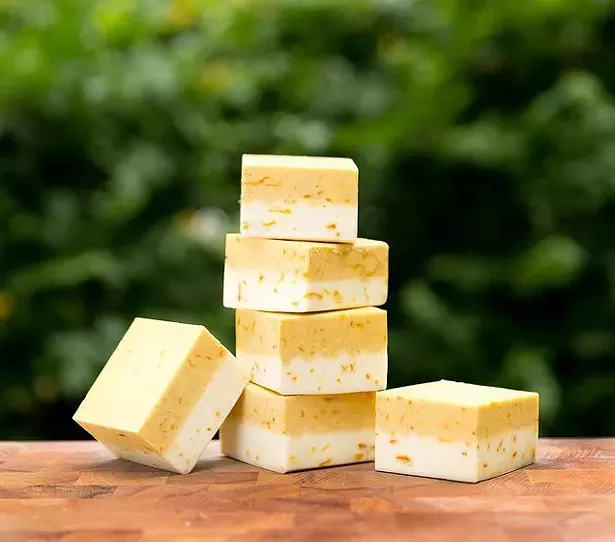 Calendula dandelion soap from SallyeAnder
Back in 1982, Oswego chef Gary Austin set out to craft a simple soap that he and his wife Karen could use for their first child, Aaron, who was allergic to grocery store soap. Drawing on his culinary background, Gary finally came up with a simple, natural olive oil-based version that would become the recipe for the gentle Castile soap bars that have made the Austins' handmade soap company, SallyeAnder, a cult favorite for almost 40 years.
Today, the second generation, family-owned and operated company calls the Hudson River town of Beacon its home, where Gary and Karen's daughter, and SallyeAnder's president, Sallie Austin Gonzales moved the small team and its factory in 2015. "Beacon felt very inviting and extremely creative—a place where I knew our natural products would thrive and our company would be respected," says Gonzales.


The bounty of the Hudson Valley was a perfect fit for the natural ethos that still drives the company. Whether it's the goat milk it sources from Edgwick Farm in Cornwall, the calendula from Common Ground Farm in Wappingers Falls, or the apples from Fishkill Farms in Hopewell Junction, many of the ingredients for its 20-plus varieties of soap bars—plus its shampoos, lip balms, face scrubs, and fan-favorite DEET-free "No-Bite-Me" bug repellent—are sourced right from the Hudson Valley. And true to its origins, all of its products only feature pure essential oils, herbs and an olive oil blended base instead of coconut or palm oil.


While all of SallyeAnder's products can be purchased online or found in many local retail shops, if you're close to Beacon on the second Friday or Saturday of each month, you can stop by the factory on Main Street to pick out your favorite soaps and get the full olfactory experience for yourself.


Creating space for its community in Beacon is just part of why SallyeAnder has already become a go-to for residents in just a few short years. "We adore our customers here," says Gonzales. "Being able to interact with the people that use our products—the moms, the outdoorsmen, the die-hard fans of our products that live in our neighborhood—give us a sense of responsibility to make sure our products remain true to what they claim, because we know exactly who will be using them."
Sallyeander.com