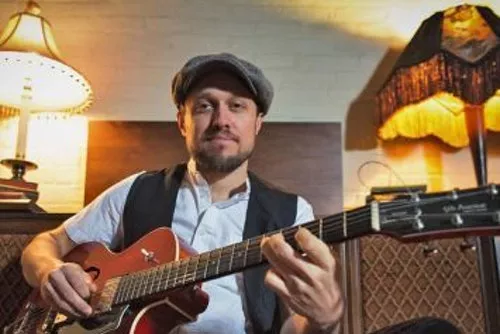 Thanks to significant airplay on local radio, New England's Ryan Montbleau has found a spiritual second home in the Hudson Valley. So, really, it makes perfect sense that the singer-songwriter would cut a live album here as part of Applehead Studios' ongoing
The Woodstock Sessions
series.
Recorded not actually in Woodstock, but right next door at Applehead's location in Saugerties—the site where the Ryan Montbleau Band's first two albums were made—the set took place last December before a small, palpably rapt audience. Joining Montbleau for most of the tracks is Boston electrofolk duo Tall Heights, who reinterpret several of songs from the tunesmith's back catalog with fresh, stripped-down, mainly acoustic arrangements, along with three previously unrecorded songs. The 41-year-old singer has been working the road, solo and with his band, for more than 15 years, sharing stages with Mavis Staples, Tedeschi Trucks Band, Ani DiFranco, locals the Wood Brothers, and others along the way. His cover of Tracy Chapman's "Fast Car" is a massive Spotify hit, with over 31 million streams and counting.
Here's a video of "Looking Glass" (featuring Tall Heights) from the actual performance:
Ryan Montbleau's The Woodstock Sessions is out now. For more information, visit http://www.ryanmontbleau.com/.
To find out about more upcoming events in the Hudson Valley, subscribe to our weekly newsletter Eat. Play. Stay.