Images courtesy of Rough Cut Brewing Co.
Since opening in Kerhonkson in 2015,
Rough Cut Brewing
has been known for its innovative brews. Now, after a two-month-long renovation, that spirit of innovation is reflected in a brand-spankin'-new exterior, kitchen, and dining room.
Crowler sales and to-go orders continued while Rough Cut was closed in November and December. During that time, brewer and co-owner (and carpenter) Kayne Konecny designed and built the brand-new dining room by hand. The exterior was also refurbished, the kitchen was fully renovated, and new restrooms were installed. And once spring finally arrives, Rough Cut will debut what co-owner Jesse Cummings calls "open-air indoor dining": A newly installed overhead garage door will open to the outdoor beer garden whenever the weather is agreeable, so guests can catch a spring breeze while staying covered inside.
Images courtesy of Rough Cut Brewing Co.
Although the familiar red-painted facade is gone—replaced by a honey-toned exterior of rough-cut hemlock—Rough Cut and its owners still have a soft spot for the building's past incarnations. For 45 years, Zen and Olga Sawchuk served up kielbasa and vareniki in their Log Cabin restaurant to hungry guests from the nearby
Soyuzivka Heritage Center
, a haven for Ukrainian culture since the 1950s.
Cummings was bartending at Soyuzivka a year before he and Konecny opened Rough Cut Brewing; in fact, he says, Rough Cut's first craft beer, Minnewaska Trail, debuted at a beer festival held at the center. "It's a big part of my life, and of the lives of everyone around here," Cummings says.
Images courtesy of Rough Cut Brewing Co.
Like many, Cummings and Konecny have been troubled over Russia's aggression against Ukraine. Rather than feeling helpless, however, they're taking action: For the month of March, a portion of all beer sales at Rough Cut will be sent to the
Ukrainian Archeparchy of Philadelphia
to support humanitarian efforts in the embattled country. "That's any beer sales at all—whether dining in, or buying crowlers to take home," Cummings says. "We also have more fundraisers in mind for the near future."
Knowing you're helping a good cause is a great reason to visit, but the beers alone are worth the trip. Rough Cut's developed a good rep among hikers and climbers; its location, five minutes from the entrance to Minnewaska State Park, has proven to be a popular place to end a 'Gunks-rambling day.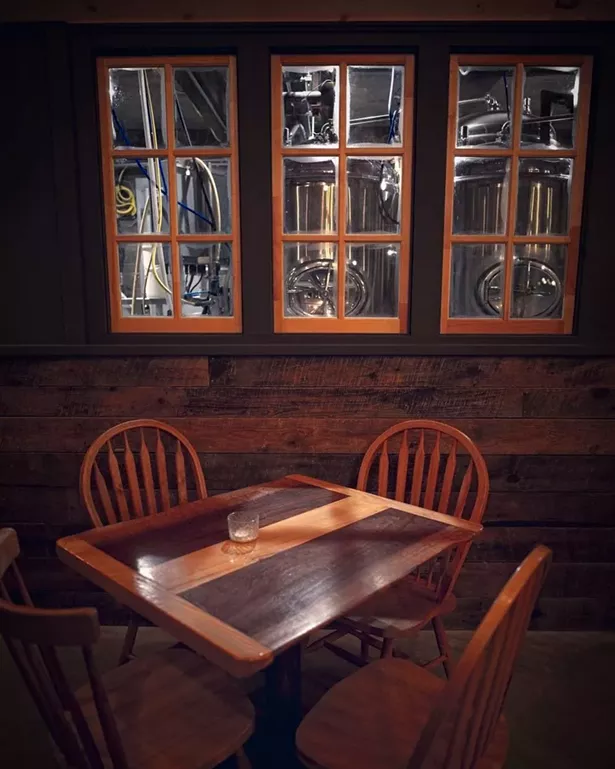 Images courtesy of Rough Cut Brewing Co.
The flagship brew named for the nearby trail is a pale ale with ekuanot, citra, and el dorado hops; other brews include a sprinkling of IPAs. Rough Cut's draft list runs the gamut from the aforementioned sessionable pale ale (ABV 5.1 percent) through other Belgians, brown ales (including Shawangunk Brown, with smoked malt), and stouts—all the way up to Tar of Tsars, a bourbon barrel-aged Russian Imperial stout weighing in with a whopping 14 percent ABV.
"Kayne is always innovating," says Cummings. "We always have different styles, and we serve different types of beers according to the seasons. Kayne is experimenting with sours now, too."
Images courtesy of Rough Cut Brewing Co.
Rough Cut serves up elevated brewpub fare: Expect chicken wings, but with a Korean chili sauce with pickled ginger ($14). The Oklahoma Onion Smash Burger ($16) is a double patty smashed with onions and topped with American cheese, but a pickled medley is served along with fries. Pork Belly Chicharron ($18) is intriguing: pan-fried, cured pork belly is served with a smoked kidney bean puree and avocado salsa. Fish tacos ($14) and lamb barbacoa tacos ($14) flesh out the list of mains. Both the lamb tacos and the pork belly are gluten-free; other GF and vegetarian options appear on the menu, like a mouthwatering eggplant rollatini ($15): Marinated tofu is rolled in eggplant, then served with a roaster red pepper coulis and maple chili coleslaw. For kids, Rough Cut serves up chicken nuggets, mac & cheese, and burgers, at $8 each.
Cruise down Route 44/55 Thursday through Monday to try their brews in-house, or pick up a few crowlers to go. Either way, when you raise a glass of Rough Cut's brews, you'll be toasting the history and culture that lingers here.
Bud'mo!
Rough Cut Brewing Co.

5945 Route 44/55, Kerhonkson
(845) 626-9838
Open Thursday through Monday, 4-9pm