Photo by Good Bites & Glass Pints™
Eric Moskowitz, Director of Operations at The Pass stands in one of its greenhouses
Since The Pass opened in Sheffield, Massachusetts in July of 2020, the vertically integrated maker of recreational cannabis products has been making waves in the hyper-local marijuana space. While the state's medical marijuana industry required companies to be vertically integrated, the recreational side of the biz was under no such requirement.


For The Pass, however, vertical integration was a no-brainer—embodying the best of the local-first ethos that the Berkshires is known for. "The Berkshires have a strong foundation of makers and creators," says Eric Moskowitz, Director of Operations at The Pass. "At The Pass, there is a deep connection to the process of making our products."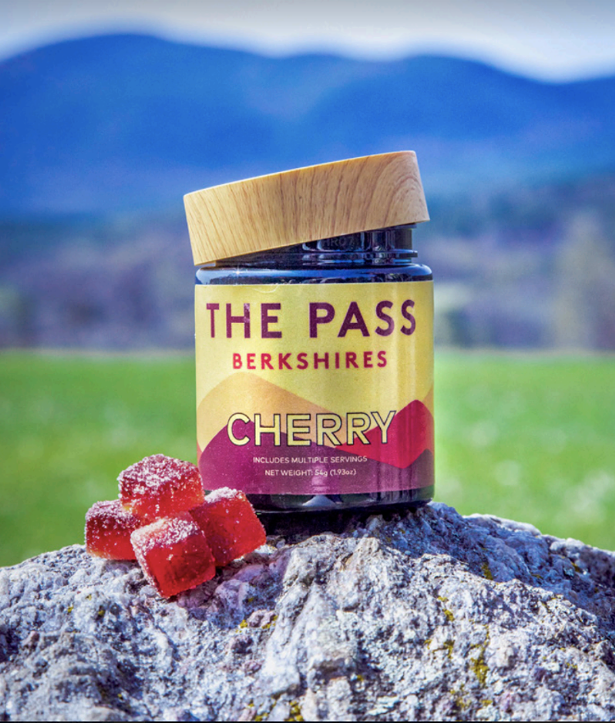 Photo by Good Bites & Glass Pints™
Cherry Gummies
After launching its cultivation, processing, and retail operations on a single site in Sheffield last summer with just over 10,000 square feet of greenhouse space, The Pass has steadily ramped up its production capacity—all while keeping the focus on Sheffield.


Earlier this year, it opened a new cultivation site in the Ashley Falls neighborhood that brought an additional 35,000 square feet of outdoor cultivation space on board. "By opening a new outdoor grow site, in addition to the indoor grow and light-deprivation greenhouse at our main campus, we are now able to drastically increase our total yearly harvest," says Moskowitz.

Photo by Good Bites & Glass Pints™
Now, The Pass is getting ready to add another 40,000-square-foot facility to the mix by transforming a nearby defunct factory into the company's primary hub for manufacturing, processing, and packaging. The move will create up to 50 new full-time jobs and push the needle forward on The Pass' extraction capabilities, creating room for new technologies like hydro-carbon extraction and nano-technology for edibles as well as automation to come online.
Photo by Good Bites & Glass Pints™
Making gummies
The increase in production will also help satisfy the demand already in place for The Pass' products, which can currently be found in 28 retail stores in Massachusetts. Its growth will allow the team to build out a more robust wholesale business, providing materials to other like-minded cannabis companies, such as with its partnership as exclusive Massachusetts distributor for California-based Dompen, a high-quality line of vaping products, and the infused pre-rolls it makes with Ionic, based in Washington.

"We're committed to growing in this community," says Moskowitz. "Having all three of our facilities located in Sheffield allows us to have a more substantial direct impact on the community than a lot of other companies are able to in their respective municipalities."


To stay up to date on new products and store events, join The Pass' mailing list.