Photo by Christine Ashburn
Inside the tasting room at Hudson Valley Brewery.
The first thing you notice when you walk into the Hudson Valley Brewery in downtown Beacon is the wall of wooden barrels on your left. Dozens of them are stacked, pyramid-like, on their sides and draw your gaze with more force than anything in the 10,000-square foot brewing space—and that's saying something, because there is plenty see in the impressive, former factory space with a warehouse feel. To the right of the entrance there's a square bar and taproom area that is full of beer drinkers on a recent Saturday afternoon. Behind that is the brew house, with rows of shining silver brewing equipment. But it is the wall of barrels that your eyes will return to.
These barrels, which could be part of the prop list for a pirate film, give the brewery a less-industrial, more rustic vibe than many other breweries, but they are about far more than just aesthetics. They are the heart and soul of the enterprise.
"It's like a living, breathing wheel of time," owner John-Anthony Gargiulo says as he gestures toward the wooden kegs. Sour beers, the brewery's specialty, are aged within those barrels, which are constantly being emptied and refilled, and new barrels are being rotated onto the wall as well. "As beer is maturing, you're putting new beer [barrels] on top of those," Gargiulo says. "It's not just the beer maturing—the actual organisms that are in the barrel, they mature. They get stronger, they develop, they grow. So the flavors constantly get better and better."
Over a period of months, the liquid inside those barrels develops desired qualities. As various microorganisms go to work on one beer, it might develop a strong sour flavor, while beer in another barrel might become less tart and mellow out. The liquid from different barrels is then blended together, creating one excellent final beer. This process is run by Gargiulo's partners and Hudson Valley Brewery's co-brewmasters Michael Renganeschi and Jason Synan, who started the Brewery at Bacchus in New Paltz before leaving that company for this venture. The blending process allows the brewers to accentuate certain notes and cut back on others. After about six months, it results in the sought-after sour beers offered at the brewery. The time-consuming nature of the process prevents many breweries from producing aged sour beers.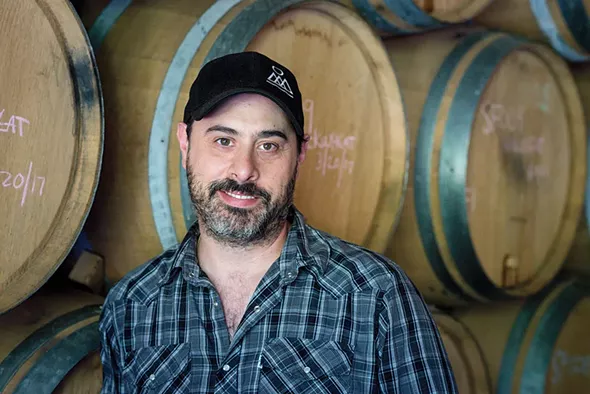 Photo by Christine Ashburn
Owner John-Anthony Gargiulo.
"There's not a lot of places that are making beer like this because it's such a tough financial situation," Gargiulo says. "You have a lot of investment sitting on the shelf."
In addition, few breweries are devoting as many resources to sour beers as the Hudson Valley Brewery, and only a select few can match the quality of the final products prepared by Renganeschi and Synan. Opened in December, the brewery has already generated buzz and excitement in the New York beer world and beyond. With statewide distribution, Hudson Valley Brewery beer is already a staple at celebrated New York City hotspots like the Momofuku restaurants and Torst.
In addition to sour beers, the brewery specializes in IPAs and is earning a reputation for intriguing examples of the style that are more about fruity, tropical flavors than hop bitterness. "Our beer doesn't have a lot of the aggression that some of the past IPAs have had, where it's like a punch in your face. We're really going for more balance and roundness of flavors," Gargiulo says. "We're putting a lot of really interesting hops into our stuff and using ingredients that might not necessarily be used by other breweries."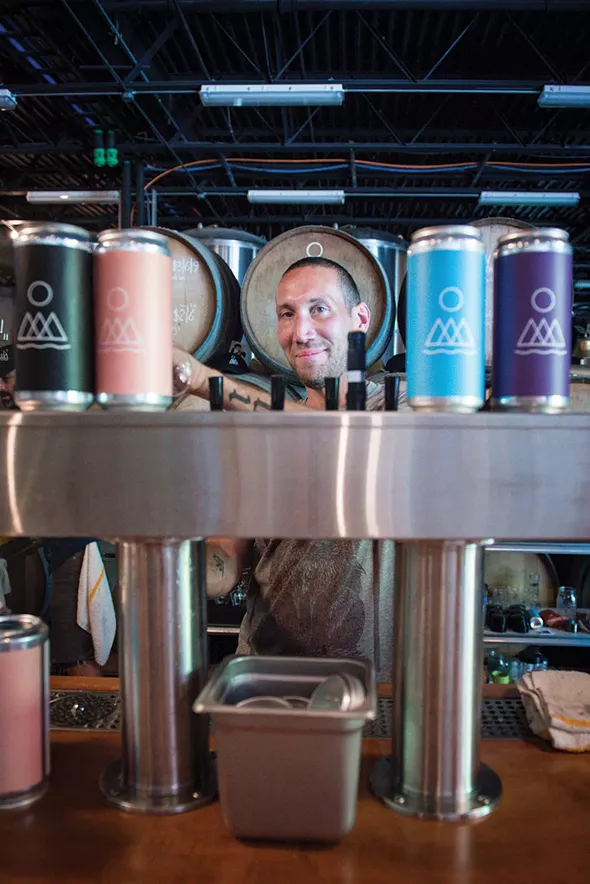 Photo by Christine Ashburn
Grady Salter pouring brews.
The IPAs offered at the brewery have a light mouthfeel and offer bursts of fruit flavors that will intrigue hop heads but won't necessarily scare off those who don't like bitter beers. They are reminiscent, albeit with a lighter mouthfeel, of some of the legendary unfiltered, New England-style IPAs that often garner long lines at places like Treehouse Brewing Co. in Massachusetts.
This emphasis on approachability is also evident when it comes to the brewery's sour beers, which are generally lightly sour and softer than some sours, with refreshing tartness rather than over-the-top acidity. "I get a lot of, 'I don't like sour beers but I love your beers,'" Gargiulo says. "I think the customer is burnt out on the aggression side of craft beer."
The seeds of the brewery were sown about a decade ago. Gargiulo, a native of Highland, was living in California and working in the movie industry. His credits as a camera dolly operator include the original Iron Man, Frost/Nixon and The Informant! (directed by Steven Soderbergh and starring Matt Damon). While making films he developed a love for California's craft beer scene.
In 2008, wishing to be closer to family, Gargiulo decided to move back to the Hudson Valley with the hopes of opening a brewery. He ended up meeting Renganeschi and Synan, his future brewers and partners, at Bacchus and the plan to open a brewery took shape. After several years of searching for a location, Gargiulo spotted the abandoned factory space in Beacon on East Main Street consisting of two connected buildings, one dating to the 1820s and one to 1960s.
Photo by Christine Ashburn
A recent Saturday afternoon at the brewery.
After about a year and a half of renovations, the brewery began offering beer in December and opened its taproom in February. Ultimately, a full restaurant will be opened in a space adjacent to the brewery itself. Gargiulo hopes to have the brewery's restaurant open by next summer, but that portion of the business is still in the relatively early planning stages.
So far, Gargiulo definitely sees similarities between the film and brewing worlds. He thinks of himself as the brewery's producer, while Renganeschi and Synan are the directors. "The producer brings in an artistic visionary to make the movie come to life, I see them there," Gargiulo says. "I see the beers as the actors, because they're the talent that plays out the movie or the story."
If the beers are indeed the actors and actresses of the brewing world, then the brews at Hudson Valley Brewery might just have star power.
Hudson Valley Brewery
2 Churchill Street, Beacon
(845) 218-9156; Hudsonvalleybrewery.com
Tasting room open Thursday to Sunday.