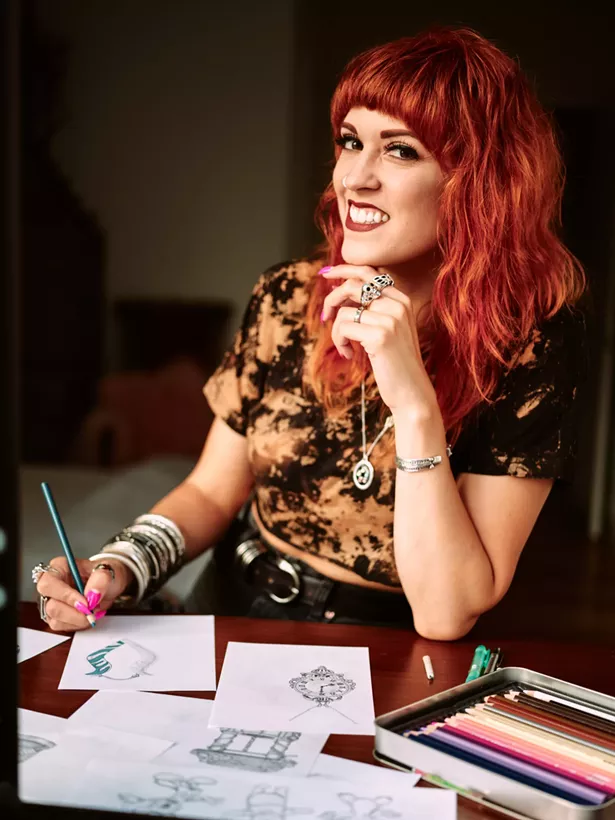 When Allison Cimino entered the jewelry circuit in 2007, she never imagined that one day she would create pieces for some of the biggest fandoms in the world. The Beacon resident is the owner and designer of RockLove, a studio that makes quality jewelry pieces officially licensed by some of the world's biggest pop culture franchises including Star Wars, Marvel, Disney, and Star Trek, to name a few.

Cimino didn't always plan on becoming a jeweler. "It was an ill-fated nose ring that put me on the correct path," she humors. Cimino had played around with jewelry making as a hobby growing up, but it wasn't until she had a traumatic allergic reaction to a nose ring while studying at Oberlin that she started making all her own pieces in order to control the process and quality. To this day, she uses precious metals like nickel-free sterling silver, gold, and rhodium that are well suited to sensitive skin.
After doing an apprenticeship in Florence, Cimino moved back to New York and began working on the RockLove brand full time in 2008. At first, she designed her own boutique, custom pieces, which eventually led to collaborations with bands and even authors that she met at music-focused festivals while selling her pieces at tables and pop-up tents. She created merch designs for fans, an early arrangement that she barely recognized as licensing. Then in 2014, Cimino got a big break when CBS called out of the blue to ask her to create a licensed Star Trek collection. "I'm pretty sure I sounded confused at first," she recalls. "It never occurred to me that CBS would be on the other end of the line!" She's been designing for fandoms ever since.
A Fandom Fanatic
Fandoms have always been a part of Cimino's life. A self-proclaimed "Trekkie" since the age of seven, Cimino has seen society's relationship with nerd culture evolve since she started in the business. "It has become something that has gone mainstream," she says. "We can now proudly announce to everyone that we're fans."
That pride weaves into her designs and craftsmanship, which is rooted in historical techniques that she learned during her apprenticeship in Italy. The companies she works with give her a lot of creative freedom. "I get to flex my own design muscles and follow my own inspirations," she says. That means that a piece for Disney, like the Mulan collection's Plum Blossom Necklace, could feature hand-painted enamel work or incorporate a Victorian reference.
Courtesy of RockLove
Marvel x RockLove Shang-Chi Bracelet
The combination of techniques gives the jewelry a sophisticated yet edgy feel. "I'm more of a villainess than a princess," Cimino says. She wants customers to feel that they are wearing a piece of beautiful craftsmanship first, meaning that the pieces can transcend from the casual fan and wearer to the Marvel-obsessed. Still, at the heart of each piece is the essence of what the fandom represents. "It's not really about the piece of jewelry," Cimino says. "It's about the world and the characters, and how that really shaped who we have become and the stories that have taught us how to be the good people we are as adults."
Cimino hopes that wearers feel the strength from the characters they love when they put the pieces on. Her recently launched Shang-Chi collection with Marvel redesigned the 10 rings worn by the lead action hero to thinner brass and copper bracelets that are made for everyday wear, but maintain the object's power. "Wearing something that gives you a personal sense of pride and empowerment is so important," she says.
As RockLove grows, Cimino wants to stay in the jewelry world and continue increasing inclusion in the industry. Many of her recent projects, including the Star Wars Ashoka Tano collection, a collaboration with Ashley Eckstein, the voice of Ashoka Tano in the television series Star Wars: Rebels, were designed to be gender-neutral. Cimino also ensures that pieces come in multiple wrist and ring sizes to fit as many people as possible. "There's a lot of gendering with jewelry, like it has to be women's jewelry or men's jewelry," she says. "What we like to say is 'jewelry for everybody and every body.'"
Paying it Forward
Cimino also wants to continue passing on lessons learned from her entrepreneurship journey. She speaks at Comic Con panels and mentors other business owners across a variety of disciplines. Locally, she and her husband Chris Cimino are also giving back. In 2019, Chris opened Last Outpost Store in Beacon, an outdoor lifestyle shop selling goods from local artisans and eco-friendly brands that give back to the community. Natural soap made for men from Bearsville Soap Company and Out-of-Woods candles by United by Blue, a sustainable living brand dedicated to cleaning polluted oceans, are some of what's available.
The couple is also involved in work with the Beacon Historical Society and Chamber of Commerce. Cimino says that Chris is more heavily involved with the local work, but she still feels that it's important to invest in the community. "We feel such gratitude that people supported RockLove as a small business," she says. "I really want to support other business owners out there, no matter what size they are."
Cimino is continuing to work from her home office on future collaborations. An upcoming collection inspired from Pixar's 2017 film Coco will launch this fall. With all her jewelry, she wants to continue making fans proud of the pieces they wear. "It's so rewarding to see fans excited to wear pieces that are meaningful to them," she says. "I feel like I'm just the conduit for them to express themselves."