Photo by Rob Lowenthal
A Sweep volunteer group cleans up the shoreline in Ossining
After nine years, 804 projects, and 275 tons of debris removed from the Hudson River and its tributaries, the annual Riverkeeper Sweep has become one of the region's most enduring environmental traditions.
What began in 2012 as a simple goal to clean up trash at seven sites along the Hudson turned into 30 projects that year, 70 the next, and eventually to more than 120. Over the years, the event has grown into a monumental, community-powered day of service that stretches from Brooklyn to the Adirondacks and engages everyone from nearby residents to school groups, parks, religious communities, paddling groups, and scouts.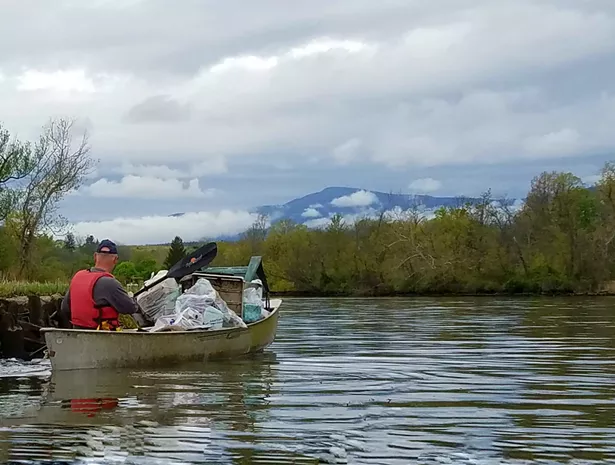 Photo by Gail Porter
Esopus Meadows Preserve
"Our friends at Scenic Hudson had organized the Great Hudson River Sweep for 10 years, then we picked it up again in 2012," says Dan Shapley, Co-Director of Science and Patrol Program at Riverkeeper, the Ossining-based organization known for its water advocacy and protection efforts.
"We wanted the event to be open and free to everyone, so that people could connect to each other and to the water in a way that would give them the kind of satisfaction we get every day," Shapley says. "There's nothing like going to a shoreline with junk all over it and leaving a couple hours later with it completely clear."
Over the last nine years, more than 2,000 annual volunteers have transformed some of the river's most trash-polluted areas back into healthy, gorgeous scenic locations. "Over time it's been very rewarding to watch how the sites change while the projects evolve to meet the new normal of these spaces," says Jen Benson, Coordinator of Riverkeeper Sweep.

Image courtesy of Riverkeeper
Cleaning up debris at a project site in Peekskill
One such project—a neglected park and boat launch on the Wallkill River—began with debris collection, and over the years has transitioned through tree planting and maintenance projects to become a beautifully maintained boat launch that is a vital part of the community. "The long term goal of the Sweep is for trash cleanups to become obsolete, and for plantings to become the norm," Benson says. "So we're always looking to bring in new Sweep leaders and project sites to meet the needs of the community."


After a 2020 Sweep that was smaller, due to Covid, this year's 10th anniversary event on Saturday, May 1 is shaping up in peak form. Over 120 sites and 17 new projects will offer anyone who wants to volunteer the chance to get involved—from trash and debris collection both on land and on the water to tree planting, invasive species removal, and more.
To find a Riverkeeper Sweep project near you or to sign up, visit Riverkeeper.org/sweep.