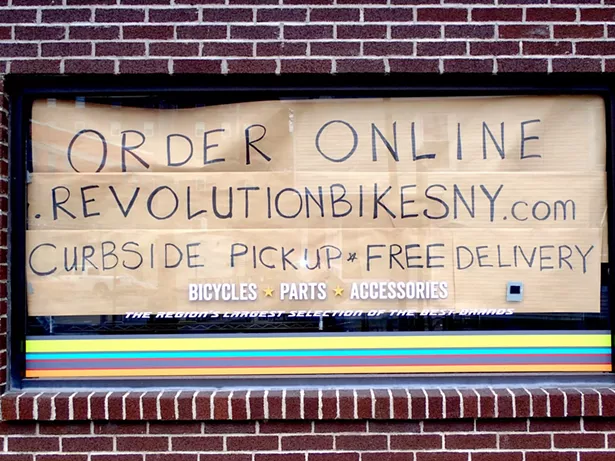 "I can't talk right now. I'm the only guy in the shop, and I have six people waiting outside," Tim Schopen, owner of People's Bicycle in Beacon, told me over the phone one Wednesday in mid-May. Schopen's brusque response succinctly demonstrates a trend that is rolling across the nation: amid the pandemic, bike sales are up, way up. March alone saw a 50-percent year-over-year increase in sales, according to market research firm the NPD Group.
This surge in bike sales in New York is possible thanks to bicycle shops being defined as essential transportation businesses on par with auto mechanics, a clarification that came on March 21, a day after Cuomo's initial presentation of New York State on PAUSE left many in the industry in doubt.
With only about 0.7% of people statewide using bicycles to commute to work, according to census data, this "essential" designation was perhaps generous, but the inclusion has allowed bike retailers in New York State to flourish. "We have never been so busy!" says Ken Tooker, owner of PV Bicycle Shop in Pleasant Valley.
In urban centers, increased sales can be partly attributed to pandemic-stoked fears of public transportation. A recent Trek survey found that 85 percent of Americans perceive cycling as safer than public transport while social distancing. In New York City, on March 9, bridge crossings by bicycle were up 52 percent from the peak for the same period last year.
In rural areas like the Hudson Valley, however, people are opting for cycling as a way to exercise and get outside safely with their families. "There are a lot of things in the stew that came together in the right way," says Billy Denter, owner of Overlook Bicycles in Woodstock. "There's been beautiful weather. The new Ashokan Rail Trail just opened up. And, ultimately, everyone is at home and can't go to gyms."
Utility Bicycle Works in Uptown Kingston has seen sales of bicycles triple since last spring. "A bright light is being cast on bicycles as the viable transportation option they've always been, with such minimal upfront cost and ease of use," says owner Bryan Richardson. "Along with the low-impact exercise bicycles offer, customers are discovering multiple practical uses for their bicycles, such as cargo hauling, kid towing, commuting, grocery shopping, bike camping/fishing, and even just solitary riding to keep mental health in check from longer bouts of isolation many of have been struggling to acclimate to."

Across the country, budget bikes have been selling like wildfire. Richardson reports increased sales across all price points, but especially in the $500 to $800 range, which was echoed by every bike shop owner I spoke with.

Overlook sold out of their small fleet of used bikes first, followed promptly by kids' bikes, women's bikes, and low price-point bikes. "Anything in the range of $500 is gone and has been for a while," Denter says. "We are such a soft-sell bike shop. So it was a strange position to be in to have to say, 'If you don't jump on it now, tomorrow it'll be gone.' But you're doing the customer disservice by not being honest."
For Denter's shop, which generally specializes in "amazing, glorious, custom, high-end bikes with nuclear price points," this increase in lower-end transactions marks a new pressure, which is being felt by other bike stores around the country: falling revenue despite strong sales. "If I'm selling six $400 bikes that is a lot more vested energy and time for the same revenue as one high-end bike," Denter says. "But I don't care. We're all in."
It's not just bike sales that are up, the repair business is booming too. "Many older used bikes are being dug out of barns, basements, and attics, to be brought to Utility Bicycle Works for a new lease on life," says Richardson, who is reporting a two-fold annual increase in repairs. Overlook has brought back its entire staff, including three full-time mechanics, who are working hard to turn around repairs in seven to 10 days. "My mechanics are like Zen masters," Denter says. "They tell me, 'I don't care if it's a Huffy cruiser or a $10,000 titanium bike. Whoever's bike this is loves it.'"
Stock Shortage
Increased demand coupled with import processing delays at the harbors and a three-month halt on manufacturing in China has led to a severe bicycle shortage in the US. "Back in early March we made a humorous Facebook post of a photo of our sales floor looking empty and said that people were panic-buying bikes as if they were toilet paper," says Samantha Moranville, co-owner of Revolution Bicycles. "Little did we know that it would actually come true and there would be a legitimate bike shortage."
The Midtown Kingston bike shop has sold out of several models and has been unable to restock because the manufacturers are sold out as well. "We probably won't see new models available until fall," Moranville says.
Denter saw the surge in sales coming and strategically diversified his stock to carry six different brands. "I bought defensively and ordered early, so I still have a small trickle of things coming in," he says. "We are losing sales daily due to a lack of product. There's nothing. The landscape in spring can be tricky even without this, but now we're looking at three to eight weeks of dead zone."
Evolving Business Models
Like other industries, bicycle businesses have had to embrace the online world, if they hadn't already. "We have a robust e-commerce website that makes it easy to order bikes, parts, and accessories, and that has been a tremendous asset this spring," says Moranville. In addition to online sales, Hudson Valley bike shops are offering ordering, consultations, and scheduling for drop-off/pick up by phone, email, social media, and even text. "We have been spectacularly busy, and have had to adapt our business quickly to not only meet the tremendous increase in sales and demand for service, but to also service all of our customers to the best of our ability while maintaining safe social distancing practices," Moranville says.
Many have rolled out free home delivery within a 10- to 20-mile radius as well and, where manufacturers allow, drop-shipping of parts and accessories direct to the consumer. "We really had to retool, which was a little stressful," Denter says, "but I think that model will serve us going forward. It forced us into the new era."
The Future of Biking
Opinions are mixed on whether or not the increased interest in biking will outlast the pandemic. "We're unsure about whether more people will bike for transportation," Moranville says. "But we can say unequivocally that more people are looking to cycling as a means to get out and explore their neighborhoods and get some great relaxing exercise alone or with the family.
Trek's survey findings were hopeful, revealing that 50 percent of Americans are planning to ride their bikes more after the COVID-19 pandemic is over. Whatever the outcome, bicycle shops are enjoying the current boom. "We've had a brutal 15 years with web pressure," Denter says. "Bike shops needed a win."