Since being revitalized and reopened in 2018, following untimely death of the former community-spirited owner,
Pine Ridge Dude Ranch
in Kerhonkson, NY has been winning national hospitality awards. And guests who've been coming back for years say it's the same great place it's always been—only better.
Formerly the Pine Grove Ranch, this classic Kerhonkson destination is an authentic, all-inclusive ranch-style getaway to relax and enchant every member of the family. Behind the scenes is a dramatic story of a beloved local business rescued by sweat and love. And if you're looking for a place to celebrate, the Pine Ridge crew is in the mood to help you make it happen.
Guests can sign up as "Barn Buddies" and get hands-on time with the horses.
Current owner-operator Mike Offner first visited the Pine Grove Ranch at age 7. Then at 16, he got a job there, working with the herd. With a masters' degree in hand, he went off to conquer the world as a business systems analyst, only to find he missed the life. So in 2012, he came home to manage the barn. "I wanted to follow my passion," he says, "and that was the horses."
When longtime owner David O'Halloran passed away unexpectedly in 2017, it looked like it might be the end of the trail. Offner organized a crusade to keep the horses safe—and as the situation unfolded, he found himself owner and operator of the ranch.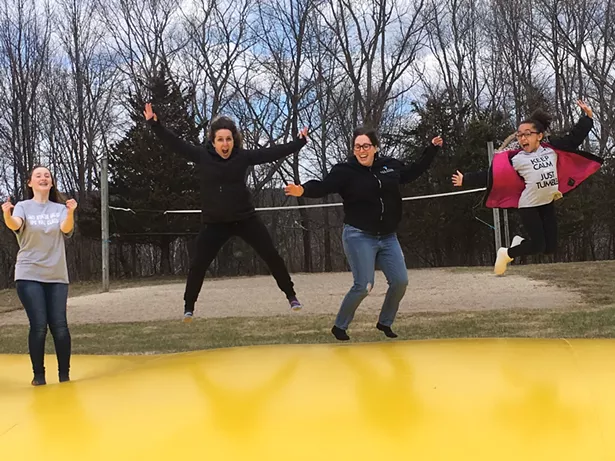 "The inn needed a $2-million reno," he says. "We redid the guest rooms, dining room, ballroom, the dance club, and the hallways. All local contractors, all done in 60 days. We were able to rehire 90 local people who'd lost their jobs."
Awards began rolling in from national trade groups, and they haven't stopped. "We got voted a Top 10 All-Inclusive Family Destination by Family Vacation Critic," says Offner with delight, noting that this designation puts Pine Ridge "up there with places like Disney World."
You won't find this kind of fun at Disney World. Kids can romp from pool to barn to petting zoo to archery range, while adults can sign up for sunset wine and cheese rides and dance the night away to live bands. There are campfire singalongs and house-made baked goods, collaborations with paintball and off-roading companies and local farms. Day trippers are welcome, as are those who'd like to plan a ranch retreat or wedding.
The refurbished rooms are clean and comfy; the country-inspired menu (included in your all-inclusive stay) features vegan, vegetarian and gluten-free options. This is peak creative Hudson Valley hospitality, shaped by listening, powered by love — saddle up and get you some.