Page 2 of 3
But so did elders like Sam and Dave, Martha Reeves, and Screamin' Jay Hawkins; cabaret-styled acts like Klaus Nomi; and, in an unannounced appearance, Judas Priest, whose singer, Rob Halford, was a Mudd regular. Fashion designers Betsey Johnson, Ana Sui, and Stephen Sprouse and artists like Keith Haring, Robert Rauschenberg, and Jean-Michel Basquiat were Mudd habitués as well (Basquiat's band Gray, which also featured filmmakers Vincent Gallo and Michael Holman, played; so did Jim Jarmusch's Del-Byzanteens), and Beat icon William S. Burroughs read there. It was also at 77 White that Brooklyn graffiti artist Fab Five Freddy introduced hip-hop culture to the Downtown scene, influencing Blondie's 1981 hit "Rapture" and greatly helping to bring rap to a worldwide audience. To borrow Boch's words, the Mudd Club was, "an incredible incubator for talent." And it was almost by chance that he ended up working there.
"I'd moved to New York in 1976 and started going there when it was new," says Boch, a Long Island native who studied printmaking and painting at the University of Connecticut. "My friend Pat Wadsley had written this big article about it for the Soho Weekly News and mentioned me in that. Up until then, the club had been sort of secret. No one really knew where it was. [Drag performer] Joey Arias was working the door, but after the article came out the attendance started getting crazy and Joey wasn't letting certain people in because he didn't know who they were. So Pat told Steve to give me a call. I met him there that Friday, told him who I was, and all he said was 'Oh, be here at midnight on Saturday.'"

Lynette Bean
Richard Boch, Mudd Club basement, January 1980.
Positioned outside the door, Boch granted and denied entrance to the prospective revelers before him. Mass had certain guidelines about who to let in—squares and troublemakers were discouraged; artists and interesting types were encouraged—and trusted Boch's judgement. "He liked me because I knew a lot of people, but mainly he liked me because he knew that even if I didn't know someone personally I still knew who they were," the author explains. But that didn't mean celebrity status guaranteed admission; attitude also counted for a lot. Boch once turned away Paul Simon after the singer, grumpy and impatient about waiting in line, griped, "Hey! Do you know who I am?!"
The Mudd's exclusive door policy led some to accuse it of being elitist. Boch, though, is unwavering in his defense of the rules to this day. "On busy nights people had to leave before we could let more people in, it was as simple as that," he says. "It was a 'club' in the true sense of the word. Actually, it was more like a party than a nightclub. And when you're having a party you get to decide who you want to attend, right?" Generally, Boch was liked and respected by the staff and clubgoers.
"Richard had the right radar for being the person on the door," says Bush Tetras guitarist Pat Place, whose band frequently played the club. "He had the exact right personality and he was a responsible guy. He might be completely loaded, like a lot of us were back then, but he was always on time."
Besides those by Place's group, some of Boch's other favorite Mudd Club performances include the Psychedelic Furs' first US shows (1980), a Talking Heads taping for the BBC (1979; viewable on YouTube), and a night by Marianne Faithfull, who returned from obscurity for a legendarily shambolic 1980 set. "It was for the launch of her Broken English album," he says. "She'd been hanging out with [Rolling Stones muse] Anita Pallenberg, doing God knows what. She crashed and burned—but it was amazing to watch."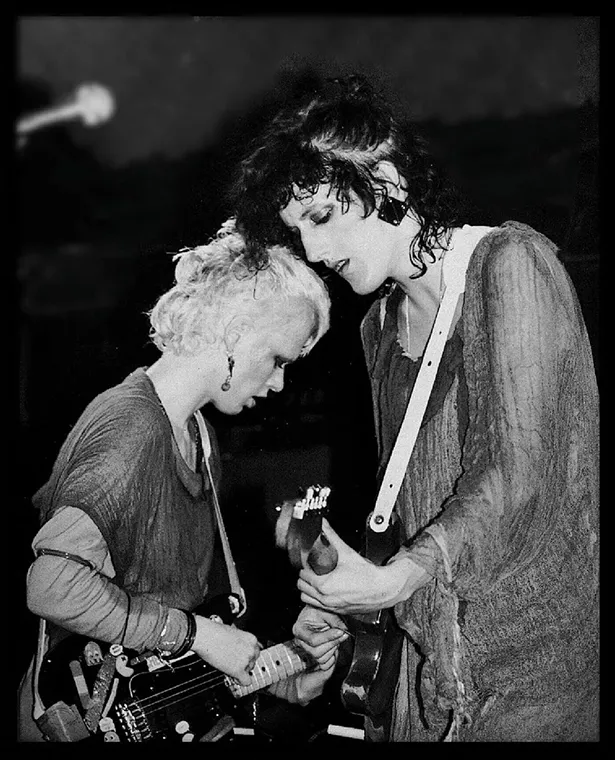 Lisa Genet
Pat Place and Cynthia Sley of Bush Tetras in 1981.