Fionn Reilly
Richard Boch next to the Govenor's Tavern in Hudson on August 17.
In The Mudd Club, Kinderhook resident Richard Boch recalls his days as a punk nightclub doorman in the late '70s and early '80s, where he was embedded in the now well-written and well-talked about NYC music scene.

It's 1979. The time is 3:15am and the party's just getting started. There's no sign outside the ratty-looking establishment at 77 White Street in Tribeca to tell you what's going on inside. There are, however, some enticing clues. Loud music rattles the blind-covered storefront windows and thumps the raw brick walls and trash-strewn sidewalk. A cab pulls up and a sharply dressed four-piece band—all sharkskin, Cuban heels, and pointy toes and looking to kill with guitar cases in hand—bolts out and steps hurriedly through the building's fast-opening-and-closing entrance, which teases with its escaping whiffs of illicit aromas and momentarily unobstructed snatches of imported UK post-punk dub. Rumors flicker that Bowie, Warhol, and Debbie Harry are lurking within. Between you and the chain that defines the perimeter around the six-story structure's mysterious doorway is a long line of some of the coolest- and weirdest-looking people you've ever seen. They all want in. And whatever is going on inside this place, you want to get in there and get swept up in it, too. Something tells you that if you stay cool—and wait long enough—you just might. First, though, you'll have to get past Richard Boch, whose job is to decide who gets in and who walks. You're standing in front of the Mudd Club, one of New York's legendary nightspots.
Open your eyes and it's 2018. The club, along with far too many of the colorful figures who frequented it—and most of Manhattan's edgy allure—is long gone. Instead of piss-and-pot-scented, wheat paste-postered alleys, this afternoon's setting is Boch's meticulously maintained Kinderhook country home. Tabletops are stacked neatly with 1970s and '80s underground New York publications and archival boxes. The living room is adorned with framed photos taken by Robert Mapplethorpe and Patti Smith, a large Warhol, and several of the owner's own abstract creations, which he makes in an airy studio behind the house. The clean white walls seem a long way from the dirty White Street of nearly four decades ago, which Boch vividly revisits in The Mudd Club (Feral House), a new book about his time as the doorman of the fabled venue, which was open from 1978 to 1983.
"The club's name kept popping up in articles I was reading," says Boch, who for the book drew on the recollections of over 200 interviewees in addition to his own. "Its reputation had increased exponentially. Legs McNeil [Punk magazine cofounder and Please Kill Me author] told me, 'Richard, you have to write this book—it's your story.' When I first talked about it with my agent, though, I was told people were tired of reading about the '70s. But then there was this 'revival of the revival' of interest in that period. Word got around that I was writing a book about the Mudd Club and [late Feral House founder] Adam Parfrey contacted me, saying he was really interested in it. The New York Times did a feature on the book when it came out, and at the reading I did for it in the Lower East Side, people were lining up hours before I went on."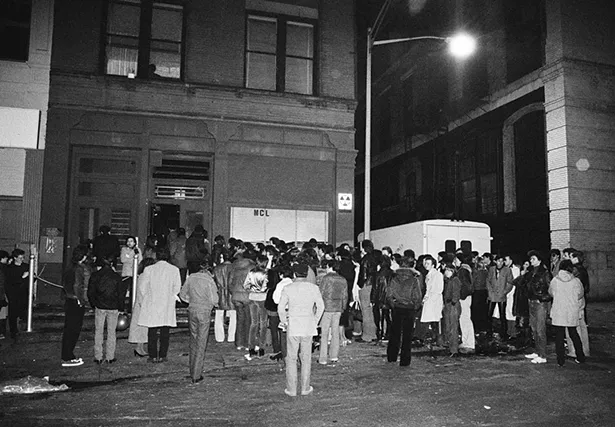 Bob Gruen
Mudd Club street scene, winter, 1979.
The Mudd Club was opened in October 1978 by arts maven Steve Mass with the assistance of art curator Diego Cortez and scenester Anya Phillips. Named for Samuel Alexander Mudd, the doctor who treated the fugitive John Wilkes Booth, it wasn't so much a nightclub as it was the Warhol Factory's insider pop-art/absurdist aesthetic translated to an intimate public space (the first-floor legal capacity was 300 but often more than 400 were packed in) that also happened to have a bar, music, performance art, readings, films, and bizarre theme parties that probed the boundaries of PC taste (the Joan Crawford Mother's Day Celebration: "Maternal attire suggested. No wire coat hangers permitted."). Random, Downtown-curious celebs—anyone from the Rolling Stones to Lauren Hutton, John McEnroe, Bella Abzug, Frank Zappa, various "SNL" stars, Caroline Kennedy, and Princess Caroline of Monaco—would turn up. And of course, this being New York in the '70s, the Mudd—or simply, Mudd, as it was known to regulars—was also a nexus of Olympian drug use (cocaine and Quaaludes were king and queen, respectively) and wild sex (post-pickup and on-premises). But, bacchanalian undercurrent aside, there was artistically important stuff that happened here. Stuff that continues to ripple through contemporary culture.
"We closed down the '70s and ushered in the '80s," muses Boch.
Punk was already well underway at neighboring CBGB and Max's Kansas City by the time the Mudd Club came along. But the vibe at those venues was closer to that of a straight-up rock 'n' roll joint. At Mudd, selling beers to rockers wasn't the priority: getting weird was. Since it was run by gallery aesthetes and not traditional bar owners, the artsy, Dadaist roots of the punk wave were farther to the fore at the White Street space, putting a different spin on the heads of the musicians and others who were present. Mass and crew were laser-sharp with their musical bookings: The B-52's played on opening night and soonafter contemporaries like Talking Heads (who namecheck the club in "Life During Wartime"), the Cramps, Nico, Johnny Thunders, Suicide, Richard Hell, X, Joe Jackson, and even U2 performed (the latter to about 20 people in December 1980), as did bands from the then-peaking no wave (Lydia Lunch, DNA) and nascent hardcore (Black Flag, Flipper) scenes.

Ebet Roberts
Damita Richter, 1979.
But so did elders like Sam and Dave, Martha Reeves, and Screamin' Jay Hawkins; cabaret-styled acts like Klaus Nomi; and, in an unannounced appearance, Judas Priest, whose singer, Rob Halford, was a Mudd regular. Fashion designers Betsey Johnson, Ana Sui, and Stephen Sprouse and artists like Keith Haring, Robert Rauschenberg, and Jean-Michel Basquiat were Mudd habitués as well (Basquiat's band Gray, which also featured filmmakers Vincent Gallo and Michael Holman, played; so did Jim Jarmusch's Del-Byzanteens), and Beat icon William S. Burroughs read there. It was also at 77 White that Brooklyn graffiti artist Fab Five Freddy introduced hip-hop culture to the Downtown scene, influencing Blondie's 1981 hit "Rapture" and greatly helping to bring rap to a worldwide audience. To borrow Boch's words, the Mudd Club was, "an incredible incubator for talent." And it was almost by chance that he ended up working there.
"I'd moved to New York in 1976 and started going there when it was new," says Boch, a Long Island native who studied printmaking and painting at the University of Connecticut. "My friend Pat Wadsley had written this big article about it for the Soho Weekly News and mentioned me in that. Up until then, the club had been sort of secret. No one really knew where it was. [Drag performer] Joey Arias was working the door, but after the article came out the attendance started getting crazy and Joey wasn't letting certain people in because he didn't know who they were. So Pat told Steve to give me a call. I met him there that Friday, told him who I was, and all he said was 'Oh, be here at midnight on Saturday.'"

Lynette Bean
Richard Boch, Mudd Club basement, January 1980.
Positioned outside the door, Boch granted and denied entrance to the prospective revelers before him. Mass had certain guidelines about who to let in—squares and troublemakers were discouraged; artists and interesting types were encouraged—and trusted Boch's judgement. "He liked me because I knew a lot of people, but mainly he liked me because he knew that even if I didn't know someone personally I still knew who they were," the author explains. But that didn't mean celebrity status guaranteed admission; attitude also counted for a lot. Boch once turned away Paul Simon after the singer, grumpy and impatient about waiting in line, griped, "Hey! Do you know who I am?!"
The Mudd's exclusive door policy led some to accuse it of being elitist. Boch, though, is unwavering in his defense of the rules to this day. "On busy nights people had to leave before we could let more people in, it was as simple as that," he says. "It was a 'club' in the true sense of the word. Actually, it was more like a party than a nightclub. And when you're having a party you get to decide who you want to attend, right?" Generally, Boch was liked and respected by the staff and clubgoers.
"Richard had the right radar for being the person on the door," says Bush Tetras guitarist Pat Place, whose band frequently played the club. "He had the exact right personality and he was a responsible guy. He might be completely loaded, like a lot of us were back then, but he was always on time."
Besides those by Place's group, some of Boch's other favorite Mudd Club performances include the Psychedelic Furs' first US shows (1980), a Talking Heads taping for the BBC (1979; viewable on YouTube), and a night by Marianne Faithfull, who returned from obscurity for a legendarily shambolic 1980 set. "It was for the launch of her Broken English album," he says. "She'd been hanging out with [Rolling Stones muse] Anita Pallenberg, doing God knows what. She crashed and burned—but it was amazing to watch."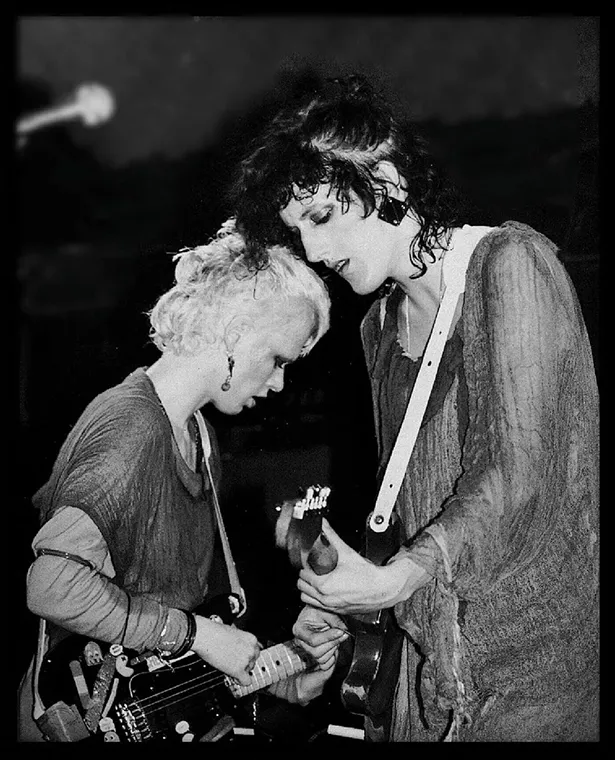 Lisa Genet
Pat Place and Cynthia Sley of Bush Tetras in 1981.
Reading Boch's book, one gets the sense that, despite his direct connection to the scene literally swirling around him, he often felt disconnected from it. Was the gatekeeper secretly an outsider himself? "I'd mix and mingle with all of these people inside the club," he says. "Other than the people from the Patti Smith Group and [transgender fashion model] Teri Toye, who lived with me for a while, though, I was never really fully all right with anyone. But the people I hung out with the most then were the people I got high with, so some of [the detached feeling] was from the drugs."
The drugs. As expected, Boch's position made him somewhat susceptible to the bribes—often imbibe-able bribes—of interlopers who wanted in. This would ultimately prove to be a problem for the 26-year-old doorman and aspiring painter, who was already partying plenty hard outside of work. "People would turn me on to whatever they had," Boch remembers. "If they were driving, I'd just hop in their car and get high while we drove around the block. It was crazy." After 18 wild months on the job, the lines, so to speak, between work and play were becoming increasingly blurred. When he wasn't on the clock—and often when he was—Boch was hanging out inside the club, drinking for free and dancing up a storm. In November 1980, sensing he'd gone over the edge and for the sake of his well-being should remove himself from the Mudd scene, he left for a better-paying spot as the doorman of the Peppermint Lounge on West 45th Street. But, of course, his demons just followed him there.
Nick Taylor
Jean-Michel Basquiat, Mudd Club dance floor 1980.
"I thought a change might save my mental and physical health—but I was wrong," says Boch with a laugh. "The decision-making process was all a bit drug-addled." After six months Uptown, he went back Downtown to work at Max's Kansas City owner Mickey Ruksin's later venture, One University Place. It took the 1983 overdose deaths of Ruskin and another close friend, Pretenders bassist Pete Farndon, to get him to at last put the drugs aside; the booze went next, in 1987, and the rise of AIDS, which claimed Klaus Nomi, B-52's' guitarist Ricky Wilson, and so many other Mudd Clubbers, steered Boch toward safer sex. He moved into the restaurant management field, where he worked up until 2004 when he sold his Murray Street loft and bought a small apartment on the Upper West Side. Since then, Boch has focused on painting and writing, splitting his time between Manhattan and Kinderhook.

Packed with photos and images of gig fliers and ads, The Mudd Club collates Boch's short, stand-alone essays into a dreamlike narrative that matches the freewheeling nights of the titular venue. Currently, the 64-year-old is assembling an archive of Mudd memorabilia and formulating his next book, about "sexual misadventure with clubland as the backdrop." Examining the era from this end, does he think there will ever be another place like the Mudd Club?
"Not in Manhattan," he says. "It was all pre-gentrification then, the last stand of New York bohemia and the beginning of DIY. But for people reading the book, I hope that they get a sense of the history and what it was like to survive and create in a New York that doesn't exist anymore. And I hope it inspires them to find their own creative paths and follow them."
Richard Boch will read from The Mudd Club and present a slide show of images from the book at Kingston Artists Collective + Cafe on September 23 at 3pm.