Erin McGovern and Ellen Mary O'Brien at Big Dave's Family BBQ in Goshen.
At the center of Goshen lies a busy intersection with five arms leading to various points in Orange County. Daily traffic slides through, past a row of sycamore trees, the red-bricked sidewalk, and a large public green known as Village Square. The village spreads out from there into a neighborhood that includes original commercial buildings and large Victorian homes. Goshen grew up due to its proximity to the Black Dirt region, its role in the rise of dairy farming, and the development of its rail station in the 1840s, and its central location. Goshen's early glory can easily be detected in its historically significant structures, examples of which include the 19th century townhouses known as Lawyer's Row, the 1913 Tudor style
Harness Racing Museum and Trotter Hall of Fame
, the 1841 Greek Revival Courthouse, and the 1871 First Presbyterian Church whose spire can be seen for miles outside of town.
Underlying Goshen's success is its status as county seat, designated in 1878. Testimony to its importance is Main Street's Orange County Government Center, a 1970 brutalist work designed by Paul Rudolph. Although the striking edifice is revered by architectural enthusiasts, it has been subject to criticism due to structural inefficiency. Many of its 87 roofs leak and the cost of heating it is prohibitive. County Executive Edward Diana has been a proponent of replacing the complex, saying in 2010, "If I took a poll in town, it would be demolished tomorrow."
The threat of demolition has spurred a movement, spearheaded by Nancy Kearing, a former member of the architecture firm I. M. Pei & Partners. Kearing says of the Rudolph building, "When I walk into it I am in awe of that space; how the light comes in such powerful ways." Kearing has caught the attention of several preservation organizations including the National Trust for Historical Preservation and Preservation League of New York and will be holding a forum with architectural experts on the building's historic value on April 16 at the Seligman Homestead in Sugar Loaf.
Slow-Motion Goshen
Midday, midweek Goshen thrives. Aside from the daily activities of its nearly 5,600 people, the village bustles with businesses that are within walking distance of the Government Center. There are professional offices that house lawyers, title insurance companies and engineers. There's Baxter's Pharmacy, Joe Fix It's Bike Shop, High Withers Wine & Spirits, two hardware stores, and Linda's Office Supply for those running lunch errands. There are eateries that span from upscale Italian to take-out, to those offering Greek, Mexican, Asian, and American fare.
Government brings daily visitors but, at the end of the workday, the center of town falls asleep. One entrepreneur is looking to change the habits of fellow Goshenites and draw people out in the evening. Dave Prosser grew up in Goshen but spent most of his adult life living in various locations around the country. He describes how he returned after 25 years to find a bedroom community: "A lot of buildings have been restored. What used to be farms are now fields of huge homes. The village has become 'drive-thru' versus the 'walking' village it once was." In response to his encounter with "slow-motion Goshen," Prosser opened
Big Dave's Barbecue
to expand the pool of options for Goshen families. His menu is dominated by Eastern North Carolina barbecue for meat lovers and vegetarian selections like build-your-own mac & cheese. He also brings a spark to the center of town by offering evening music events Wednesday through Saturday where parents can have a night out with their children.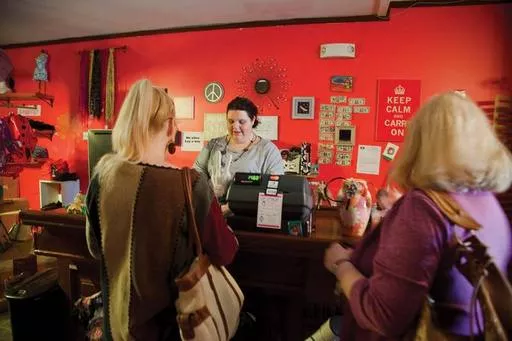 Shoppers at Christine's Closet.
The desire to enliven Goshen's nightlife has proven contagious. Sarah Harrington is owner of
Howell's Deli
, an eatery that has been in the village's flatiron building for 55 years. In the past year she has expanded and now seeks to provide "a place where everyone can still afford to take their family out to a local dining establishment." She has added dinner offerings, a multifunctional bar, television, and fancy dessert case. Another exciting evening addition to Main Street has come from Rose Shevchuk and her husband Anatoly. For eight years the couple has owned and operated Goshen Gourmet, a busy cafe and village pulse point. Until last year, the golden hue of its seating area would warm up lunchtime while its wide range of coffee choices fueled patrons all day. Last autumn, the Shevchuks birthed
Bistro Lilly
and contracted Goshen Gourmet into one room. The yellow glow has been funneled down the street to the 1907 commercial building that was once the village's Emergency Hospital. The first floor now houses a quaint restaurant with simple elegant décor and marble table tops. As part of a commitment to providing a nighttime destination that is both community-centric and sophisticated, Shevchuk hired Goshen native and CIA graduate Nick Kosinski and has plans for musical acts, wine tastings, and cooking classes. In summer, she'll open the doors, move some tables onto the sidewalk, and let the evening air mingle with the golden energy in the room.
The historic Thrall library in Middletown is housed in the 1896 Erie Train Station.
New Energy in Town
Last September a new resident moved to the southwestern corner of the five-point intersection, filling the space that was once Goshen Gourmet's second room. His name is Avalokiteswara, also known as the God of Compassion. He sits in the window of Kashmir Bazaar, a store stocked with statues of deities, saris, and exotic gifts that moved from its longstanding location just down West Main Street. Now the blooming god with his many hands draws an average of five admirers a day. Owner Seema Pinjani states, "Whoever is a Buddhist will know the story. Whoever is an art lover will appreciate its beauty." He who has a thousand hands serenely indicates a strong energy growing in Goshen.
Just next to his old home sits Art & Soul Studio, housing the work of artist Lori McBride. In 2005, the lifelong Goshenite realized her desire to provide a creative outlet for her community. She opened an interactive bead and ceramic shop for people who weren't necessarily artistic but wanted to work with their hands.
Although the use was a positive addition to Main Street, McBride transformed her storefront in 2010. She now uses Art & Soul as a venue for reconnective healing and other self-empowerment workshops. She is also a painter and is currently displaying one of her crowning achievements: A series of large, vivid watercolor paintings that depict each chakra point as a different species of flower.
Since Art & Soul opened, a handful of nurturing women have started businesses in Goshen, with beauty salons and spas, yoga, and massage therapy as the main sources of nourishment. McBride says of the cluster of businesses, "It's nothing new in terms of women making jewelry, preparing healthy food, caring for others, doing hair, make-up. It seems as though many women have lost themselves and their connection to spirit over the generations and the focus of these businesses is in bringing women back to being centered."
Food has also developed as a healing agent on Main Street. At Brody's Café and Juice Bar, owner Jen Brody offers juices made with no added sugar or additives, wheat grass shots and entrees made with only fresh ingredients. Knowing that color in produce indicates freshness, Brody whimsically explains that she loves serving colorful food. Proudly announcing her love of orange, she relays a recent conversation where she asked a member of her staff, "Aren't these carrots exceptionally beautiful?"
Brody also provides a homebase for the growing number of people in Goshen who seek healthy living. Drawn by social sparks and the opportunity to hone their healing powers, high school and middle-school aged girls flock there and often gain employment. Conversation occurs naturally between patrons aided by the insistence of a low ceiling, lots of natural light, and the close seating arrangement. Recognizing that feeling comfortable is a form of healing, Brody states: "When you walk in that door, I want you to feel like you're walking into my house."
Hidden Middletown
In the center of Middletown is a large parking lot, the southeast corner of which abuts a mysterious patio. On a winter's day, one can easily find themselves upon it and inside a peculiar sensation. Although the spot is frozen over and empty planters sit in memory of a summer passed, a small speaker stills plays joyful music. The sound mixed with the string of dormant outdoor lights gives an observer a sense that, when full and bustling, memories are created there. The patio belongs to Nina, a well-respected restaurant on Franklin Square, where North and West Main Streets collide. In addition to places like DeStefano's and the
Empty Bottle Saloon
, Nina shares the neighborhood with the
Paramount Theatre
, an 1,100-seat anchor destination built in 1929 in Art Deco style that hosts art exhibits, lectures, fundraisers, dance recitals, school plays, musicals, films, and the sounds of the Wurlitzer organ.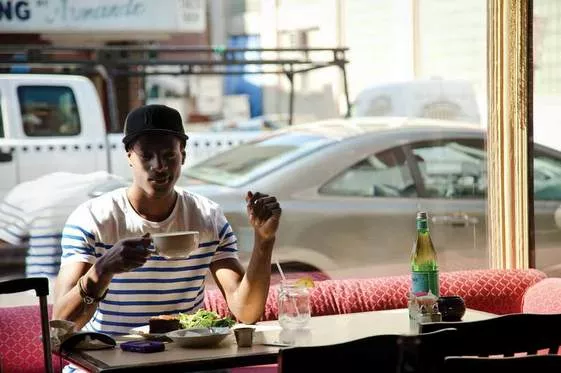 Lunch at the Something Sweet Cafe in Middletown.
At the northern edge of the same lot is James Street, which follows the path of the old Erie Railroad. There sits the historic 1896 Erie Station, an example of Romanesque architecture. Now the popular Thrall Library, the building is a proud example of a rich past but also serves the community with a high-traffic used bookstore and an independent/foreign film series called Reel Eclectic. Also at the north end of the lot is the Interactive Museum, a children's activity center "dedicated to the exploration of math, science, technology, and the arts."
Some might lament the location of the parking lot because building it helped to destroy remnants of Middletown's past. However, it allows the city to maintain some of its historically charming density, much of it formed when the city was a rail hub. For instance, it serves visitors to North Street which maintains its original stock of commercial structures, uninterrupted by driveways and black-topped parcels. The variation in height and storefront design coupled with the snug placement of buildings remind one that downtown Middletown was once a regional shopping Mecca.
History Intact
The intact historical buildings along North Street have actively attracted those looking to invest in an urban setting. One of the mainstays is
Something Sweet
, a dessert cafe co-owned and operated by pastry chef Anna Madden. Native to Middletown but trained in New York City, Madden brings a combination of urban sensibility and hometown loyalty. Madden and her husband bought the Kernochan Building, originally a jewelry store, nine years ago and opened the cafe two years later. She values the original woodwork and two-way mirrors and playfully describes finding little bits of jewelry and watch pieces in the floor cracks.
The Orange County office building in Goshen. Built by noted architect Paul Rudolph, the building has structural flaws and may be demolished.
Something Sweet
has become a meeting place for those seeking a comfortable but sophisticated spot in Middletown. It now has a menu of offerings made from scratch, including a red bean burger with avocado and chipotle dressing and a quinoa sweet potato cake. Madden encourages the personalized atmosphere of the café stating, "They come to us because of who we are. There's so much more to this than just serving food," she says. Along those lines, Madden and her husband started a downtown 4K six years ago that starts at North Street and ends on West Main Street. Their intent is to use the money raised over the years for a public improvement project for which they are currently developing.
A Car-Centric Landscape
A historian once described Middletown as "a point of special interest to hungry travelers between the Hudson and the Delaware." But, when people think of the city many picture the Route 211 commercial corridor just outside its borders that includes the
Galleria at Crystal Run
. There's no precise moment when Middletown lost the battle for expendable income but it can be partially traced to urban renewal in the `50s and `60s, the resurrection of Orange Plaza, and the loss of its last passenger train in the mid-1970s. The ensuing car-centric landscape has been a source of frustration for many people growing up in the aftermath. Therefore, it is only natural that at the point of the city's steady rehabilitation, some of its younger residents have sought to reclaim what once attracted voracious travelers.
In a large, dark room, rambunctious friends fill the space while smoking candy-flavored tobacco. In the crowd is Tyler Durland, the 22-year-old owner of the Downtown Hookah Lounge. Durland opened the lounge as a means of both making a living and remaining independent. The friends on site are Durland's, some of which make up the house band, My Dreamz. While setting up to host the Wednesday night open mike; member of the band Glenn Gilson takes a moment to ponder the role of the hookah bar: "We are the lost boys of Middletown and the lounge gives us a place to go and avoid…mischief."
Durland's lounge is located in Franklin Square, among a string of interesting ethnic eateries offer authentic Italian baked goods, Soul Food and Mexican, Spanish, Chinese and Puerto Rican fare. The spark felt in cities is often created by the blend of old and new, a condition that also attracted 22-year-old Christine Fitzgerald. Having first located Christine's Closet in the more bucolic village of Montgomery, Fitzgerald was attracted to the diversity and foot traffic of Franklin Square last spring. She prides herself in selling hip, affordable women's clothing and for providing an alternative to the over-stimulating mall setting.
Both Durland and Fitzgerald maintain a business sense that is refreshing and inspiring. Durland, for instance, reports that when designing the lounge he visited a section of Manhattan where many hookah lounges now thrive. By observing the ways in which they compete he was able to pick up a few key pointers. He considers Downtown Hookah Lounge as a "work in progress" and frequently asks for suggestions, his favorite of which has been to cover a wall with projector paint and show movies.
Fitzgerald is also surprisingly savvy. She has added amenities such as a sofa, a small children's area and a section carrying the business cards of her neighbors and associates. She also hosts Friday night shopping parties with food and makeshift fashion shows that are particularly lively during summer music events. As the perfect combination of business owner and a girl just wanting to have fun she claims, "Sometimes I pop a bottle of wine, just because."
Middletown and Goshen, like many other Hudson Valley towns, maintain a healthy supply of structures wherein history is layered. Although their climates differ, both towns struggle to maintain a lively economic and social core and are lucky to be aided by conscientious entrepreneurs who seek to preserve and improve the landscapes in which they are professionally and personally invested. As the tides change, sometimes at the hand of outside sources, both will continue to preserve pieces of Orange County's interesting story.

RESOURCES
Bloomingdeals (845) 294-6811
Brody's Best Cafe & Juice Bar (845) 615-1118
e-Diner Design & Marketing
www.e-DinerDesign.com
Gentle Touch Body Care & Salon
www.gentletouchbodycare.com
Guys, Gals & Gadgets (845) 381-1548
Grandma's Helping Hands Boutique (845) 344-5894
John's Harvest Inn
www.johnsharvestinn.com
Mike's Auto Care
www.mikesautocare.com
Mount Saint Mary College
www.msmc.edu/adult
Pleasant Stone Farm
www.pleasantstonefarm.com
Trattoria Viviano
www.trattoriaviviano.com