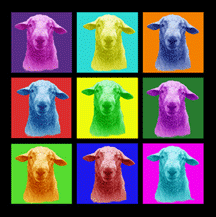 The Sheep and Wool Festival takes place October 20 and 21. Image based on original artwork by Susan Harding Merancy.
Old Rhinebeck Aerodrome
Air shows are every Saturday and Sunday at 2pm at the Old Rhinebeck Aerodrome, from mid-June to mid-October. Every weekend air show is preceded by a vintage fashion show and an old-time auto parade. On Saturdays, the show emphasizes planes from the pioneer days. On Sundays, there's a mock-World War I dogfight in the sky.
Oldrhinebeck.org
Oblong Books & Music
The Montgomery Row retailer hosts author events throughout the year. On August 11, from 4 to 6pm, Linda Hirschman will read from Victory: The Triumphant Gay Revolution. John Kelly will give a reading from The Graves are Walking: The Great Famine and the Saga of the Irish People on August 30.
Oblongbooks.com

New York State Sheep and Wool Festival
Every third weekend in October (this year October 20 and 21) fiber fanatics take over the Dutchess County Fairgrounds in Rhinebeck for two days of livestock, yarn, woven objects, spinning wheels, and all things knit and spun.
Sheepandwool.com
Bard SummerScape
The annual SummerScape festival in July and August offers seven weeks of theater, film, opera, dance, classical music, discussions and cabaret—the latter in the glittering temple of vaudeville sin, the Spiegeltent. In addition, each year Bard selects an avatar of the classical music world, honors him or her by reviving his or her works and then builds out the schedule from there, citing the works of contemporaries, mentors, and influences. (This years features Camille Saint-Saëns.)
Fishercenter.bard.edu

Center for Performing Arts at Rhinebeck
Legally Blonde: The Musical is playing through August 19 at The Center for Perming Arts at Rhinebeck. The Best of Doo Wop will be held from August 24 to the 26. You're a Good Man, Charlie Brown will be held on August 4. Magician Derrin Berger performs on August 11. Disney's Beauty and the Beast will be performed on August 18 and 25. For shows and events from September through November, visit them online at
Centerforperformingarts.org
.
Sinterklaas
The first Saturday in December, Rhinebeckers celebrate their Dutch heritage by recreating customs that the settlers from Holland brought to the Hudson Valley 300 years ago. Enter Sinterklaas, a gent much like Father Christmas elegantly garbed in a bishop's tall hat, red cape, shiny ring, and jeweled staff. Mounted on a white steed, Sinterklaas rides through town distributing goodies. The Sinterklaas Festival is a pageant of epic proportions, complete with parade, elaborate costumes, and music, dancing, and a hint of Old World magic.
Sinterklaasrhinebeck.com

Dutchess County Fair
The Dutchess County Fair is New York's second-largest county fair, a showplace for agriculture over 160 acres of finely manicured gardens and grass featuring thousands of farm animals, agricultural exhibits, and horticultural displays. This year's fair will take place August 21 through August 26 and highlights include performances by Chubby Checker and Starship. The Hudson Valley Wine and Food Festival is on September 8 and 9 at the fairgrounds.
dutchessfair.com