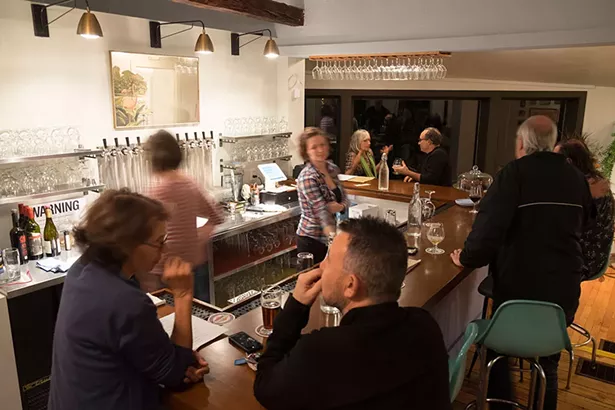 Reynolds & Reynolds, which opened in October 2016 across from the Woodstock Playhouse near the intersection of Route 375 and Mill Street, bills itself as a tap room. This conjures images of dark, wooden interiors, underground rathskellers, and male-dominated spaces of old. The reality of this Woodstock establishment is quite the opposite. Large windows bring in a generous amount of light, and clean lines delineate an open eating plan that fosters conversation. (The location does have an interesting history: The space is the former medical office of Dr. Wayne Longmore, who went to prison in 2013 for selling Vicodin to those who perhaps did not need it but were willing to pay cash.)

The proprietor, Megan Reynolds, is well known to Woodstockers. For many years she was the manager of the Woodstock Farmers' Market. She also runs a B&B in town, the Retreat at Tree Gap. Reynolds is a homesteader, gardener, home brewer, and beer enthusiast—only someone deeply into beer would describe it to an interviewer as "charismatic." (She's also the recipient of a Cicerone Certificate, an industry standard for beer professionals akin to becoming a certified wine sommelier).
One of her first motivations in opening Reynolds & Reynolds, a long-held dream of hers, was the paucity of good watering holes in the village. "When I first started thinking about a bar, there weren't many options to drink here," says Reynolds. "I wanted a third place in Woodstock." Woodstock has changed a bit in the past few years, however, and a few eclectic spots have opened up, like Station Bar & Curio. While the original need has diminished, Reynolds's enthusiasm for beer has not, and it's dovetailed with the craft beverage boom. "My interest in beer over the last seven or eight years has been concurrent with the explosion of breweries across the country," says Reynolds.
Owner Megan Reynolds talks with customers across the bar.
There are 10 taps at Reynolds & Reynolds, which feature a rotating selection of brews selected by Reynolds, who can be found behind the bar most nights. With her selections, Reynolds likes to vary the styles and alcohol content of her beers, serving beers that appeal to both beer neophytes and aficionados. In mid December, she was pouring, among other things, Harvest Marzen from Keegan Ales ($6 for 16 oz.), the Kingston brewer's first foray into a classic German style; Void of Light Stout ($7 for 16 oz.), a roasted barley stout from The Bronx's Gun Hill Brewing Company; and Winter Mess 2016 ($7 for 12 oz.), a winter ale from Brasserie de la Senne, the first brewery to open in Brussels in 60 years. (Yup, you read that right; they like their tradition in Belgium.) All beers are offered in three sizes—5 oz., 8 oz., and 12 or 16 oz.—so you mix and match in a tasting format.
Reynolds & Reynolds is a bottle shop as well, so you can buy beer for take-out, and the cooler is stocked with large-format specialty brews that can be hard to find and more mainstream selections as well. There's also a small but well-curated wine list that leans heavily on French selections like a Chateau de La Greffiere Chardonnay ($12 glass/$40 bottle).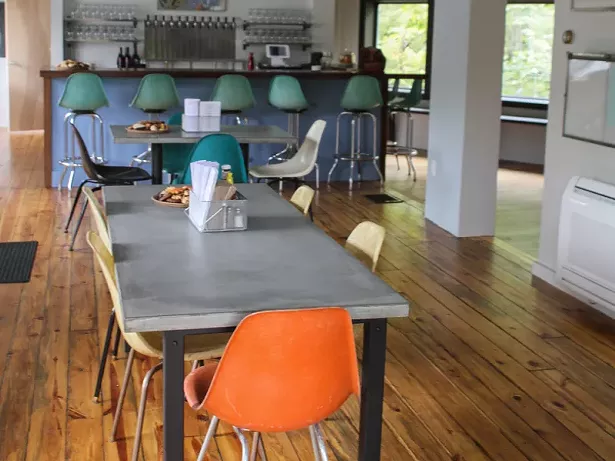 Unsurprisingly given Reynolds's farm-related background, the food here is seasonal and uses many local products, like sausage from Quattro's Farm in Pleasant Valley, greens from Sky Farm in Millerton, and cheese from Sprout Creek Farm in Poughkeepsie. Given that it's Woodstock, there is also an emphasis on vegetarian and vegan options. These included, in mid December, the roasted vegetable salad ($7) with butternut squash, sweet potato, beets, and salad greens. There's also the miso vegetable soup ($9) with noodles, braised greens, and tofu.
The focus is on small plates, emphasizing the informal atmosphere. "There's not a ton of causal places to eat in Woodstock," says Reynolds. The menu features 10 selections at any given time, from deviled eggs (1 for $3 or 2 for $5), to more elaborate offerings like the bratwurst platter ($11) or the rice bowl ($10) with charred broccoli, maitake, and kimchi.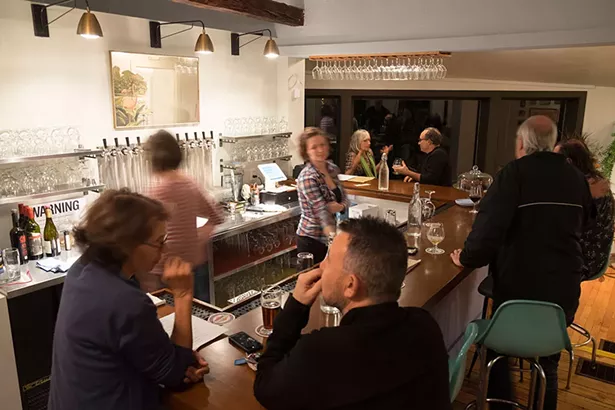 While the beer list is well thought-out and the small plates are delightful at Reynolds & Reynolds, for my money, the bar's secret weapon is its 14-foot shuffleboard table—the kind that comes with a can of powdered accelerant you sprinkle on the wooden boards. There's also a bookcase filled with games like Connect 4 and Rummikub (don't forget to bring Grandma). Reynolds is also planning a series of beer tasting and beer education events, as well as a Shakespeare read-along with the Collar City Players, a Troy-based group. Seems that beer can be paired with anything these days, even litterachur!