Page 3 of 3
The final show, in Lyon the week after, was held at a sprawling complex normally used as a produce distribution center. I had some amp problems during soundcheck, something that would've severely rankled me in the old days but this time barely registered. The stage was inside an open-walled affair about the size of an aircraft hangar, and when we went on it was totally packed. The set swung like an atom bomb, and when it was done the ballistic crowd still wanted more. The promoter said we were the hit of the festival. It all felt like a dream, the best dream. Still does.
So where does this leave the Chrome Cranks? I honestly can't say. There's been some chatter about more dates overseas, and I'd love to make another record. We'll see. Whatever does or doesn't happen, having been able to make music once again with three of my best friends is still more than I could've wished for. And it was all somehow easier, far more enjoyable than before—but not at the expense of the music; I don't have to be perpetually pissed-off for the shows to be great. Perhaps I never did. Before all of this I wouldn't have believed it, but it's true: If you did it in a past life, you can doubtlessly do it again in the next. Maybe the one after that, too.
They say you can't go back, but I'm not so sure you really ever really leave. You just go around the block, and return if and when you want to. And whoever that "someone else" is, wherever he's been, I'm glad he's back. Or at least not so far away. I've also learned that even though I'm no longer an angry young man there's still plenty to be angry about as I get older; it's just different stuff. So yeah, I'm 44 years old and I'm still screaming. You got a problem with that?
The Murder of Time, a career overview featuring rarities and remastered tracks from the Chrome Cranks' first three albums, is out now on CD and limited double-vinyl gatefold LP on Bang! Records. www.myspace.com/chromecranks.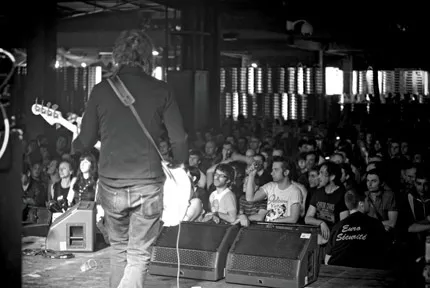 The Chrome Cranks at the Nuits Sonores Festival in Lyon, France on May 22. Photo by David Rodriguez.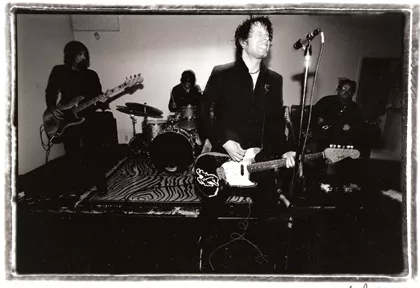 Cranking it at Backstage Studio Productions in Kingston on May 2.