A Wittus Twin Fire, a 93-percent efficient woodstove with a second firebox.
Home heating used to be simple, albeit inefficient and hard on the health of both planet and homeowner. You had something called a furnace, and when it had a problem you needed someone called a furnace man, and that was that. For a couple of decades now, with rising environmental awareness spurring technological wizardry, options have expanded. And if you're looking at a heating system upgrade, there's quite a bit to consider.
"Many contractors will still just come in and look at the label on your old boiler and see, for example, '100,000 BTUs' and go order and install a 100,000 BTU replacement," says Dan Silvestri, head of Silvestri Plumbing and Heating in Fishkill. "But a 1,800-square-foot house built in 1968 that had a 100,000 BTU boiler installed might be wasting 36,000 BTUs in heat loss. And there's a lot that goes into efficiency. It's not about the appliance itself, it's about what's being done to deal with heat loss."
"You might have a sticker on your new boiler that claims it's 95 percent efficient," says Silvestri. "That's like the mileage sticker on a new car—a lot depends on how you maintain it and how you drive. And if a new heating system isn't sized, designed, and installed properly, you may still get some savings but you won't get true efficiency."
True Efficiency
True efficiency requires a thorough "load" calculation. The American Society of Heating, Refrigerating, and Air-Conditioning Engineers, Inc. explains on its website that a lot more goes into load calculation than simply square footage and R-values: "An accurate load determination includes building construction; orientation to the sun; "R" value of the insulation; number, size, and placement of rooms; number, size, and placement of windows and doors; types of windows and doors (thermal efficiency); number and arrangement of floors; and the climate."
Computer software allows contractors to input the findings of this thorough inspection—the "whole-house approach," as Silvestri puts it—and come up with the right-sized heating unit. If, by some chance, a contractor you're talking to scoffs at all of this, get another contractor.
"This is a great field to be in right now, with all of the advances being made and the awareness of energy efficiency," says Silvestri. Among other changes, as of September 1, manufacturers will no longer be allowed to build boilers with old-style "pilot lights" or without outdoor resets, which respond to the actual temperature in calculating the heat load on the boiler instead of constantly calling for water heated to a wasteful 180 degrees.
"It used to be 180 [degrees] until shutoff," says Silvestri. "Now, appliances are designed for 110 degrees, and the idea is to maximize the heat transfers. That's where the whole market's going, and manufacturers are still playing catch-up. But putting money into your mechanical systems will certainly pay for itself in energy savings down the line."
The changes in boiler specs are consumer and environment-friendly, according to contractor and trainer Carol Fey, whose credentials include heating work in Antarctica. "The most important implication is that the plumber is going to have even less control over boiler water temperature. This is good for the homeowner's pocketbook," she writes in Contractor magazine.
Thus, if you're faced with replacing a boiler, there are important improvements on the horizon even if you're heating with fossil fuel. "Modulating condensing boilers are the state of the art with fossil fuel systems." says Silvestri.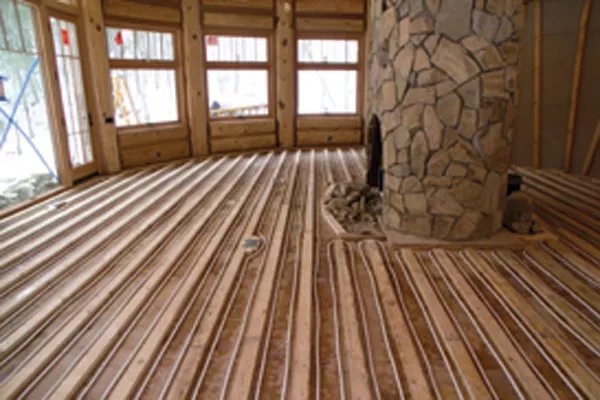 The Moonhaw Residence, a log home in Ulster County, has 8,000-square feet of radiant heating embedded in concrete in the basement and in Gypcrete in the upper floors installed by Advanced Radiant Design. The photos illustrate the installation process.
Ditching Fossil Fuel
Maybe you're considering ditching fossil fuel altogether, a choice that is getting easier to make with advances in technology. Even the venerable woodstove has undergone major changes, according to Niels Wittus of Wittus: Fire by Design. "Any stove or fireplace has to meet EPA standards, of course—it's a different world from 20 years ago, thanks to catalytic converters and an enhanced understanding of wood combustion," Wittus says. "Catalytic converters were an advance, but they tend to break down and not get fixed. In general, secondary combustion systems are a little more costly for the manufacturer up front, but there is a huge difference in efficiency and heating. Combustible gas used to go up the chimney, but by sending preheated air into the right places, you get a lot less heat and more ash."
The future of biomass heating systems may have been discovered in a small town in Germany, where two cousins were seeking to design an efficient cooking unit for third world countries. The downdraft system they designed has been incorporated into the Twin Fire, which Wittus says is hands-down "the most efficient system for residential use—93 percent, which is incredible for wood. It uses a secondary fire box. We take it to biomass shows and people go crazy—there's a big 'wow factor' over the two fire boxes."
They may lack the "wow factor," but a growing list of geothermal heat pumps now qualify for tax rebates under the federal EnergyStar program. Geothermal and solar electric (PV) systems are becoming increasingly affordable, and the list of local contractors who offer such systems is expanding.
Your heat source—furnace, boiler, woodstove, or heat pump—is but one factor to consider if you're rethinking the way you heat. There's also the control system—in that department, EnergyStar help is available with upgrading to a programmable thermostat- and the delivery system. And when it comes to delivery, forced air and baseboard systems may be giving way as the new century unfolds to the kinder, gentler, and more efficient concept of radiant heat.
A Radiant Future
There are no tax incentives as yet for upgrading to radiant heat delivery. "However, one of the things we in the industry are working on is getting the needed third-party testing done to quantify and demonstrate energy savings so that that might be a possibility somewhere down the line. Beyond energy savings, people love the feeling of warmth created by radiant floor heat," says John Abularrage, CEO of Advanced Radiant Design in Stone Ridge.
Radiant systems can be used with any heat source that produces hot water, and can be installed fairly easily in homes with unfinished basements; beyond that, products exist that can be installed over subflooring. And if you are planning new construction, radiant has emerged as the way to go. "If you go to Europe where they are very energy conscious, radiant heating is by far the main modality," says Abularrage. "It is the most efficient way to heat. And there are health benefits as well as you're not moving air around. We've done many homes for highly allergic individuals, and a radiant system makes a very real difference—people have seen their allergies subside."
Threat/Opportunity
Of course, the most wonderful heating system in the world won't work efficiently if your house is a sieve. "There is no such thing as too much insulation," says Silvestri. "The goal is to insulate to the point of net-zero energy loss, and then install a ventilation or air-handling system." In the area of insulation and sealing, there is much that can be done—and unlike some of the cutting-edge mechanical possibilities, help does exist for weatherizing your home.
In fact, if your budget's tight, you may want to start your research with NYSERDA, the New York State agency tasked with all things energy related. Their "Home Performance with Energy Star" program begins with an energy audit performed by a contractor trained in that "whole house approach," and leads onward from there to tax rebates and cash incentives, some available to people making as much as 80 percent of the median income.
Heating, in other words, is a hot topic right now. (Sorry, folks.) And if yours is giving you problems, you may do well to consider the flipside. This problem is an opportunity that can lead to lower bills, better health, and a greatly reduced carbon footprint—positively heartwarming.
RESOURCES
Advanced Radiant Design
Radiant-design.com
Silvestri Plumbing and Heating
Silvestrisons.com
Wittus: Fire by Design
Wittus.com