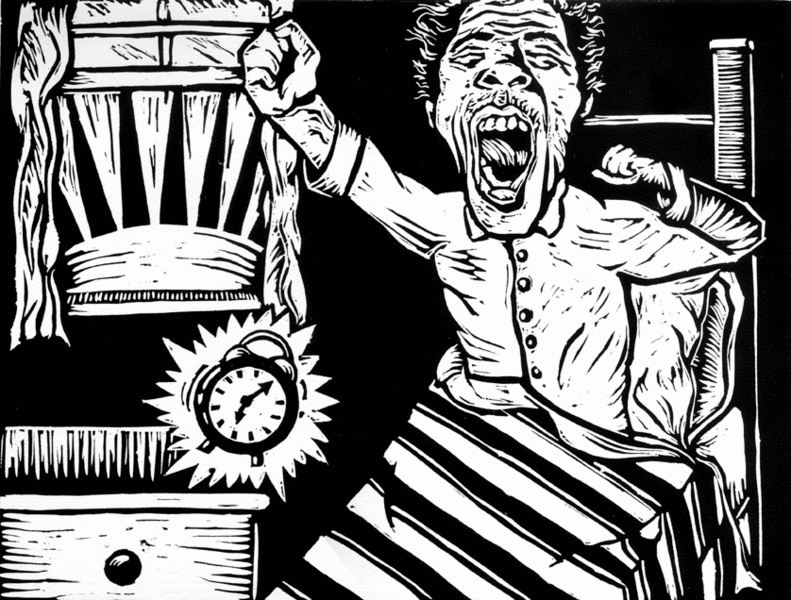 For those suffering with insomnia or fitful sleep, sleeping pills may seem like the only solution. But
A Good Night's Sleep
(Healing Arts Press, 2008), written by Jan Sadler, provides a plethora of sleep advice, none of it involving the use of medication. (The book comes with a 65-minute audio CD of guided visualizations and relaxation techniques.)
Sadler has taught classes in drug-free pain management for the last 15 years, and specializes in alternative remedies to bodily problems. In the book, she offers tips grounded in cognitive therapy techniques—ways to modify behavior and thinking in attempt to overcome psychological struggles. This is a fitting approach, seeing how Sadler credits stress as the main predictor of sleep problems. "The way we live our day is reflected in our sleep—the two are woven together," says Sadler in an online interview. "If you have very stressful days it would hardly be surprising if you didn't sleep well at night."
The author first investigated cognitive behavioral therapy when she was searching for a way to cope with her own sleeplessness that resulted from chronic pain. She developed many of the suggestions in her book after using them herself, which gives the methods a tried-and-true quality. But the results of Sadler's tips have not only been experienced by her alone. "Members of Sleep Matters UK tested the program and completed a questionnaire over six weeks and returned detailed comments to me," says Sadler. "It was universally applauded by those who used it; all of the participants' sleep improved." Sadler often receives thank-you letters from readers.
Blending her expertise in pain management with therapeutic research and practice, Sadler has provided readers with a variety of options to take control over what can feel like a debilitating situation. Below are eight main principles taken from A Good Night's Sleep, sound advice from a sound sleeper:

Breathe. More specifically, breathe deep. Diaphragmatic breathing is a process through which you manipulate your natural breathing into long, deep breaths. Make sure your abdomen expands when you inhale and contracts when you exhale. Called the "relaxation response," diaphragmatic breathing has proven to lower heart rate and blood pressure in medical studies. By focusing on your breathing, Sadler says, you are distracting yourself from focusing on anxieties. In turn, reducing anxious thought reduces the amount of stress hormones in your body—the same hormones that give the red light to sleepiness.
Think Pollyanna-style. Sadler provides readers with a variety of positive affirmations—phrases to repeat in your mind until you believe them. Repetition of a thought will sway your subconscious toward that thought, according to Sadler. She instructs readers to stop negative thoughts in their tracks, throughout the day, and to immediately recite a positive affirmation instead. Sadler suggests this be done at night to relax your brain and cease racing thoughts at bedtime.
Visualize. Sadler dedicates a good portion of her book to visualization exercises, in which the reader should imagine a comforting image, such as eating his or her favorite food or lying on the beach. By placing yourself mentally in these happy situations, Sadler says that your mind and body will react to these soothing images by relaxing, preparing you for a restful mindset.
Keep a sleep diary. By recording the progress of your sleep throughout the course of a few weeks, you can keep track of what methods work best for you. You will also develop a less worrisome attitude toward sleep by seeing written proof of your victories, however big or small, over your sleeplessness.

Don't push it. If you still have a restless night—as Sadler says, such nights are inevitable for almost anyone—do not force yourself to stay in bed (unless meditation can put you back to sleep). She advises to get up and do a quiet activity until you feel tired. Likewise, do not stay in bed in the morning if you are awake, as this will again make you more likely to associate your bedroom atmosphere with restlessness, rather than rest.
Prioritize. Sadler suggests that prioritizing daily responsibilities will also reduce stress during the day, and can lessen your tendency to pre-organize tasks at night.

Get physical. Sadler reminds readers that regular exercise is another way to lessen the buildup of stress hormones in the body.
Stick to your routine. By going to sleep at the same time every night, and by waking up at the same time every morning, you train your body to develop a steady sleep pattern.
Though Sadler believes there may still be a place for medication, she says that often "it would be preferable not to use medication as it can be addictive." If you are suffering from sleep deprivation, consider the above techniques. Sadler also encourages readers to try, try again. "As with most things we learn in life, the more often the techniques are practiced, the more effective they will become."
Follow Sadler's advice and you, too, can become a sleep expert. If anything, your very first step is in knowing that you have more control over sleep than you ever dreamed.