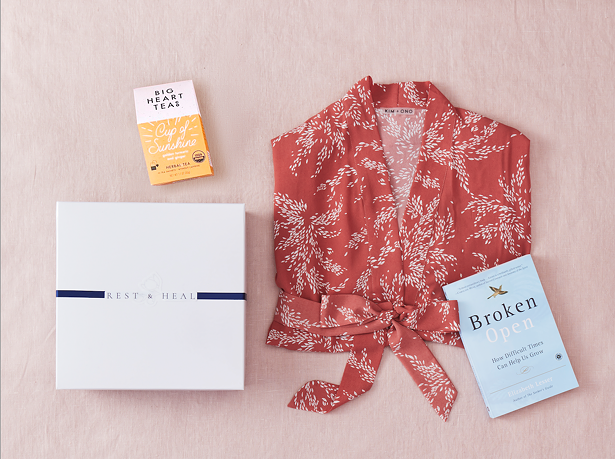 "With the pandemic, people have taken stock of their lives," says Anna White, founder of the Chatham-based brand Rest & Heal. "People are thinking more deeply about what they want their lives to be about." For her that meant moving upstate full-time with her family to their Chatham home and starting a business based around supporting women through life's big challenges.
"For over two decades, I battled chronic fatigue along with a host of other issues," White says. "In my case, Western medicine offered little relief—healing required a great deal of research, experimentation with different healing modalities, and self-examination." She originally conceived of Rest & Heal as a sleepwear line, but ultimately realized she wanted to showcase the books that had supported her in her darkest hours. "These are books around our shared humanity," she says. "Trying to understand why we face the struggles that we do, looking at our lives in a more holistic and spiritual perspective, like 'Why was I given this set of challenges,' and 'What should I take away from this?" Some of her favorites include Elizabeth Lesser's book Broken Open, and Brene Brown's Vulnerability and Shame.
After finding a storefront on Hudson Avenue in Chatham, White's idea crystallized: curated care packages featuring these books, designed to help women through life's heartbreaks, hurdles, and rites of passage. Through her brick-and-mortar and online shop, she currently offers five options: heartbreak, grief, new motherhood, and illness, plus a limited edition Mother's Day package, all in the $100 to $200 range. Each care package comes with a book, a garment, and other treats.
"There are a lot of mysterious diseases and ailments out there that the medical community has had a hard time helping people with. There is no cure, no protocols," says White, who experienced this first-hand with her own chronic fatigue diagnosis. "A lot of people feel dismissed and diminished. Their pain is not recognized. Nobody knows how to help them. And beyond that, people are facing all kinds of struggles, depression, anxiety. There is a lot that is not working in the system. Thankfully, mental health has become more of a focus, less of a stigma."
White conceived of Rest & Heal as a way for women to support each other in trying times, a more lasting and, hopefully, transformative gesture than sending flowers. "The feedback so far has been really positive," she says. "I think people are really touched to receive them. We do a hand-written note with every package, and it's lovely to see what people say to each other. It is moving—sometimes to tears. There is just so much love out there."
The products included in the packages—robes, sleepwear, tea, bath salts, body scrubs, alpaca blankets—are sourced from sustainable and women-owned businesses. In addition to the themed care packages, you can also design your own—either for yourself or to gift. "The idea is to keep it relatively simple," White says. "I'm not going to add tons and tons of products to the point where it gets confusing for people."
White has also begun hosting some events in-store, which she hopes to do more of post-pandemic. Recent topics include overwhelm and meditation. "I think women coming together and educating ourselves is also very healing—being part of a community discussion and learning from each other," she says. "I think there is a universal way of stepping back and looking at these challenges," White says. "Not seeing them as random things that just happened to you, but maybe finding some bigger meaning. There is the ability to really learn something, and really change something if it needs to be changed."
White will be opening the brick-and-mortar to the public on weekends in the run-up to Mother's Day on April 25, May 1-2, and May 8 from 11am-4pm. The limited-edition Mother's Day care package ($120) includes Kae Kimono robe, a clothbound journal, and a bath bomb. You can also browse the Rest & Heal care packages online at any time.