Nolan Thornton
David Holland (right) leading panel discussion during the Cannabis Education Forum.
On Sunday, October 17, just about everyone in the know and everyone who wants to be in the know about the business of marijuana in the region met at the Albany Capital Center for the New York State Cannabis Expo & Conference (NYSCEC). Subtitled "How to Break into the New York State Cannabis Industry," NYSCEC was a colorful mix of experts of all types. Among the speakers were David Holland of the New York City Cannabis Industry Association and Empire State NORML and Andrew Schriever of the Hudson Valley Cannabis Industry Association, both lawyers by trade, and both experts in cannabis law. The attendees were mostly entrepreneurs looking to break into the emerging industry.
Early on in the day, attendees learned that one of the biggest hurdles they are up against is undoing 90 years of misinformation—"three generations of intentional fabrication. If the speakers, who are activists, and the attendees, who are aspiring to break into the industry, are to make any headway, they're going to have to change people's minds.
Nolan Thornton
A selection of CBD-infused products at Jenny's Baked at Home booth.
According to Kristin Jordan, a panelist in the social equity seminar, and a lawyer and entrepreneur, drug policy in the United States goes further back than you might think. It started in the 19th century, with Chinese immigrants working on the railroads and bringing opium with them. Although the immigrants were targeted, they weren't the primary users of the drug. According to Smithsonian magazine, white women made up more than 60 percent of opium addicts in the late 1800s. Not unlike today's opioid epidemic, doctors prescribed it to them. The fact remains, however, one population was treated with hostility, and one population was treated with respect.
Even the term marijuana has racial connotations. The term comes from Mexican slang, and was adopted for that very reason. The US government wanted the public to associate cannabis with Mexican immigrants. Demonization of the other is an old theme in America.
New York's legalization bill, the Marijuana Regulation and Taxation Act (MRTA), seeks to redress the negative impacts of the War on Drugs on minority communities through its social equity provisions. The MRTA also places a 50 percent priority on social equity applicants. Social equity applicant categories are minorities (including women), economic equity applicants, distressed farmers, impacted community members (from the war on drugs), service disabled veterans, and justice involved (applicants who went to prison or have a family member who is in prison or went to prison). Indigenous and transgender people do not constitute minorities in the MRTA.
Despite the law's problems, it is still the best of its kind so far according to attendees at the expo I spoke to. "The MRTA is a commitment to trying to improve social equity programs and horizontal licensing schemes, and trying not to oversaturate the market," says David Holland. No state has really gotten it exactly right thus far, but, according to Holland, the MRTA could be a social equity model for other states. It bears repeating, if the war on drugs put so many Black and brown people unjustly behind bars, then the new legal framework for cannabis should prop those groups up to attempt to offset some of the previous damage.
Horizontal licensing schemes separate New York from many other states, which are vertically licensed. Unlike, say, Massachusetts, New York will offer separate licenses to grow, process, package, and sell cannabis. In Massachusetts, dispensaries often sell cannabis that they grow themselves. These companies are vertically integrated
.
In promoting a horizontal model over a vertical model, lawmakers aim to promote many small entrepreneurs over fewer large companies.
As Holland mentioned, the MRTA contains language aimed at preventing market oversaturation. There is a cap on how many licenses the state will give out. This fact could also be interpreted as a downside to the MRTA. Limiting the number of licenses is limiting the opportunities given to entrepreneurs, potentially many of them being social equity applicants who will not have the capital out of the gate to apply for licenses once they become available.
As far as who will actually get the licenses, it's anyone's guess. "They're gonna get it wrong, it's just a matter of how wrong they get it," says lawyer and cannabis law expert Kaelan Castetter. Though there is the purported 50 percent priority to social equity applicants, the question of what the owners of the dispensaries will look like is still a mystery. However, it is worth noting that New Jersey has 25 dispensaries, and zero black owners. The trend that seems to have popped up is that many white women end up opening dispensaries, utilizing their status as social equity applicants.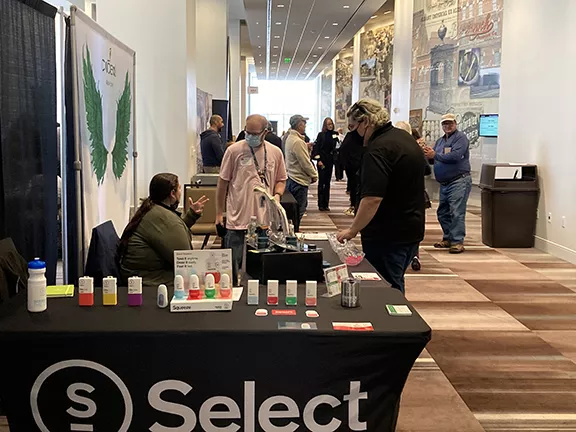 Nolan Thornton
Select is a CBD company has created a product called Squeeze, which is added to water for a CBD and flavor boost.
"The biggest problem is going to be education," says Carlos Montes, an attendee. Montes is a convicted felon, and hopes to open up a growery. "No one knows where to get a license or how to get a license." If the past is any indication, those who can afford to hire people to help them will get a license. But maybe this time will be different.
The price for a license has been a matter of debate. It was rumored that they would cost $250,000, but that was merely a re-reporting of the medical license price from five years ago. According to Castetter, "Licenses should cost between $15,000 and $20,000."
Who will get those licenses and how many will be apportioned is up to the Cannabis Control Board, which will have its second meeting on October 21 and is still early in the process of ironing out regulations and application guidelines. Would-be entrepreneurs will have to continue to wait.