Winona Barton-Ballentine
Tyreik Jackson's 1772 Center Hall Colonial was once the center of a 160-acre dairy farm. The three-acre property features multiple outbuildings, once used for milking cows and stabling horses, which has converted into a carpentry shop and storage.
If you're ever on the A train—or the L or the 4, 5, or 6 or any other of the number and alphabet soup that is the New York City subway system—and a man with a carefully crafted wooden backpack gets on and offers you a raffle ticket, take it. The man is Tyreik Jackson, a master woodworker, maker, home renovation specialist, and, since 2015, the owner and steward of an historic Center Hall Colonial in Poughkeepsie.

The raffle is his brainchild, a unique way for him not only to share his woodwork creations but also his story. It's a story that begins when he was a somewhat ambivalent, but bright kid in Williamsburg and has evolved into the tale of a master craftsman with a deep love for, and a way with, wood.
Winona Barton-Ballentine
Jackson with the backpack he crafted for guerrilla marketing on the subway in New York City. His handcrafted raffle giveaways were a hit and he was gathering a growing following until the pandemic. He hopes to be back on the subway soon.
The 1772 Center Hall Colonial Jackson shares with his wife, Monica Jackson, and their three children bears evidence of his handiwork everywhere. The traditional kitchen trimmed with mahogany blends high-end finishes with many of the home's original features. The third-floor attic space—which Jackson believes was once enslaved servant quarters—is now a giant family room and guest space.
Jackson and his wife stumbled upon the house, which was once a 160-acre dairy farm, in 2014, when they were looking to relocate from New York City. Since then, Jackson has made the historic home and its restoration a bright chapter in his story. Besides his subway following, his carpentry skills and distinctively crafted wood furniture is also gaining local attention—and soon, one of the Hudson Valley's best kept woodworking secrets will be out.
The Wishing Well
Jackson grew up in Williamsburg, where his mother was a community activist and his penchant for rehabilitating neglected woodwork emerged early. "If I saw a nightstand or an end table in a pile of garbage, it didn't matter how nasty it was, I would get five bucks from my mom, buy some sandpaper and fix it up," he recalls. A middle school teacher noticed his talents and helped Jackson gain entrance to a specialized high school for the home building trades.
During his freshman year he helped build a wishing well with his class. "At the end of the year we took our stuff home," explains Jackson. His mother was moved by his talent and affinity for woodworking, and he was motivated to commit to carpentry full time. He had a natural talent, which eventually led him to SUNY Delhi to study carpentry full time. (He also met his wife there.)
Winona Barton-Ballentine
Jackson created the breakfast nook by tearing down an interior wall, then vaulting the ceiling above.
After graduating in 1999, Jackson made his way back to New York City, where he began working with a high-end general contracting firm renovating apartments throughout Manhattan. "There was so much talent at that firm, I worked with some of the greatest craftsmen and women, as well as the top plumbers, electricians, and painters," Jackson remembers. "And I was just like a sponge. I learned a lot in school but nothing really stuck until I was working hands on in the city." Eventually Jackson put his skills to work renovating his own Harlem apartment.
The Drive By
When their kids came along, the Jacksons realized they would need more space for their family to grow into. So they began looking upstate in Poughkeepsie, where Monica had grown up. "It really seemed like the logical place to raise our kids," he explains. Beyond the benefit of being near extended family, Jackson was attracted to Poughkeepsie's historical architecture. "I've been coming to Poughkeepsie since 1997, and from the beginning my wife knew I'd get a kick out of all the historic homes," he says. "I especially loved all the old, big, beautiful Victorians with their wraparound decks and Mansard roofs. I thought that it would be great to live in a house like that."
Winona Barton-Ballentine
The house's original woodstove (it's now in his carpentry shop) was replaced with a stainless steel six-burner stove. The kitchen is finished in African ribbon-striped sapele wood on the counters and pantry cabinets. Jackson added the south-facing window over the counter. "It really brings the outside inside," he says.
Jackson and his wife first found their four-bedroom, two-bath home online. "The listing pictures were dark and the house seemed like it was out in the boonies," says Jackson. So they gave it a miss and started looking at other homes in the area. On a trip to visit his brother-in-law, the couple decided to visit some open houses. One was in the neighborhood of their future home, and when they drove by they recognized it right away from the listing. "From the road the house was beautiful," says Jackson. Surrounded by stately, old trees, with a wide expanse of lawn and a pond, the home had a lovely country feel while being in an appealing neighborhood. They also loved the historic architecture and long driveway leading to the house.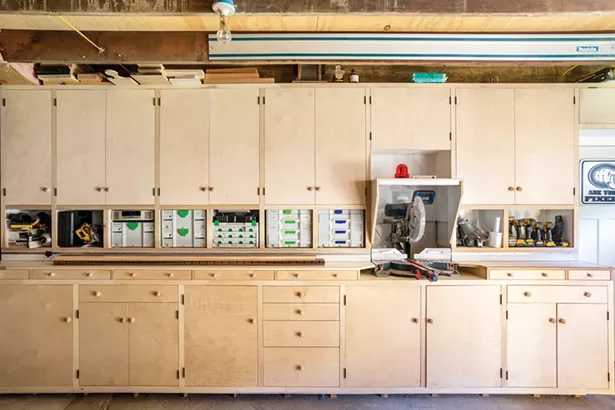 Winona Barton-Ballentine
Jackson converted one of the farm's original outbuildings into a carpentry shop. Along with full home remodels, he designs and builds furniture pieces. "I love the smell of wood," he says. "One day I might even start a line of scented candles for men that smell like mahogany, beech wood, and pine."
They made an impromptu stop and the owner invited them in. They loved the house and at a local lunch place after their visit they decided that was the one. "We knew the home needed work but that I could handle most of it myself," says Jackson. By 2015 the now three-acre property was their new home.
Realized Potential
Over the ensuing six years Jackson has made the home their own. Jackson had to gut the home's original kitchen and replace it with a functioning modern space. "Besides a hutch, there were no cabinets in the kitchen," he explains. "And there was still the original wood-burning stove and the old farmhouse sink." He removed the stove and reinstalled it in his workshop, whitewashing the brick wall that now backs the new stove. He also replaced the dated sink. Jackson reconfigured the room's entrance and removed a pantry to create a larger space, then installed new sheetrock and leveled the floors. In the process of rehabbing the kitchen he realized the room's complete potential. "One day I looked up and realized, man I can get a vaulted ceiling in here," he says. So he opened the ceiling line.
After reconfiguring the room, Jackson added upper and lower banks of mahogany bead board cabinets throughout the interior. "I always liked the idea of having furniture for cabinetry," he says. He added new stainless-steel appliances and finished the space with blue flowered wallpaper. A corner breakfast banquet overlooks a nearby bank of blueberry bushes.
Winona Barton-Ballentine
The house's second-floor bedrooms feature the original wide-plank wooden floors. Jackson designed and built the farmhouse country dresser from knotty pine and then stained it to match the room.
In the middle of the kitchen, a back staircase leads to the upper floors. Jackson believes this was the servants' entrance to the kitchen space. "I had to redo the whole stairwell because it was so dark," he explains. "But I kept the original risers because I felt like the markings were their boots and I didn't want to erase that." Upstairs, a round robin of four bedrooms interconnected with interior doors provides ample sleeping space for the family.
"The third floor was a blank slate," explains Jackson. After renovating the staircase leading to what was once an attic, Jackson added new sheetrock and electric outlets to create an 800-square-foot family room. "I reproduced the original moldings for the casings and baseboards throughout the space."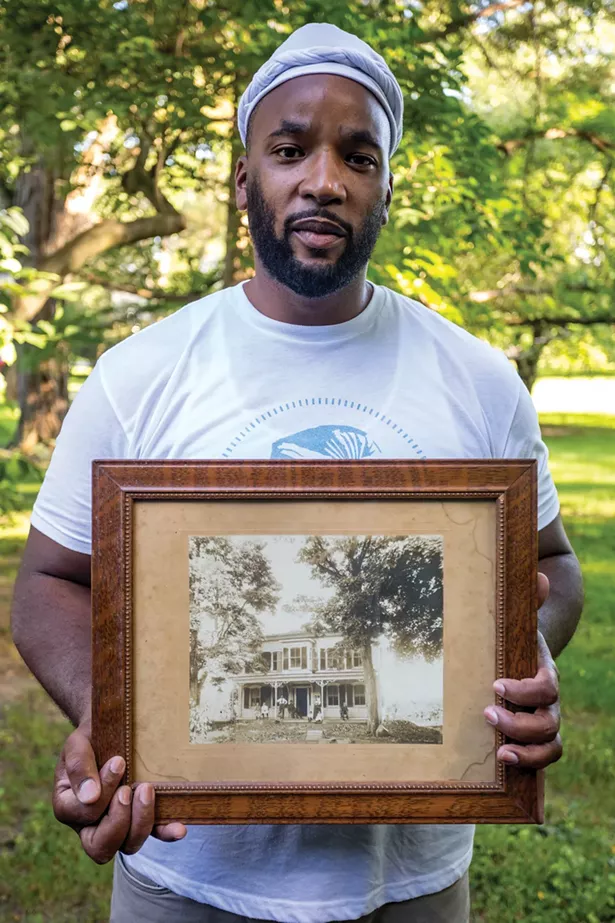 Winona Barton-Ballentine
Jackson holds a photo of the house from the 19th century. Before he and his wife bought the home in 2015, it had been passed down from the original Dutch settlers through their descendants. The house's original windows are intact but the covered porch was removed long ago.
Over the years of getting to know the house through its renovation, Jackson has come to terms with the home's troubled history. "My favorite thing about the house is the same thing that almost made me not want to live here," he explains. "The fact that I knew enslaved people were kept in this home bugged me throughout the closing process."

After moving in, Jackson began some work on the home's basement. "I kept wondering, 'Were my ancestors chained down here in this part of the home?'" However, Jackson began to think of it in a different way. "It was strange but a warm feeling came over me, like everything was okay now," he explains. "I started to realize that if I were the spirit of someone who had been forced into servitude or had atrocities committed against them on this land, my soul would be at peace knowing that one of my descendants was now the landowner. This house has a feel to it—and it's now a really good one."