Images courtesy of Red Robin Song Animal Sanctuary
Almost a decade after adopting a vegan lifestyle, Columbia County resident Lisa Robinson began searching for another impactful way that she could personally improve animal welfare. "I wanted to do something that would really help other people realize how being vegan impacts the lives of animals," she says.
In 2010, Robinson founded Red Robin Song Animal Sanctuary at her home in New Lebanon, a bucolic, 85-acre former dairy farm. She quickly got to work identifying farm and domestic animals around the region who were living in environments of abuse and neglect, and began relocating them to their forever home at the sanctuary, where the animals have ample access to the outdoors and plenty of love and care.


With just the help of a live-in animal caretaker (and cat behavioral specialist) Matt Wildman alongside a small group of volunteers, Red Robin Song now provides fulfilling lives for dozens of animals, which run the gamut from a herd of Tibetan yaks to a flock of goats, a handful of pigs, a mini donkey and mini horse, a "fluffle" of adorable rabbits, and a few friendly cats and dogs.


To help cover the costs of food, medical care and animal housing, Robinson also turned part of her 5,000-square-foot renovated farmhouse into a picturesque all-vegan bed and breakfast, perfect for sustainably minded tourists. The Red Robin Song Guest House (which is currently closed for renovations with a reopening date anticipated in the fall of 2022) is a cozy accommodation that overlooks the pasture where guests can see the goats, mini horse and mini donkey, and yaks grazing. The Guest House includes three private rooms, two of which offer views of the bunnies frolicking in their spacious dwelling.


In addition to spending time with the rescued animals, guests enjoy vegan breakfasts in the sunny dining room overlooking the goat pasture and the woods where the pigs roam free, a bath stocked with natural and cruelty-free products, and quick access to the plentiful cultural and nature-based Berkshires attractions just a short drive away.
Images courtesy of Red Robin Song Animal Sanctuary
"We're surrounded by a land conservancy with hundreds of additional acres and public hiking trails, so there's a lot to enjoy on the property," says Robinson. "Guests can go for a walk on the trails, and view the yaks and pigs and goats in their semi-wild habitat."
Robinson also hosts events and workshops at the sanctuary that support veganism and other sustainable lifestyle choices. "We work to educate the public about the many things they can do to make this a better world for animals while striving to improve our planet and the health of humankind," she says.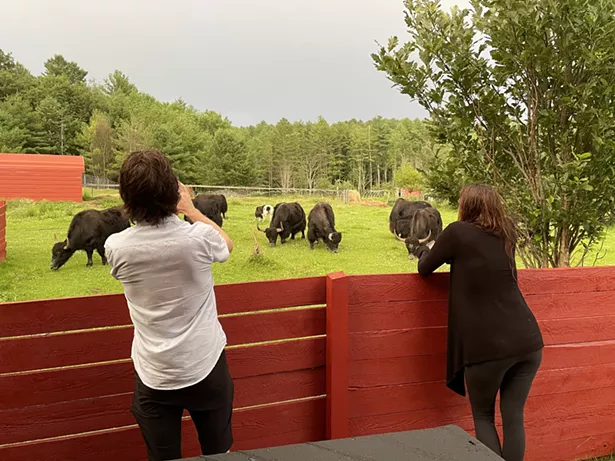 Images courtesy of Red Robin Song Animal Sanctuary
On August 20 and 21, Red Robin Song will kick off its grand reopening weekend with
two full days of events
.
On Saturday at 8pm will be the New York premier of
The Box Truck Film: Building a Reuseful Home.
The film is the work of ​​award-winning documentarian and reuse edutainer Alex Eaves and tiny house expert Derek Diedricksen, who transformed a 17-foot moving truck into a 98-square-foot tiny house and mobile reuse education center. Following the screening there will be a Q&A with Eaves. Tickets to the screening of
The Box Truck Film
are $20 each and can be purchased
here
. On Sunday, Diedricksen will host an all-day tree house building workshop, and guests can get an insider tour of the box truck. Visitors will also be welcome to tour the sanctuary on both days.
The cost of feeding and housing the animals at Red Robin Song Animal Sanctuary is supported by tax-deductible donations and with the help of volunteers. If you're interested in volunteering or donating to the organization, visit
Redrobinsonganimalsanctuary.org
for more information.