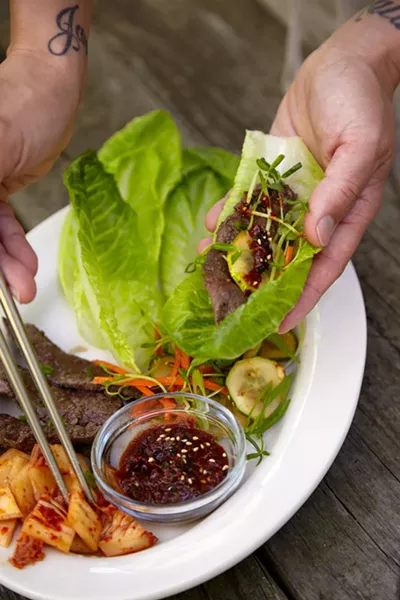 It's no secret we're fans of
Silvia
, the newish Woodstock restaurant run by Korean sisters Doris and Betty Choi. (We've
written about the restaurant before
.) The farm-fresh menu blends global influences for a diverse selection of offerings.
While kimchi is relatively new to the American palate, it is an age-old side-dish in Korea, where the fermented concoction rounded out a diet of primarily grains and vegetables. This pickled delight is a star in Silvia's grass-fed and finished Korean BBQ beef lettuce wraps.
BBQ Beef Recipe
What You'll Need:
1 lb thinly sliced beef tenderloin
Marinade for 1 lb beef:
4 cloves of minced garlic
1 small thumb sized piece ginger, minced 2 chopped green onion
2 tbs tamari
1 tbs toasted sesame oil
1/4 cup pineapple or orange juice
1 tbs organic demerara sugar or brown sugar pinch of ground black pepper
Veggie slaw:
1 cup grated carrots and/or cabbage
1/2 cup thinly sliced cucumbers
1 tbs toasted sesame oil
2 tbs rice vinegar
1 tsp salt
1 tsp toasted sesame seeds
1 tsp gochugaru (or chili flakes)
Directions:

1) Mix all ingredients in a bowl.
2) Place beef in freezer for an hour before using to help make slicing easier. Put marinade ingredients in a bowl and whisk to incorporate. Add beef and let marinate for at least 30 minutes.
3) You can cook the beef over a open flame or alternatively, use a cast iron pan. Cook over high heat for a few minutes until done.
4) To assemble, place a spoonful of beef on a lettuce wrap, top with store bought or house made kimchi and/or carrot slaw. You can serve with a small dollop of seasoned miso paste like we do at Silvia.
Read our
feature story on Silvia
or check out another one of their
tasty recipes
.