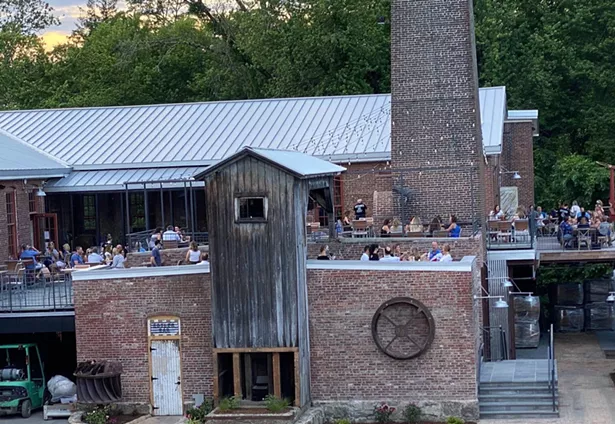 "Just amazing," says General Manager Donna Caldwell when you ask her about opening weekend at
City Winery Hudson Valley
, the first exurban outpost of
Michael Dorf's
signature blend of music, food and wine. "We're doing wellness checks, masks, everything super-sanitary—no one has pushed back even a tiny bit. They're just so glad to get a look at the transformation, and we get a big 'Wow!' every time somebody comes through the door."
Knitting Factory
founder Dorf considered 10 locations before settling firmly on Montgomery Mills, a 22-acre riverside compound with ample room for vineyards, tasting room, indoor and outdoor performance spaces, fine dining, and events. The first crush of wine happened last fall. When the shutdown hit, it interfered with a planned April 7 grand opening and a number of wedding bookings. Caldwell says she and the team simply doubled down on the finishing touches.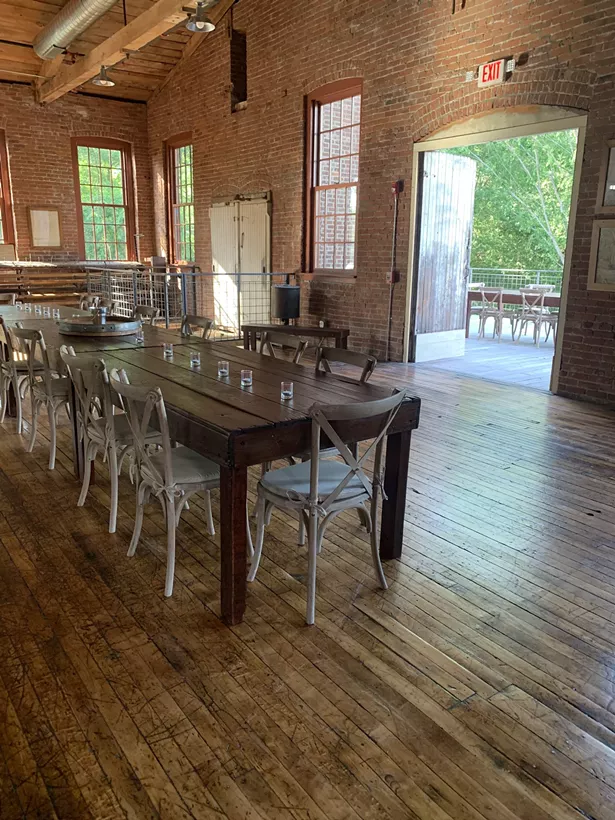 Last weekend, all guests made their way to the multi-level outdoor patio overlooking the Wallkill River. And now that the Mid-Hudson Valley has entered Phase 3 of reopening, this weekend guests can expect 40 tables open inside the refurbished industrial space, full of vintage detail. Lumber, hardware, factory equipment and ephemera were all lovingly restored and incorporated into an impressive design statement—and Caldwell is confident about the safety.
"We have plenty of room to make it work," she says. "And the reactions make all the long months of heavy labor worthwhile. I've been here almost a year, and it's been amazing to watch it go from a construction site to this work of art—ultra-clean, technologically ultra-modern while retaining all that massive personality. And it was just so beautiful to finally see people sitting and enjoying it, hear music playing."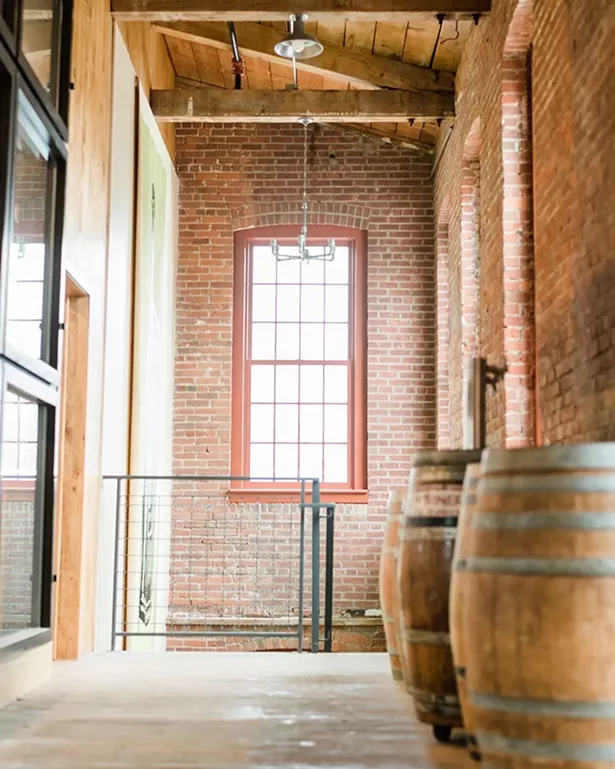 The menu is evolving and growing. "Last week was more like a teaser, with shared plates," Caldwell says. "Phase 3 means we can actually use plate-plates now. The staff are all local, and they've been working double shifts; they're excited to be part of this. By Saturday, they had things so smooth I could actually step off the floor."
As summer unfolds, City Winery will blossom with it. A second bar will be opening in a couple of weeks. If at all possible, live entertainment may arrive in July, and safety-conscious weddings in August. "Michael's crunching the numbers and figuring out how and when we can make it work," says Caldwell. "We have a gallery deck, big double doors opening onto the patio—the spaces just kind of invite endless invention. We have a giant family-style table that seats 40. There's really nothing else quite like it. It's not just going out to dinner, it's stepping into history, immersing yourself in this cozy, laid-back atmosphere that takes you right out of the world. And the river! I could stare at it for hours."
Dorf, a thoughtful impresario who founded the first City Winery in the midst of the 2008 financial meltdown and published
Indulge Your Senses: Scaling Intimacy in a Digital World
last October, has said that finding 23 Factory Street, which had been an actual knitting factory, felt like destiny. "He loves it here," says Caldwell. "He comes here all the time, walks around throwing ideas out that we then bring to fruition."
City Winery Hudson Valley will be open 4-10pm on Thursdays and Fridays, 12-10pm on Saturdays, and 12-8pm on Sundays. Reserve a table and check out the safety protocols (amusingly paired with song lyrics) at
citywinery.com/hudsonvalley
.