There's a dude in the corner of the room playing the piano. And doing it well. He's putting down some soft and beautiful tinkling, like maybe he has a few Bill Evans or George Shearing records at home. It's late in the afternoon and he's making the place feel more like cocktail time at the Rainbow Room than happy hour at Kingston's Keegan Ales, which is what it is, actually. Probably not what you'd expect from a mike-rocking hip-hop MC.
"I can fake it okay, I guess," says a grinning Jarabe Del Sol, who, with his co-MCs Decora, Freeflowin, and Latin Translator and turntablist DJ H20, makes up Hudson Valley words-and-music crew ReadNex Poetry Squad. Further confounding expectations, perhaps, is the fact that Del Sol is actually a multi-instrumentalist: "I play guitar, too, but I'm more of a drummer," adds the rapper known as Cuttz El Colombiano on the group's early releases. "I was playing the drums before I could speak English." For ReadNex, however, defying the general public's perception of what it means to be a hip-hop band—and what hip-hop itself means—is par for the course. Heroically so.
Right from the group's 2001 inception, when the members met as students at Middletown's Orange County Community College during a campus open-mike night, ReadNex has been as much about effecting positive social change as it has been about music. The band is an out-and-out activist machine, for whose members art and progressive work are simply inseparable. Besides releasing three albums on the band's own DeBefore label; playing on HBO Latino and at hallowed venues the Apollo Theater and the Nuyorican Poets Cafe; touring the US, Canada, Europe, and Brazil; and performing regionally as a group and as individuals at spoken-word gigs, ReadNex maintains a packed itinerary of educational and public advocacy efforts. Along with steady appearances at benefit and awareness-raising events—the group was en route to a climate-control-themed affair at the time of its Chronogram interview, after having played a state education conference in Hew Hampshire the night before—examples of the outreach actions the outfit regularly organizes include food and clothing drives, inner-city farmers' markets, youth-mentoring programs, and student-empowerment workshops. But because the media only likes to occasionally play up the odd cause-boosting but less-than-sincere photo op by splashy money men like P. Diddy or his swaggering gangsta peers, for many ReadNex's steady regimen of altruistic endeavors will likely be another expectation-shattering revelation.
"Mahatma Ghandi said, 'Be the change you want to see in the world,'" quotes Decora, who, like his band mates, is a perpetual font of wisdom-bearing axioms. "There are four elements that make up hip-hop culture: rapping, DJing, breakdancing, and graffiti writing. We've added a fifth, ambiguous element, which is more personal and can be anything you want it to be. Not that you can't do more than one thing, but for some people that extra element might be spoken word or poetry; for others it could be comedy. And for some it might be the kind of social change activities that we do."
But with all this talk about ReadNex's extracurricular doings, there's the danger of taking the focus off its music—do so at your own risk, however. At a Kingston performance shortly after the release of the group's second album, Social IssUes (DeBefore Records; reviewed in the December 2006 issue of Chronogram), the group was devastating, the four MCs stalking the stage and discharging their words with angry abandon while DJ H2O threw up a dense storm of sounds and beats behind them. Integral to the band's studio sound has been its behind-the-scenes sixth member, producer Charlie "Fox" Graham, who's been on board almost since the beginning. "I would see them play at the open mikes back in 2001 and their energy was just amazing," Graham recalls. "We ended up doing a demo and then the first album [2004's F.O.S.S.L., also DeBefore], and things just kept going. As far as I know they're one of the first groups to apply such eclectic styles to the music. Especially on [new album] Day before Sound (DeBefore), which has rock, Latin, reggae, folk, and world music, along with hip-hop, house, and spoken word."
With its alchemical, psychedelic blend, Day before Sound holds such provocative tracks as Del Sol's eerily prescient—in light of the Gulf oil spill—ecology commentary "Deaf Ears Can't Be Environmentally Sound" and Freeflowin's flamenco guitar-laced lover letter to the music that freed her mind and allowed everything else to follow, "When Life Gives You Capital-ism Choose Hip-Hop." But it's with the record's power-packed closer, "Be Dif'Rent," that the band has waxed a new anthem for young outsiders, one that aims to let them know they're not alone and that it's okay to be, yes, different. Over a loud and relentlessly throbbing electro-pulse, the MCs trade rhymes sure to resonate with any disaffected or inner-city kid who hears them: "This is for the Chinese-Dominican with the cinnamon-colored hair / This is for the Puerto Rican on the weekend lookin' to express his poetry through guitar / This is for the black kid in the moshpit with the Mohawk / the white kid in the rhyme circle with the 'frohawk / This is for the IED-ADD's / on the way to GED / Low test scores and didn't take your SAT / Yellow, purple, black, or brown / growin' up with no cops around / Gun clappin' was the sound / that put you to sleep." The group recently completed a video for the song, to be released this month.
Day before Sound features guest artists from the underground hip-hop world—Red Clay's Baron and R&B duo Indigo Brown—but there's another, likely unexpected contributor, a musician whose family lineage links ReadNex straight to a protest music legend: Tao Rodriguez-Seeger, who appears on the intriguingly titled "America Bolivariana: The Reflection of Self-Revolution." "The ReadNex [members] are totally fearless when it comes to music," says Rodriguez-Seeger, the grandson of Pete Seeger. "They sat in with my band at the Clearwater Festival once, and Decora and Jarabe rhymed in English and Spanish over the music. I'd never done anything like that before, and it was really incredible. We definitely did the most exciting version of 'This Land Is Your Land' I've ever played."
Bringing the noise—and the message—from sea to shining sea has opened not only the ears, eyes, and minds of their audiences, but also those of the MCs and DJ themselves. In 2008 the unit embarked on its Frontlines Tour, a mammoth, self-funded expedition (another anachronism for a genre whose mainstream stars won't hit the road unless it's in a corporate-sponsored sleeper bus) that took the group to 40 cities and towns across the US. "We visited these tiny places like Whitesburg, Kentucky [pop. 1500], where they really hadn't had hip-hop before. And they were crazy for it. After the show we ended up jamming at someone's house. H20 was spinning while people were playing mandolins and fiddles—some were even drinking moonshine," says Latin Translator, today sipping ginger ale, like his bandmates. "Wherever we go on tour, besides doing the performance we try to also hold one of our workshops and also talk to the people to learn about the issues they're facing locally," explains Decora. "So in places like Kentucky and Virginia we got to know more about the lives of the coal miners and their families, about how black lung is still a huge problem. And about oxycoton addiction in rural areas, how mountaintop-removal mining has been destroying the environment there. We try to take what we discover and pass it along at the next places we go to: 'Learn, Educate, Repeat' is one of our main mantras."
To that end, the group's self-devised, interactive "Next to Be Read" and "Hip-Hop and Poetry Saved My Life" school workshops have been major hits with students and educators. Both are customizable symposiums that, according to the group's website, include such activities as "lyrical adaptation of school work; hip-hop-oriented phonetic and kinesthetic learning; using poetic devices for writing English essays; and using hip-hop and poetry as a platform to understand academic subjects and convey sensitive topics in schools." "Hip-Hop and Poetry Saved My Life" is the more immersive program, with students spending 10 days with members of ReadNex. "[The latter workshop] is more than us doing musical and spoken-word performances and leading the students through activities," says Freeflowin. "It encompasses a lot of personal stories in which we talk about how hip-hop and poetry impacted each of us specifically, and about how we use them in our daily lives."
With all of the band's thankless self-sacrificing and constant toiling in the good fight, however, how long does she think the group can keep going? "Forever," she says. "This is what we do. We're married to each other."
But, still, if there ever did come a day when the members of ReadNex Poetry Squad decided to go their separate ways, what would each of them do?
Decora answers without hesitation: "The right thing." And what else would you expect?
Day before Sound is out now on DeBefore Records. www.debeforerecords.com.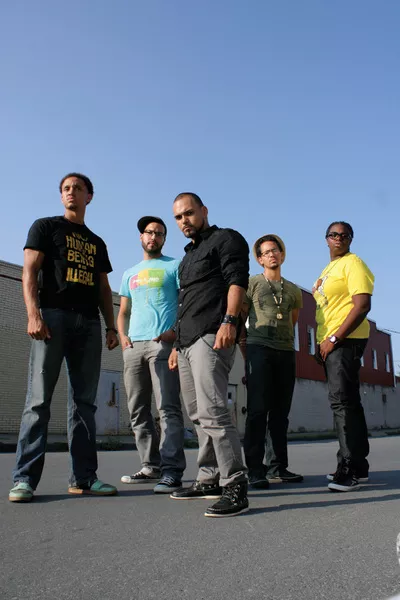 Fionn Reilly
ReadNex Poetry Squad: Decora, Latin Translator, Jarabe Del Sol, DJ H20, Free Flowin