Radiant heating system by John Abularrage of Advanced Radiant Design in Stone Ridge, installed on top of a plywood sub-floor with a finished wood floor above.
When John Abularrage installed a radiant heating system in his home, his family quickly grew used to the warm floors and other comforts the system afforded. "Both of our children were December babies. They learned to walk in bare feet in the winter," he says. "I remember the time we visited a friend's house for dinner and brought our son over and we put him down on the floor and I thought, 'Oh I can't put him down here.' It was winter and the floor was too cold."
Radiant heating is a system where, instead of heating the air, the heat source warms the floor or other objects in the room and the heat then emanates slowly and steadily from those objects. Forms of underfloor radiant heat were used during ancient Roman times. (The Romans would light fires in open spaces beneath raised stone floors and the floors would be warmed.) In modern times underfloor radiant heat is generally created through hydronic or electric heating systems that create noninvasive warmth.
"A traditional heating system, whether it's forced air or baseboard, delivers concentrated heat from small areas. Radiant heat is a diffuse heat that's everywhere. So it's very gentle and it's very even," Abularrage says. "You walk into a radiantly heated house and you can't see it, you can't hear it, to some extent you can't even feel it, you just know that you're comfortable."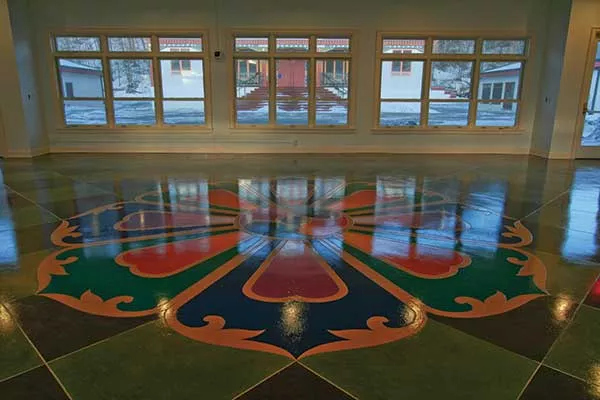 Abularrage knows a thing or two about radiant heating systems, his Stone Ridge-based company, Advanced Radiant Design, Inc., has been installing these systems since the 1980s.
When he first started he says that the concept of radiant heat was alien to a lot of people. "In the '80s, I had to educate people about radiant floor heat. They wouldn't come to us requesting radiant floor heat, so I would have to introduce them to it," he says. "As we moved into the '90s, people started to become more aware of it, and in the last 15 years, the advantages of radiant heat have become a lot more well-known."
Abularrage and other heating experts say that radiant heat is a more comfortable, more energy efficient, and a healthier option—it doesn't dry out the air and spread dust the way most traditional heating systems do. Though radiant heating is generally more expensive to install than other heating systems, because of their efficiency, radiant heating systems can reduce your yearly heating costs. In addition newer products, such as electrically powered floor mats, now provide more affordable radiant heating options.
Rick Alfandre, owner of Alfandre Architecture in New Paltz, had Abularrage's company install two radiant systems in two different homes, one in the early '90s and again in 2005. Alfandre was drawn to radiant heat because of the comfort it affords and says he recommends it for clients when appropriate. "We explore various options with clients depending upon the use of the building, the client goals, and the budget," Alfandre says. "It is important to note that all buildings typically require heating, cooling and ventilation. Therefore radiant is not always the first choice for some applications. That said from a comfort point of view I find it the best, most comfortable form of heating."
Beyond comfort one of the major advantages of radiant heat is its energy efficiency. "The main efficiency advantage of radiant heat is its ability to deliver heat at much lower water temperatures than conventional heating," Abularrage says. "It also creates energy efficiency in that you can be more comfortable at a lower air temperature than you would be with a traditional system."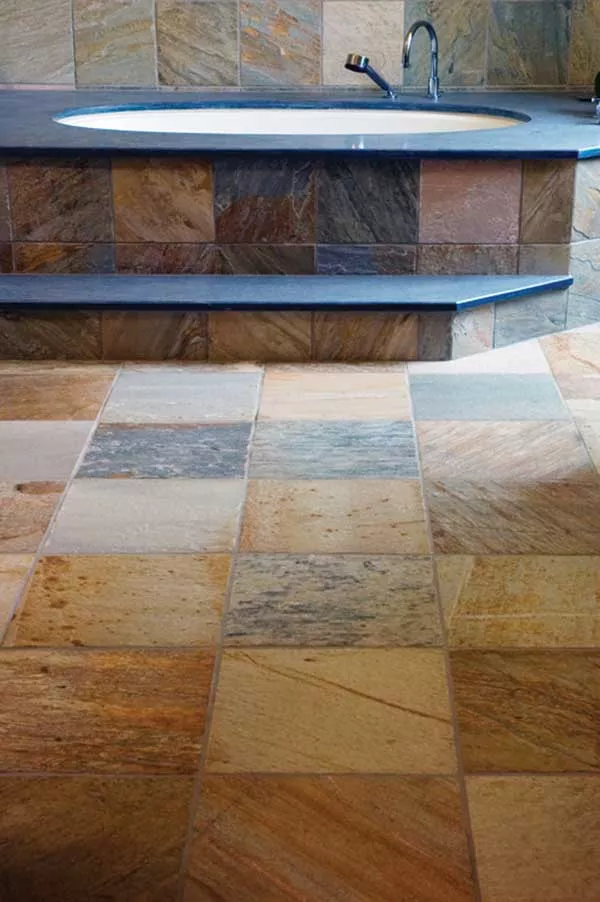 Radiant heating under tile.
Abularrage adds, "People are confused when they say, 'heat rises.' Heat itself will go in any direction. What rises is warm air. With radiant heat, you don't get that buoyant hot air, so you'll actually have cooler ceilings. In buildings with vaulted ceilings with a conventional system you can end up having 95 degree air up at the top of the vault, while it will be 60 degrees in the room."
Richard Cavanagh, owner of Advanced Comfort Systems, a Kingston-based heating and cooling company that specializes in radiant heat, agreed that radiant heat is more efficient and says its efficiency can offset the upfront installation cost. "If you're installing a baseboard system that costs $10,000, you're looking at about $15,000 for a radiant system, it's about 50 percent more than a traditional heating system," he says. "It's an initial cost but there is a payback to this because of the efficiency. If you're spending $3,000 a year in fuel and I can save you 30 percent of that, this system will start to pay for itself over time."