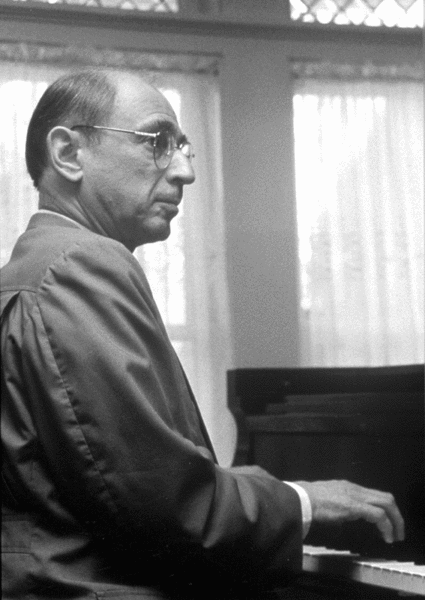 Sparrow: So, you're going to appear at the Chamber Arts Festival of Marbletown?
Frishberg: Yes. Well, tell me about it. I really don't know that much about it. The last ten minutes, I've been online looking at Stone Ridge, New York, finding out where it is, and everything. So I know where it is, but I don't know anything about the festival you're talking about.
Sparrow: Well, this is the third year of it. It's primarily a classical music festival.
Frishberg: Oh, I see.
Sparrow: It's at a community college. It's just six performances over two weekends.
Frishberg: I see.
Sparrow: Plus there's a series of free lectures, which I think are earlier...
Frishberg: I'll be darned.
Sparrow:... that will hopefully illuminate the music.
Frishberg: I'll be darned. Well, that sounds really interesting. See, I don't know anything about that.
Sparrow: And the guy who founded it, I can't remember his name, was one of the co-founders of the Rockport Chamber Festival, I think it's called, which is in Cape Ann, above Boston.
Frishberg: Do you know who I'll be playing with, at the festival?
Sparrow: No, not offhand. I could look it up...
Frishberg: Maybe neither of us have very much information about this event.
Sparrow: Yeah.
Frishberg: Okay, so maybe you better ask me some questions, then. [Laughs.]
Sparrow: Exactly. So, do you know what kind of show you're going to do there?
Frishberg: Well, I do a show. I'm alone at the piano.
Sparrow: Right.
Frishberg: And everything I do at the piano is my own composition. And it's mostly my own music. All my own lyrics. Sometimes there's other composers that I've collaborated with. Normally, customarily, I write music and lyrics. And that's what the show is. I've been doing it for maybe 30 years now, in different... all over the place.
Sparrow: Right.
Frishberg: So anyway, that's what I do. I sing, and play the piano. And play my own stuff. And I make records. I'm trying to think of something newsworthy to tell you. [Laughs.] Four of my albums have been nominated for Grammy awards.
Sparrow: Right. That's in my press release.
Frishberg: And that's a thing that I, that sometimes interests people. And... which is odd. Which is odd, because there's really no category set up for what I do. It's very jazz-influenced, because that's been my experience, as a musician. I've been heavily associated with jazz. And that's the way I think, and that's the way I write. But it's certainly not jazz in the sense of a hot jazz improvising jam session, you know. It's more of a recital, and sometimes more of a lecture. [Laughs.] Not really, but I try to engage them very uh, very securely for the show, which is probably, I would say, probably two 45-minute sets, with an intermission. That's the usual format.
And the songs are very, very differing. There's a lot of humor in it. There's liable to be some baseball history in it. And there's a little piano playing in it, too -- depending on how I'm, how comfortable I am with the instrument. That specific one, I mean. [Laughs.] And what else? What can I tell you? Well, I seem to appeal to audiences of all ages, which is kinda strange. And the other thing is that there's nothing remotely commercial, or marketable, about the songs that I sing, or that I write. I used to say that my specialty is I write songs for which there is no use. And it is largely these songs that I put to use, through the years, you know. So I put them to my own use, actually.
Sparrow: But other people have put them to use, also.
Frishberg: Absolutely. More and more, I see other people covering my songs and... including contemporary artists as disparate as Tony Bennett and Jamie Cullum. You know who Jamie Cullum is?
Sparrow: No.
Frishberg: I rest my case. No, he's a huge star in the British Isles. He'd be recognized as a big star in the UK. Tony Bennett. Diana Krall. Those are the big names recently that have done my stuff. And through the years, Rosemary Clooney has recorded a half a dozen of my songs, as has Blossom Dearie.
Sparrow: Right!
Frishberg: A lot of people might know Blossom; she's from up around that area, actually. Someplace in the Catskills, I can't put my finger on which little place it is. I live in Portland, Oregon, by the way.