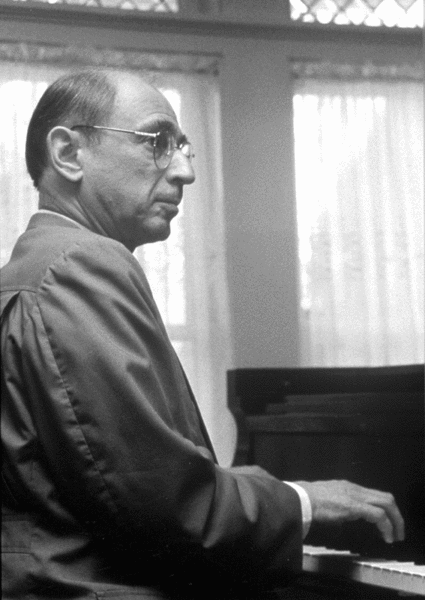 Sparrow: So, you're going to appear at the Chamber Arts Festival of Marbletown?
Frishberg: Yes. Well, tell me about it. I really don't know that much about it. The last ten minutes, I've been online looking at Stone Ridge, New York, finding out where it is, and everything. So I know where it is, but I don't know anything about the festival you're talking about.
Sparrow: Well, this is the third year of it. It's primarily a classical music festival.
Frishberg: Oh, I see.
Sparrow: It's at a community college. It's just six performances over two weekends.
Frishberg: I see.
Sparrow: Plus there's a series of free lectures, which I think are earlier...
Frishberg: I'll be darned.
Sparrow:... that will hopefully illuminate the music.
Frishberg: I'll be darned. Well, that sounds really interesting. See, I don't know anything about that.
Sparrow: And the guy who founded it, I can't remember his name, was one of the co-founders of the Rockport Chamber Festival, I think it's called, which is in Cape Ann, above Boston.
Frishberg: Do you know who I'll be playing with, at the festival?
Sparrow: No, not offhand. I could look it up...
Frishberg: Maybe neither of us have very much information about this event.
Sparrow: Yeah.
Frishberg: Okay, so maybe you better ask me some questions, then. [Laughs.]
Sparrow: Exactly. So, do you know what kind of show you're going to do there?
Frishberg: Well, I do a show. I'm alone at the piano.
Sparrow: Right.
Frishberg: And everything I do at the piano is my own composition. And it's mostly my own music. All my own lyrics. Sometimes there's other composers that I've collaborated with. Normally, customarily, I write music and lyrics. And that's what the show is. I've been doing it for maybe 30 years now, in different... all over the place.
Sparrow: Right.
Frishberg: So anyway, that's what I do. I sing, and play the piano. And play my own stuff. And I make records. I'm trying to think of something newsworthy to tell you. [Laughs.] Four of my albums have been nominated for Grammy awards.
Sparrow: Right. That's in my press release.
Frishberg: And that's a thing that I, that sometimes interests people. And... which is odd. Which is odd, because there's really no category set up for what I do. It's very jazz-influenced, because that's been my experience, as a musician. I've been heavily associated with jazz. And that's the way I think, and that's the way I write. But it's certainly not jazz in the sense of a hot jazz improvising jam session, you know. It's more of a recital, and sometimes more of a lecture. [Laughs.] Not really, but I try to engage them very uh, very securely for the show, which is probably, I would say, probably two 45-minute sets, with an intermission. That's the usual format.
And the songs are very, very differing. There's a lot of humor in it. There's liable to be some baseball history in it. And there's a little piano playing in it, too -- depending on how I'm, how comfortable I am with the instrument. That specific one, I mean. [Laughs.] And what else? What can I tell you? Well, I seem to appeal to audiences of all ages, which is kinda strange. And the other thing is that there's nothing remotely commercial, or marketable, about the songs that I sing, or that I write. I used to say that my specialty is I write songs for which there is no use. And it is largely these songs that I put to use, through the years, you know. So I put them to my own use, actually.
Sparrow: But other people have put them to use, also.
Frishberg: Absolutely. More and more, I see other people covering my songs and... including contemporary artists as disparate as Tony Bennett and Jamie Cullum. You know who Jamie Cullum is?
Sparrow: No.
Frishberg: I rest my case. No, he's a huge star in the British Isles. He'd be recognized as a big star in the UK. Tony Bennett. Diana Krall. Those are the big names recently that have done my stuff. And through the years, Rosemary Clooney has recorded a half a dozen of my songs, as has Blossom Dearie.
Sparrow: Right!
Frishberg: A lot of people might know Blossom; she's from up around that area, actually. Someplace in the Catskills, I can't put my finger on which little place it is. I live in Portland, Oregon, by the way.
Sparrow: Yeah, I heard. That's interesting, that you live there.
Frishberg: Well, I put 15 years in, in New York City, and then I put another 15 years in, in Los Angeles. So I'm entitled to Portland.
Sparrow: [Laughs.]
Frishberg: [Laughs.] Paid my dues!
Sparrow: And did you write a number of songs for "Schoolhouse Rock"?
Frishberg: Well, I wasn't the chief writer. The chief writer was Bob Dorough. Bob got so busy with doing that that he had to farm out a lot of his work, or some of it, to other composers and songwriters. I'm one of 'em. And I think I contributed maybe a half a dozen songs, three of which are from the recent, the more recent "Schoolhouse Rock," which came maybe 15 years after the classic period of "Schoolhouse Rock." So there was a period in which it was off the air, and then it was renewed again, the interest in it, so then I wrote three songs for the newer thing. But my most famous song for "Schoolhouse Rock" was "I'm Just a Bill."
Sparrow: So you had to research how a bill is processed...
Frishberg: Yeah, exactly. I've written a lot on assignment, for different things. And I think I do, I have my best ideas when I'm told what to write. So I really, I really kind of need someone to tell me what to write. In this case, they gave me three choices on what subject to write, and I chose how a bill becomes a law in Congress. I don't know why. And you're right, then I had to do research. I think that might have been my first contribution to the series. So I, I remember, I was saying, "I have to do my homework on this." So I researched it, and then I wrote the little scenario that goes with it. I don't know if you're familiar with that piece.
Sparrow: Yeah, I've seen it!
Frishberg: Oh, well, the little bill, and all that, sitting on the Capitol steps, and all that. That became one of the flagship songs of "Schoolhouse Rock" series. And many people might only be familiar with that one of my songs! Not knowing that I wrote it. That was 1972, or 1973. That's how long it's been on the television. But people really respond to that song. And one of the weirdest things that I've heard recently is that freshman Congressmen and Senators who are arriving in Washington, D.C. for the first time -- just been elected -- go through a couple of days of orientation, and part of it is they watch that cartoon: how a bill becomes a law in Congress, "I'm Just a Bill." And when I heard that, I was very complimented, of course, but at the same time I was kind of appalled. [Laughs.]
Sparrow: [Laughs.] Right. You wrote that song for eight year olds!
Frishberg: Right! That's right.
Sparrow: That might be the song of yours that had the most widespread play.
Frishberg: Well, that and "Peel Me A Grape," which Diana Krall made into a hit of a kind.
Sparrow: And you wrote that a while ago.
Frishberg: Oh, yes, that was one of the very first songs I wrote, when I started writing in New York. I began to write songs when I got to New York. I got there in the late '50s, after I got out of the Air Force.
Sparrow: What song did Tony Bennett sing?
Frishberg: He recorded a song called "Little Did I Dream." That's my lyric and title, and the music by Johnny Mandel. It was on an album called "The Art of Romance."
Sparrow: And that's not a funny song?
Frishberg: No. It's a benign song, but it's not funny.
Sparrow: [Laughs.] In your performance, will you play an instrumental song?
Frishberg: I usually do, yeah. I usually do at least one instrumental solo.
Sparrow: That you wrote, usually?
Frishberg: No, no, uh uh. Usually some kind of a standard piece. I play a lot of Duke Ellington music.
Sparrow: Do you have any new songs you will play?
Frishberg: Yeah. I certainly have songs that people haven't heard. And I get requests for certain songs that I know I have to plan to sing them. Among them is "My Attorney Bernie." And another one is "Van Lingle Mungo" -- that's a man's name. He was a pitcher for the Brooklyn Dodgers, mainly for the Brooklyn Dodgers, back in the 1930s and '40s. The song is a list of players from that era. That was back in the late 1960s that I wrote that.
Sparrow: I wanted to ask you if there's any similarity between jazz and baseball?
Frishberg: Well, no... Well, yes there is, as a matter of fact. They were both hopeless occupations to contemplate when I was a kid growing up. I mean, jazz and baseball, each of them represented a career in which you could expect no monetary reward, unless you were extremely lucky. In that respect, they were the same, in that they were populated, those were people who understood that they had chosen an occupation that there was not much financial future to it -- and yet they were still there! Strange that you should mention, is there a connection between jazz and baseball. And there is, in that backward way, right. You had to be dedicated to devote yourself to either endeavor, you know?
Sparrow: Did you consider becoming a baseball player?
Frishberg: Well, didn't everyone?
Sparrow: [Laughs.] I suppose I did, come to think of it.
Frishberg: But I also considered being a jazz musician.
Sparrow: How did you discover jazz?
Frishberg: Through my older brother's record collection. And I taught myself how to play the piano. I studied a little bit -- I shouldn't say "studied" -- I took lessons with somebody in St. Paul when I was about eight years old, but I couldn't stand it. It was really a turn off, and so I just forgot about that. And then I took up piano on my own when I turned maybe fifteen years old, I started getting really serious about playing.
Sparrow: Is there a way you usually write your songs?
Frishberg: Give me a clue what you mean.
Sparrow: Do you usually start with a word, or a tune?
Frishberg: Oh, no. You know what I do? I start with a title. I really try to find a title. And I got a bunch of titles lying around, that I've been trying to fulfill for years. And sometimes it works! Sometimes I grab one, and actually do it! But that's how I think. I want to make a title. The title gives me some idea of what the lyric is gonna say -- it's going to employ those words somehow, usually in a recurring way. It's just an aid to writing. And I try to shape the song around the title, and, of course, you have to make the title pay off in the end, in some way, too. But that's how I try to construct a song, and get an idea for what to do. A title is very important to me, yeah.
Sparrow: And you have a political song called "My Country Used to Be."
Frishberg: Well, I wrote it on assignment originally from Minnesota Public Radio back in the 1990s sometime. They were doing a series of radio shows about presidential choices, so they wanted a song about economics. So they actually assigned me to write that. But when I originally wrote it, the lyrics dealt with economic problems. And then, more recently, I took the same song and revamped it so that it talked about larger issues than just economics. So I consider that I've written that song twice. What I'm currently performing is the updated version.
Sparrow: Do you rewrite your songs often?
Frishberg: Sometimes, yeah. Sometimes I do. I'm kind of compulsive about that. Still, if I happen to be just browsing through, and I begin to look at them, I start to make changes... I feel so silly. I wrote them 25 years ago, you know? And nobody liked it then, anyway!
Sparrow: [Laughs.] But it's hard to tell how successful your songs are, I would think.
Frishberg: Well, I never thought "Van Lingle Mungo" would make me a dime. That was strictly a labor of love, you know? A very confidential song. But, of course, "I'm Just a Bill," I got paid for writing that, so I thought I'd already won a jackpot!
Dave Frishberg will appear June 2 at SUNY Ulster's Quimby Theatre in Stone Ridge, as part of The Chamber Arts Festival of Marbletown. For information, call (845) 687-2687 or visit www.chamberartsfestival.org.