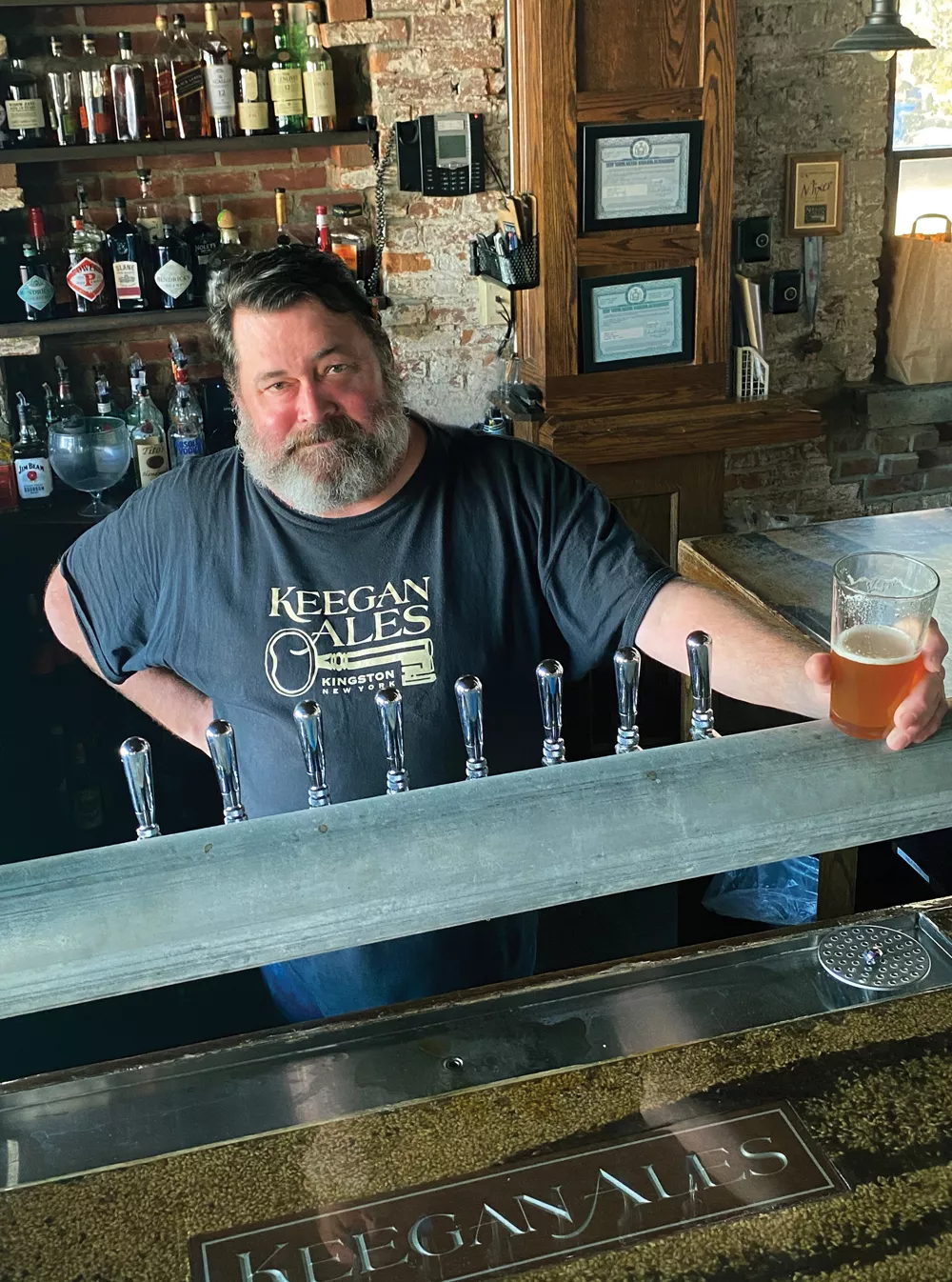 There are nearly 500 craft breweries in New York, and we are the sixth largest beer-producing state in the country. Our craft beverage industry has grown by leaps and bounds over the past decade, boosted by state incentives and a thirsty public, and breweries continue to open and take market share from corporate competitors. But back in 2003, the craft beverage movement was in its infancy. When he opened Keegan Ales in Kingston that year, Tommy Keegan had to personally convince local bars and restaurants to make room on their taps for his kegs of Old Capital and Hurricane Kitty alongside Budweiser and Coors Light. In 2020, bar patrons expect establishments to curate their taps from a wealth of regional craft beer producers. In late October, I spoke with Hudson Valley craft beer pioneer Tommy Keegan about his two decades in the business.
—Brian K. Mahoney
Brian K. Mahoney: When you started, I remember you didn't have a proper bar, just a tasting room open a couple of afternoons a week.
Tommy Keegan: Those were the good old days. It was like cowboy season right there. It was Thursdays and Fridays from three to seven, Saturdays from noon to seven. And we didn't do full pints. We did four- or six-ounce tasters and it was just free for everybody. People thought I was going to lose my shirt. This reporter came to interview me and said, "You cannot give away free beer in Midtown Kingston. There's going to be riots and it's going to go bad."
We would let people come in and drink for free during those hours, but they would also buy growlers. We were doing about half the beer for free and half the beer in growler refills. I was making more money on that keg of beer than if I sold the whole keg to a restaurant.
A couple of years later, you opened up a full pub with a small menu.
I didn't really expect it to be as big a part of my business as it is, but it's huge. Probably half of my gross sales come out of taproom alone. People come here and they drink the beer and then they go back to New York City, and they see the beer there and then they drink it because they remember it from being here.
And it's not just a place where beer is being served, it's also being made on premise. People are coming here to have, for lack of a better word, an authentic experience.
I actually got a really poor Google review this week, because the guy was like, "It stinks like a farm in there." Well, that's what happens when you're sitting in the parking lot of a real brewery, there's grain everywhere. That's just the way it is.
It hasn't really changed that much since you opened up the tap room, right?
I don't think so. I built a clubhouse that I want to hang out in. And if that's your gig and you want to hang out, great, come on in. And if that's not your gig, I'm not going to be offended. If you want to go for white tablecloth and escargot, we've got that too in Kingston. I'm okay with that. I'm not offended. This is not where I would bring my wife on my 25th anniversary party. But we also have people get married here because they love the vibe.
There are so many breweries in operation now. Has that changed the way you do business?
I have restaurant customers who say, "Man, Mother's Milk, I put that keg on tap, I've never sold a keg of beer faster in my life, never made more money on it, never got more compliments." I'm like "Great! Do you want another keg of Mother's Milk?" And they say, "Mm, no. What else is new? What else you got? I want something new?" Everybody wants novelty. The industry term is 'rotation nation,' because all those types rotate. In the good old days, when it was old men who were running bars, you had your tap. And it was a pain in the ass to get it, but once you got it, that was your tap. When your keg ran out, they put another one on. But now the customer has become educated enough to demand the bar owner keeps rotating stuff, which demands the wholesaler keeps rotating stuff, which puts us at a disadvantage as a production facility because now I'm constantly having to come up with new brands.
Earlier this year you were about to sell the brewery to Clemson Brothers but the deal fell through. What happened?
It was complicated. And at first it felt like a round peg in an oval hole, and the more we tried to sand it down and make it fit, it just kept getting worse. It just wasn't fitting right. It just didn't feel organic to me personally, or to them I think. And then COVID hit. We all walked away, totally friendly.
What were you thinking when COVID hit?
Well, it was hard initially, for everybody. I'm not in a unique situation there, but I lost probably 80 percent of my business from St. Patrick's Day through June. And then we were doing about 50 percent and we're still at about 50 percent.
Looking toward the winter months—you've expanded your outside footprint, but you can't serve outside forever. What are you thinking?
A lot of breweries are going to be, or restaurants in general, are going to be in the same situation I am. One of the few things that I do have as an advantage is that I can open up my brewery floor and double my seating capacity. I'm going to adjust my brewing schedule to get my brewers to start earlier so they can end earlier, so they can be out of the building earlier, so we can throw some picnic tables back there. And then we're going to put some speakers back there and some lighting and make it fit.
Do you feel positive about the future?
I think so. The industry is going to take a big hit and I'm not sure how it's going to recover. I'm fortunate that I own my own property. I feel really bad for a guy that started a project like this 18 months ago. He's like, "I've been in business six months and then COVID hits, man!" If I was in business for a short time when this started, we wouldn't be having this conversation.
January will mark 18 years in business. So 18 is pretty cool. And if I continue to have a great time, I'll stick around. If somebody walks in and they go, "Here's a bunch of money, get the fuck out of here and don't show up again." Great! I'll bounce. If they need me to stick around, all right, I'll stick around. If I can kind of slowly back away, but still show up and not have to pay for beers for myself and my old lady, that's great too.