Rita Rudner once quipped, "I think men who have a pierced ear are better prepared for marriage. They've experienced pain and bought jewelry." Ladies, whether or not your betrothed has a piercing, the mark of true adulthood for men is often met at a jewelry store while purchasing an engagement ring. "It can be intimidating to go into a jewelry store when you're buying a ring," says Tom Jacobi, owner of Schneider's Jewelers in Kingston. It's our job to make you feel comfortable." Wedding jewelry, however, isn't just about engagement rings and wedding bands. Jewelry also makes a wonderful, meaningful gift for your wedding party or those nearest and dearest as a thank you for being a part of your special day.
For Creative Couples
"Our main focus is unique wedding bands." Says Bruce Lubman, owner of Hummingbird Jewelers. "We have over 40 different designers from antique to classic." Hummingbird Jewelers in Rhinebeck offers one-of-a-kind creations for all special moments. Owner and gemologist Bruce Lubman and his wife established themselves in 1978. The quaint 1,000-square-foot store offers a beautiful space, personal attention, and a diverse collection of jewelry, as well as an on-premise workshop upstairs that is used for master designers, antique restoration, jewelry repair, and custom one-of-a-kind creations. "Couples are getting more creative now," says Lubman. "They'll bring in their grandmother's stone and have something designed that's more modern or restore the family heirloom." As for the groom, there are a few new designers that are exploring alternative metals, think: Tungsten carbide, carbonate, and stainless steel. But for brides, they won't chance anything but the classics. Once the ring is bought the couple will also scoop up gifts for their wedding party. Bridesmaid gifts are particularly popular. Lubman sells an array of freshwater pearls from artists that are both unique and affordable. Another route is eco-friendly artist Lori Bonn, who sells personalized jewelry made with recycled metals.
Hummingbird Jewelers, 23A East Market Street, Rhinebeck.
(845) 876-4585.
All in the Family
Zimmer Brothers has been family-owned and operated since 1893. The store is now managed by the fourth and fifth generations who still provide the same superior products and customer care. Vice President Jocelyn Klastow says that Zimmer Brothers has become renowned for having one of the largest selections of antique and estate jewelry collections in Hudson Valley, which have come into high demand. "Halo settings, with a micro-pave is the new estate look," says Klastow. "Diamond eternity rings are also popular. Women want to stack rings now. They buy one, like the engagement ring and then stack from there. We do custom just for this." Zimmer Brothers also offer Die Struck rings- a process that's relatively unique to the store and making a comeback. Klastow explains, "Die-struck metals make the ring solid and resistant with no weak spots. They look magnificently polished and are the best of quality. People want to return to that quality again." Gifts are also of the utmost quality at Zimmer Brothers. Klastow says, "An engraved picture frame makes a great gift for the parents or even a bridal shower." We'd have to agree.
Zimmer Brothers, 39 Raymond Avenue, Poughkeepsie. (845) 454-6360.
Neither Platinum Nor Plastic
Country Gallery, the 400 square-foot not-so-country store has been selling Poughkeepsie one-of-a-kind gifts for the last 30 years. Manager Jennifer Tell says, "We're the place that people come for something unique. We fill the niche that's not platinum and not plastic." Country Gallery sells over 50 lines of jewelry but their number one seller is Pandora, the wildly popular charm bracelet collection. Tell says, "Husbands come in and start their wife with one. Or a mother whose daughter has a collection will buy her a charm for a wedding gift. One bride bought her bridal party a bracelet with a suitcase charms because they were going to Vegas for the bachelorette party. They're great gifts because they signify events in your life." Country Gallery also sells a fair amount of Brighton Jewelry. Tell says, "It's a great gift because of price and also because Brighton Jewelry is good for dressing up at the wedding and then pairing it with jeans and a t-shirt." Finally, her selection of John Mediros, whose jewelry line mimics that of David Yurman, with a much lower price point, is quite popular with the mothers of the bride and groom. Tell says, "This handmade line from Rhode Island features a cuff that's very popular. It's has a classy and upscale look that our moms really like."
Country Gallery, 1955 South Road, Suite 6, Poughkeepsie. (845) 297-1684.


Personalized Gifts
Jaymark Jewelers has been serving the Hudson Valley for over four generations and knows a thing or two about what's trending in wedding jewelry. Jim Matero, owner of Jaymark, says that while cushion and princess cuts are still popular in women's engagement rings, there's a trend towards the antique marquis-cut diamond. Colored stones with a diamond in the center are taking on a new popularity with platinum and white gold being the choice metal. But it's the gents that are willing to branch out with the bands. Matero sells the guys more tungsten carbide because it cannot be scratched. Jaymark offers free engraving. He points out, "The engraving is not about the couple, but for when you pass it down." Jaymark's selection is vast and there's something for everyone. Cuff links (in sterling, gold, and platinum) are a popular gift for grooms, dads, and groomsmen. Matero, who is all about being personal right down to gift giving, says, "A newer trend is buying individual gifts for the wedding party." They can help you choose a pearl necklace for your more conservative bridesmaid and a funky square bangle bracelet for your maid of honor.
Jaymark Jewelers, two locations: 284 Katonah Avenue, Katonah, (914) 232-4143
3612 Route 9, Cold Spring. (845) 265-9246.
Watches, Steins, and Pearls
Schneider's began as a simple watch and engraving store in 1928. The store is still family-owned and operated, but has grown into a full-service, natty jewelry store catering to Uptown Kingston's most loyal customers, with a wide variety of bridal jewelry. Schneider's proprietor Tom Jacobi says, "Brides want something nice and simple, but still unique. Antique and filigree is a big trend right now and men are trending towards alternative metals because they're so wearable." Jacobi also mentions that "couples don't wear matching ring sets much anymore. Unless it's just a plain band." Schneider's has always been a superior place for buying just the right gift and this holds true for the bride and groom as well as entire wedding party. "Watches are a popular gift for the groom," says Jacobi, "something that represents a time period in their life." Grooms tend to stick with necklaces of the diamond or pearl variety. It's the wedding party gift selection where Schneider's shines. Vera Bradley accessories and Pandora, the popular charm bracelet company, are hits with the female attendants, as well as the classic pearls or a set of gold hoops. And the old school beer steins are a classic for the groomsman.
Schneider's Jewelers, 290 Wall Street, Kingston, (845) 331-1888.

Proof of Provenance
Whitworth Jewelers in Uptown Kingston specializes in loose diamonds and gemstones along with customized conflict-free diamonds. Owner Valerie Whitworth says that, "People are becoming more interested in knowing where their jewelry is coming from. We work with designers who have the same values." Along with an interest in conflict-free diamonds, two trends are dominating the engagement ring industry; the first being a micro-pave setting. "Simon G. is king." Whitworth explains of the trend where diamonds are locked into the ring's setting to accentuate the stone, rather than the band. The second trend is a Princess Di look (now adopted by princess-to-be Kate Middleton). Whitworth describes it as a hand-carved setting with beaded glass or an estate-looking ring with sapphires or emeralds. And though diamonds may not always be a girls best friend, platinum and 18-carat white gold are the standard metal. Whitman did make mention of a new interest that's taken vogue as of late; pink or rose gold that's used as an accent to the platinum or white gold. Whitman says, "It gives a softness and uniqueness to an engagement ring. It really just pops." For the men, it's titanium, stainless steel, and mixed metals (such as a darker mixed with a lighter metal) being used to show off their personality. "It's usually the younger guys who want something unique, like a carving," says Whitworth, "we do quite a bit of custom work for them here."
Whitworth Jewelers, 36 John Street, Kingston. (845) 331-6228.
The Princess Bride
Jewelry Expression in Kingston has been in business for over 30 years and President, Nick Malvai can attest to what's happing in the jewelry industry. It seems that what's old is new again when it comes to wedding trends. Malvai says that antique settings and estate jewelry are quite popular for engagement rings. "As far as stones, the princess cut is most popular. I guess it's because the bride is like a princess now," Malvai says, and laughs. He also says that there's been resurgence in the pocket watch for men's gifts. Jewelry Expression also sells a lot of the charm bracelets by Zabel Beads. Malvai says, "The bracelets are great for parents and bridesmaid gifts. They add a bead for each occasion." He says that men have steered away from the traditional beer stein at his store and are now more inclined to purchase a money clip. And for their brides, they'll always buy her a bracelet. Perhaps it's predictable, but a lovely gift, nonetheless.
Jewelry Expression 1300 Ulster Avenue, Kingston. (845) 336-4388.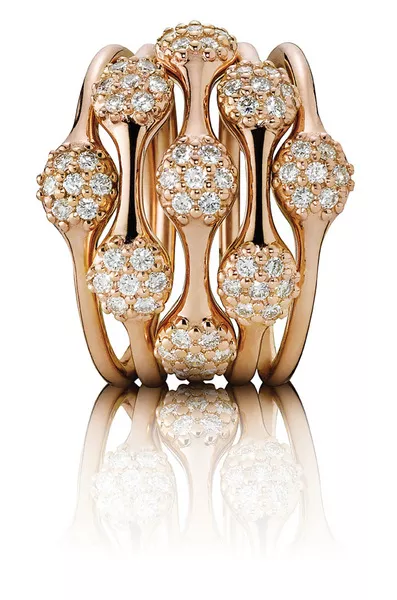 Rings from Pandora's Lovepods Collection, 18K rose gold with pave diamonds in 1, 2 & 3 pods
A bracelet of silver and freshwater pearls by Toronto-based Dushka, available at Hummingbird Jewelers in Rhinebeck.