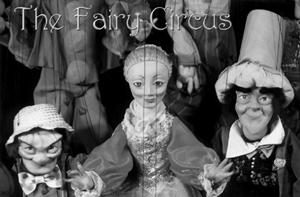 The Tanglewood Marionettes bring "The Fairy Circus" to Rhinebeck on February 10. (Image provided)
Though the tricks will be performed by hand-crafted puppets rather than bearded ladies or daredevils, Tanglewood Marionettes' "The Fairy Circus" will offer an experience similar to that of a real circus on February 10 at the Center for Performing Arts at Rhinebeck. Numerous puppets will dazzle the audience while accompanied by a variety of recognizable music ranging from Tchaikovsky to Benny Goodman.
Peter Schaefer, cofounder and lead puppeteer of the Ware, Massachusetts based troupe, will begin the show by briefly demonstrating the company's art with a variety of puppets, such as the simple glove puppet and the more complex mouth puppet.
"The demonstration is not meant to be [purely] educational," says Anne Schaefer, Peter Schaefer's wife and logistical director and cofounder of the company. "Though it is interesting to try and figure out how the puppets are brought to life, our main concern is making the audience enjoy themselves."
Most of the company's productions are collaborations with other puppeteers. The upcoming show in Rhinebeck, however, will be a solo act. Throughout the performance, Peter Schaefer's manipulation of the marionettes will be visible to the audience, satisfying curious adults attempting to understand the intricacies of puppetry while allowing children to remain captivated.
"Though most of our shows are geared toward children," says Ann Schaefer, 'The Fairy Circus' is one of our least age-specific."
The production is part of the Center for Performing Arts at Rhinebeck's Saturday Morning Family Series and will be held on February 10 at 11am. (845) 876-3080;www.centerforperformingarts.org.