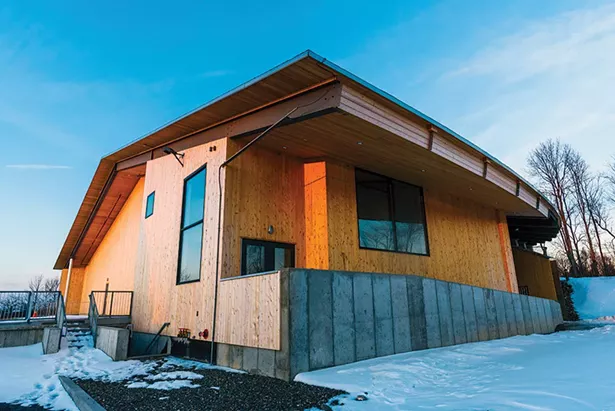 For the past 12 years, appreciators of the arts have flocked to the foothills of the Berkshires to see world-class performances of dance, music, and theater in PS21's open-air saddlespan tent. The breeze, birdsong, and surrounding apple orchards made it a picturesque setting, but the tent presented its own production hurdles and limitations. This spring marks the launch of PS21's 13th season and the grand opening of their new state-of-the-art black box theater.

The facility took two years to construct and houses 99 seats. "The enclosed space means you can create a greater sense of intimacy with fewer distractions, which will really allow us to try out a new quality of programming, including smaller pieces and experimental works," says Susan Davies, administrative director at PS21. "The theater offers a whole different level of control over theatrical environment than openair."

State-of-the-art LED lighting, a sophisticated sound system, and a flexible floorplan are just a few of the improved features the new facility offers. And PS21 is not forsaking its connection to the outdoors; in summer, the east wall of the theater will slide open and the black box will transform into the proscenium stage for the 300-seat open-air pavilion theater. The spring season will feature a mix of dance and theater with timely themes including gun control and women's rights.


Nathan Bugh, left, and Caleb Teicher dancing in "Meet Ella." Teicher headlines a performance at the opening of PS21 new black box theater on April 14-15.
The nimble footwork of Teicher and Gareiss, two of the most elegant interpreters of traditional American dance forms, will kick off PS21's new black box theater in Chatham on April 14. Despite their youth, the dancers have already been favorably compared with Fred Astaire (Gareiss) and referred to by ArtsAmerica as "suave with a groove incarnate" (Teicher).
He couldn't know all the future would hold, but Caleb Teicher knew it held dance in one fashion or another from the time he was in his teens. Headed towards New York City after graduating high school a year early, Teicher left his hometown of Mahopac to pursue the world of traditional American dance. He was connected with tap extraordinaire Michelle Dorrance, who was just starting her company, Dorrance Dance, at the time. In 2015, he began Caleb Teicher & Company, the organization through which he would promote his own choreography and collaboration with other artists. These days, you can find him entrenched in his modern twist on tap, Lindy Hop, and jazz.
Now 24 years old, you don't have to look deeply into Teicher's life to see his accolades speaking volumes about the direction of his career. When Caleb Teicher & Company performed at the Joyce Theater in Manhattan this past January, the nationally known dance venue was entirely sold out. Notably, the New York Times raved about this performance, noting how striking his "impulsive, elusive eccentricity" was on stage.
Joining Teicher is Michigan native Nic Gareiss, whose work in Irish stepdance and percussive dance has led him to both teach and perform in 14 countries. Gareiss is a scholar of dance, studying the occupation of the human body as a musical instrument. The Boston Herald hails Gareiss as "the most inventive and expressive step dancer on the scene."
This won't be the duo's first time performing for an adoring audience at PS21; their visit last summer for the Chatham Dance Festival "made the audience fall in love with them," says Susan Davies, administrative director of PS21. Teicher's pieces last summer included a witty translation of Bach's Goldberg Variations into tap, as well as a touching tribute to renowned jazz singer Ella Fitzgerald.
Such an upbeat, expressive act is just what PS21 was looking for to open their new facility. Davies says that this act "embodies what we celebrate about the performing arts," and will be replete with a ribbon cutting and champagne toast as PS21 anticipates an exciting future. Davies suspects the new theater, which houses 99 seats, will fill up quickly, so it's wise to reserve a seat ahead of time.
Caleb Teicher & Company performs at PS21 in Chatham on April 14 at 8pm and April 15 at 2pm. Tickets for the performance inaugurating the black box theater on April 14 are $45/$40 for PS21 members. Tickets for the April 15 performance are $25/$20. (518) 392-6121.

The pavilion theater opens June 30 for the summer season. See the full schedule of programming.