Hugging the Hudson River in Greene County, Coxsackie's downstreet (it's not called "downtown" here) definitely serves up small-town vibes, complete with its own general store. At
Mansion + Reed
, just a block up from Coxsackie's riverfront, twin sisters Justine and Lia Post take a gourmet approach to the general store concept, offering specialty and locally sourced produce and provisions, fresh baked goods, craft beer and cider, and a full espresso bar.
"When we moved here in 2015, there were only two restaurants downstreet but not much else," Justine says. "We knew we wanted to open a business—somewhere to get milk or eggs without having to go to the Walmart in Catskill. This had always been a community hub kind of place, so that's why we opened a general store."
Named for the intersection on which it sits, Mansion & Reed is in a handsome, c.1890s brick building. Its name is stenciled onto two big storefront windows flanking a robin's-egg-blue door. Inside, the wood floors are imbued with the character that comes from more than a century of customers' footsteps. Tall wooden stools belly up to the teal-sided counter that doubles as a coffee bar, and Eames-esque chairs surround a separate table for lingering over a drink or pastry or catching up with a neighbor.
Shelves and coolers line the walls, displaying products that are mostly locally sourced. You'll find familiar names like Ronnybrook Farms milk and garlic butter; Alleyway ice cream; BjornQorn popcorn; and Bread Alone to satisfy carb cravings. The sisters favor Red Gate Grocer—a small family farm collective in the Ithaca area—for meats like boneless sirloin and sausage. "There are so many great makers in New York," Justine says. "We love supporting other small businesses with our small business."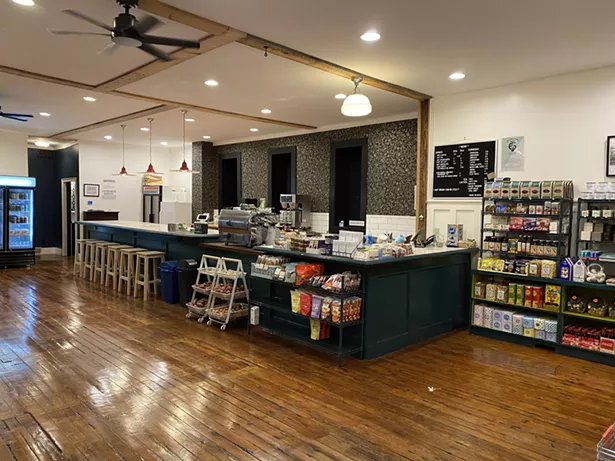 The path to shopkeeping was a winding road for the sisters, who make art and write poetry in their spare time (which they have a tiny bit more of now that they employ two part-timers at the store). Justine and Lia hail from Sullivan's Island, South Carolina, off the coast of Charleston. "It is a small island, very similar to Coxsackie in that it's very small-town, and we like small towns," Justine says. When Lia attended Hampshire College in Massachusetts, the sisters fell in love with the Northeast. After college, Lia traveled before settling in New York City, where she ran an artists' collective for five years. Justine was finishing up at the University of Houston when Lia started considering buying real estate in upstate New York. "We were looking in Hudson, Catskill, and Athens, but we didn't really connect with anything that was available there," says Justine.
Three adjacent buildings in downstreet Coxsackie, in the vintage Reed Street Historic District, had been on the market for a couple years when the Posts set their sights on them in 2015. The architecture of the town first caught their eye, and the nearby Riverside Park was a big draw. So the sisters took a leap of faith, bought all three buildings, and haven't looked back. "We opened in May 2017, with a 500-square-foot shop in the front room," Justine recalls.
There was a mutual learning curve as the sisters familiarized themselves with the business, and the community familiarized itself with the store. "It took a little while for people to get used to us," Justine says. "I think when they first walk in, people expect us to be more of a convenience store, and they're pleasantly surprised when they see the level of products we offer."
When Mansion + Reed first opened, the sisters served up soup and sandwiches along with the coffee. But they soon put the kibosh on that offering. "It made us miserable," says Justine. "We don't have food-service experience. We realized we enjoyed selling groceries and serving coffee and locally made pastries."
Coffee almost won out over groceries as the theme of the shop, too. "Prior to the pandemic, we were toying with the idea of ditching the grocery end of the business and just doing more coffee; but in the thick of it, we ended up doing a lot better with groceries," Justine says. "People were more comfortable getting what they needed on the smaller scale that we offered. So the pandemic, in a way, saved us. Now, groceries are our main source of income."


By the end of 2020, those 500 square feet became a little tight. So Lia and Justine closed the store from January through November 2021, tore out the back rooms that were once real-estate offices, doubled the size of the shop, and added a bar for coffee, replete with an espresso machine. They're currently pursuing an on-premise license to serve beer and cider on tap, to supplement the packaged beer and cider stocked on their shelves.
Justine's favorite part of running the store is the variety of products they get to offer. "I do most of the grocery buying; I love getting requests from customers, like tahini," she says. "I prefer to buy from small businesses or from local producers, so I do a lot of research. Hunting down items is fun, and it's exciting to us—and to our customers, too—that people can find unusual items in a small business in Coxsackie. People got more adventuresome with cooking during the pandemic, and it allowed us to explore more products. We're proud of our sauces, meats, rice, and pasta. And we love doing espresso drinks; that's kind of a new adventure for us." Mansion + Reed is currently the only place in Coxsackie offering espresso, using beans from West Stockbridge-based roastery Number Six Depot Coffee.
Besides being entrepreneurs, Lia and Justine are landlords and innkeepers, too. In addition to housing Mansion + Reed General Store, the three buildings they own comprise a few longterm rental units, and two storefronts: vintage clothing shop Steve's Clothes and Heart Land Realty. Above the general store and the clothing shop are four suites, collectively called The Guesthouse, that the sisters run as Airbnb units. The suites each have private bathrooms and kitchenettes. Two face historic Reed Street, while the other two have a river view.
"They were sort of an inherited business when we bought the buildings," says Justine. "It brings people to town. There are a lot of wedding venues around Coxsackie, and we have guest rooms to accommodate the visitors. It's a lot of laundry and cleaning," she adds with a chuckle, "but it's kind of nice to introduce people to Coxsackie who have never been here before."