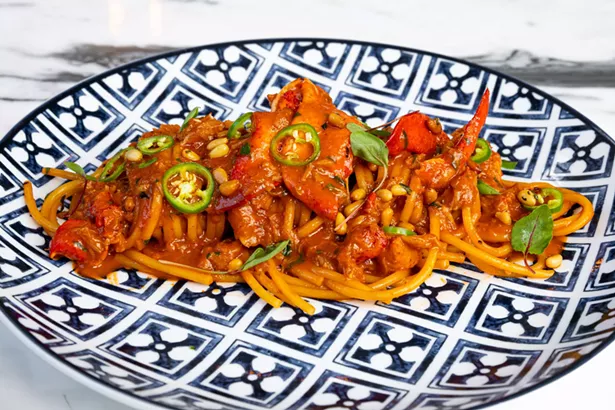 Courtesy of Primo Waterfront
The cliffs of the Amalfi coastline may be far away, but the cuisine is closer than you think. In a few weeks, Primo Waterfront's doors will open, bringing seafood-centric coastal Italian cuisine to Newburgh's Hudson River waterfront. "The question we asked ourselves when we developed the concept is, 'what would it feel like if you were at a beach club on the coast of Italy?'," says Jesse Camac, Primo's owner.
A Longtime Dream Turned Into Reality
Camac has wanted to own a waterfront restaurant since he began working in the industry in 2005. He teamed up with his father and chef Zak Pelaccio to launch the now-defunct Fatty Crab empire, with 10 locations from New York City to Hong Kong. In 2018, He moved to Poughkeepsie and opened Heritage Food + Drink in Wappingers Falls.
With a few years at Heritage under his belt, Camac was itching to open another restaurant. Last summer, he learned that the former location ofItalian eatery Cena 2000 was available for rent. He decided to launch the waterfront establishment he'd always envisioned. "I've always loved the Newburgh waterfront in the seven years I've been up here," says Camac. "It just felt right to me and it felt like the right opportunity for a premium, high-end concept in the area."


Camac knew that he wanted to serve Italian food, in keeping with Cena 2000's offerings. He and Frank Camey, a chef at Heritage, weren't sure what style of Italian food they wanted to make–until Ralph Bello came along. Bello contacted the pair in search of a chef position after working at Fishkill's now-closed Italian establishment, Il Barilotto, and Camac asked him if he would like to develop Primo's menu. "At that first meeting at the table, all three of us looked at each other and knew that it was the right team," says Camac.
With Bello's help, the trio settled on coastal Italian cuisine. "In Manhattan, it's not too easy to find a waterfront space. We just felt like the stars aligned and it just made sense to do this in this space," says Camac. When Primo opens, Bello will be its executive chef, and Camey will serve as the corporate chef for both Primo and Heritage.


Seafood-Focused Fare
The menu at Primo is different from what Camac calls "typical red sauce" Italian fare. It's seafood-focused and will use local produce and meats. Camac's wife's family has worked in agriculture for decades, and he appreciates being able to form direct relationships with the farmers. "We know that it was treated properly and that it's going to be the best product that it can be," says Camac.
Bello's pasta-making proficiency makes those dishes one of the restaurant's specialties. A shrimp casarecce, featuring shrimp, calabrian chili, and basil in a cream sauce will be available, as well as octopus pacheri, made of octopus braised in red wine alongside bone marrow. "We're trying to use some ingredients that aren't normally seen. You might see king crab in a pasta, or spot prawns," says Camac. There are also seafood-free dishes, including sweet sausage gnocchi, and brick chicken served with parmesan polenta.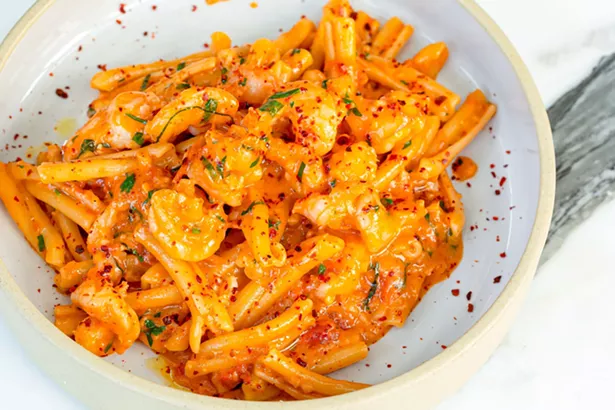 Courtesy of Primo Waterfront
One of the offerings that Camac is the most excited about is the crudo and raw bar, partly inspired by New York City's best restaurants. Camac asked his friend John Daly, who cooked at the Michelin-starred establishment Masa, to teach him and Bello about preparing raw fish. "What we didn't want to do is have a Japanese crudo program where there's soy sauce and wasabi on everything," says Camac. "They really collaborated together." Daly's Japanese techniques combine with Bello's Italian flavors and result in dishes like Montauk fluke with pistachio, ponzu, chives, and olive oil. Another dish on offer will be yellowtail with strawberry, basil, and pink peppercorn, as well as oysters and king crabs.
Courtesy of Primo Waterfront
There's also an extensive drink menu. In addition to beer, sake, and wine, there are several handcrafted cocktail choices. Sip on the "Derby Day," made with cardamom-infused bourbon, lemon, honey, and mint. Frozen cocktails like the "Mai Tai," made with Appleton rum, pineapple, orgeat syrup, curacao, and lime, will also be available. A gin and tonic menu includes variations on the theme, like the "Malfy Gin," featuring watermelon, mint, and cardamom, and the "Stray Dog Wild Gin," made with rosemary, pink peppercorns, pomegranate, and Aegean tonic.


Creating an Inviting Space
The space gives the feeling of a coastal getaway, with walls of windows, indoor and outdoor bars, and a patio that seats up to 170 people. "We have a very open concept. All the sliders open up to keep that fresh, natural air coming into the space, even if you're not sitting outside," says Camac. "We really designed the whole restaurant so that most of the seats are looking toward the water. We want that to be the feature."
Although the food and space are more upscale, Camac still wants to create an inviting atmosphere. "We try to make the restaurants fun, whether we're selling a $4 burger or a $90 steak for two," says Camac. When Primo opens, he hopes that customers see his team's work pay off. "We just want to have fun while we're working, and we want our guests to have fun," he says. "Right now we're focused on making Primo the best restaurant that it can be."


Primo will be open for business in the coming weeks. For updates, visit their website or follow them on Instagram and Facebook.
Primo Waterfront
50 Front Street, Newburgh
info@primowaterfront.com