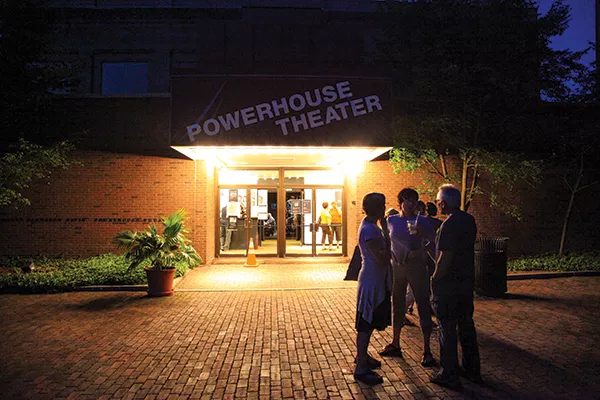 Most people enjoy watching butterflies dart about in their full-colored finery. Some prefer the dramatic struggle of the pupa in its quest to break free of the chrysalis. For the latter, there is the Powerhouse Theatre season at Vassar.
Now in its 29th year, Powerhouse (running June 21 through July 28) is theatrical summer camp for New York Stage and Film. Here, new dramas, comedies and musicals by novices and veterans alike get to work out various kinks before launching a professional theatre run. While many shows that debut here never find success beyond workshopping, others have soared, including "Side Man," "Murder Ballad" and John Patrick Shanley's Pulitzer Prize-winning "Doubt."
New York Stage and Film Artistic Director Johanna Pfaelzer insists that jettisoning preconceived notions is key when selecting works for each summer schedule. "If I promise anything to myself in thinking about the season," says Pfaelzer, "it's to be ambitious on behalf of our artists and on behalf of our audience—to think in as wide-ranging and large-scale a way as I can about what we can accomplish during our quite-compressed summer season."
Working with Powerhouse Theater Producing Director Ed Cheetham, Pfaelzer creates a nurturing environment where a struggling playwright can experiment with alternate endings to a work. Concurrently playing mentor, muse, and tough love counselor to a blocked director, actor, or librettist can be challenging, she acknowledges. "It's not for me to tell them what to write; it's for me to look at where their imaginations and their ambitions and their appetites are taking them and figure out where it makes sense for us to step in and best be of service."
While shows that reach Powerhouse each year veer wildly from urban dramas to surreal farces, historical musicals to fantasies, 2013's roster offers a predominant theme: the myriad conflicts of New York City life. "I stood back to notice that in very different ways, each one of these plays is a love letter to the city," Pfaelzer says.
"Downtown Race Riot", by Seth Zvi Rosenfeld and directed by Scott Elliott, dissects the personalities that drive a riot in 1970s Washington Square Park. The comedy-drama focuses on a hapless teen who must balance allegiances in order to survive. "When the Lights Went Out" by first-time playwright Mozhan Marnò and directed by Kate Whoriskey, employs a real-life event—the Northeast blackout of 2003—to examine several New Yorkers whose lives change that evening: two strangers, an older couple and an Iraqi immigrant. The musical "The Brooklyn Hero Supply Company" was inspired by Park Slope's nonprofit learning center. Based on characters created by Michael Chabon and Ayelet Waldman, the work follows Trey, a young man chasing superhero dreams and a kindred spirit he meets by chance. The musical is directed by Michael Mayer, the force behind "American Idiot" and the revival of "On a Clear Day You Can See Forever," both of which started at Powerhouse.
For those who crave celebrity wattage, "Bright Star" is a collaboration between singer-songwriter Edie Brickell and playwright-banjo strummer (and occasional comic) Steve Martin. An epic set in the Blue Ridge Mountains, "Bright Star" follows a World War II veteran as he attempts to find truth in his life. Brickell and Martin wrote original songs for the bluegrass score and Walter Bobbie, who won a Tony for "Chicago," directs.
"It feels like a really ambitious year," Pfaelzer said of the 17 plays, musicals, and readings that comprise Powerhouse 2013. "It feels like people are feeling free to paint on a big canvas."
The Powerhouse Theater season runs from June 21 through July 28 on the campus of Vasar College in Poughkeepsie. (845) 437-5599; Powerhouse.vassar.edu.