Page 2 of 3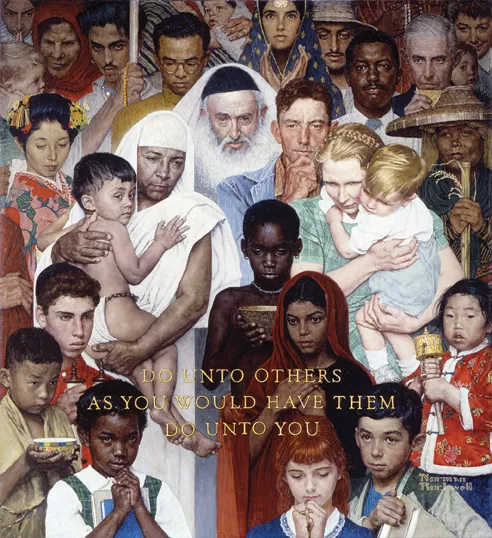 Courtesey Norman Rockwell Museum
Norman Rockwell, "Golden Rule," Oil on Canvas, 44 1/2" x 39 1/2", Cover illustration for the Saturday Evening Post, April 1, 1961. The Norman Rockwell Museum in Stockbridge houses the world's largest collection of Rockwell's work, including 574 original paintings and drawings.
Stockbridge
It's easy to walk into the Norman Rockwell Museum with a lot of baggage. I did. I was prepared to marvel at the skill of his brush and the meticulousness of his near -photo-realistic illustration, but I was also prepared to remain unmoved by images seen innumerable times before.
I wasn't faulting Rockwell for my lack of enthusiasm. I figured that he was simply a victim of his own success in a nation saturated by his utopian icons. How could Rockwell's paintings still hold relevance in modern times, in a world rabidly ripping apart any remaining scraps of the societal fabric his works are draped in?
One of the joys of art is being surprised by the range and power of emotions a piece pulls from rarely traveled internal places. That image of a boy with a bindlestiff elbowed up at a soda fountain beside a smiling cop isn't supposed to connect anymore. But then, standing before the full-scale painting of The Runaway inside the impeccably curated gallery your mind begins to wander down where you thought it wouldn't and you find important questions. What would that painting look like today? What would that painting look like painted then but if the boy was black? What would so many of Rockwell's Saturday Evening Post covers have looked like had the editors allowed him to paint African Americans in anything but a service position?
"He created a world that was a slice of what he wished life would be like," Jeremy Clowe, manager of media services at the Norman Rockwell Museum, says. "Some of the settings have changed but the themes are the same. It may not look like this anymore but it's still the same sensation." Clowe says The Runaway in particular is still highly regarded by police. It's important to realize, he pointed out, that basic tropes resonate in a variety of ways for different people.
Then you turn around and there's more. The original Golden Rule sneaks up on you, the weight of that universal desire for tolerance on one canvas. In the galleries' center room, Rockwell's "Four Freedoms" series encircles the viewer and immediately drives home the pregnancy of the painter's idealism. "People are particularly moved by the Four Freedoms. I think in difficult times the museum is sort of like a balm," Clowe says, adding that the accessibility of Rockwell's style allows everyone, no matter their artistic literacy, to take something away from the paintings. "There's not a lot of pretense. You don't feel like you have to 'get it.'"
The museum also showcases work from modern illustrators to highlight the work of artists walking in, or at least near, Rockwell's footsteps. The current exhibition of illustrations by Jerry Pinkney includes moving historical scenes of the African American experience and provides a thought provoking addition to the main galleries. Pinkney recently won the Caldecott Medal for his reimagined version of the children's book The Lion and the Mouse and in December celebrated his birthday at the museum.
The museum has also sent out traveling exhibitions, including "Norman Rockwell Behind the Camera," a deep look into the artist's process, working off of photographs of models, some of whom still reside in Stockbridge. It was easy for me to confuse Rockwell's timelessness for cliche. Standing before his works it was even easier to realize I was wrong.
Stockbridge earned the descriptive additive "Rockwellian" when it's quaint main street was painted by its most famous resident. Large New England mansions line the road and the business district is warmly understated. There's the Main Street Cafe, with a chatty young waitress who knows everyone's name and sticks a candy cane in hot cocoas, an unattended general store where one is apparently on the honor system to go into the cafe to pay for their purchase, and then at the end of the street rests the palatial Red Lion Inn.
"There's been an inn here with a red lion in front since 1773," says Carol Bosco Baumann, Red Lion director of marketing and communication, sitting in the inn's crowded lobby beside an immodest Christmas tree. The gentle sound of a harp strummed live by the fireplace bounces off the antique lined walls. "It started as a Tavern and as in any traditional New England town, it was a gathering place," Baumann says.