Page 2 of 2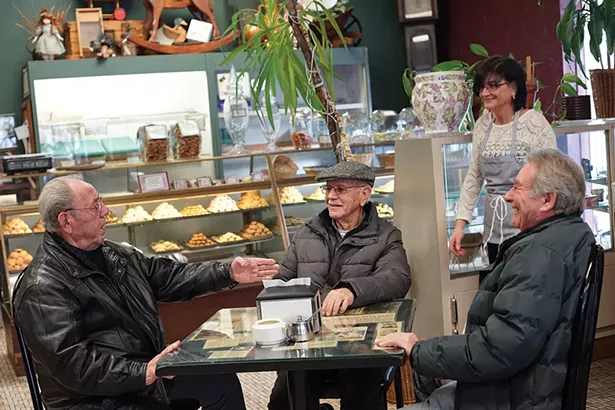 Photo by John Garay
Albino Curcio, Carmelo Petula, Emily Paonessa, and Angelo Incoruaia at Caffe Aurora.
Around the corner from the Bardavon Opera House, a cornerstone of the city's cultural landscape that's celebrating its 150th anniversary this month—is 40 Cannon, an adaptive reuse project that speaks to confluence of artistic and entrepreneurial energy currently in Poughkeepsie. Built in 1915, the Kings Court Hotel was a Poughkeepsie icon: a home-away-from-home for the artists and prima donnas playing the Bardavon and a stopping point for wealthy folk on business trips up from the city. Converted to rambling apartments in 1970 and gutted by fire in 2011, many thought the fine old brick structure was ready to give up the ghost. Enter Jim and Gina Sullivan of the James J. Sullivan Corporation, who'd been renovating Poughkeepsie spaces since 2010. They bought 40 Cannon Street in 2013, and the mixed-use development began admitting tenants in 2018.
The renovation of the historic building maintains original exposed brick, wood floors, a sweeping marble staircase, and many other period details, lending majesty to a modern setting. The building's 47 studio and one-bedroom apartments were rented almost instantly; only one of two lavish tri-level penthouses remains open. Residents are a mix: about half locals looking to relocate, half newcomers from all over, drawn to 40 Cannon by its amenities: gated parking, laundry rooms on each floor, communal outdoor spaces, grand lobby, gym, sauna, library, views, bike storage, yoga space, on-site management, and a community feel.
Downstairs, the Sullivans curated a careful selection of businesses to nurture the cultural and practical needs of the local community. Gallery 40 hosts exhibitions of local artwork ("The Sublime and The Beautiful" is currently on view) and this spring, the 1915 Wine Cellar, an upscale global wine bar, will open up shop in the basement. King's Court Brewery, a microbrewery and taproom, has been serving on the ground floor for several months. (Owners Cortlandt Toczyloski and Caroline Bergelin live upstairs.) King's Court is a generalist brewery. "Our whole mantra is, we don't do just one kind of beer," says Bergelin. "We have something new every Thursday. And we have a honey ale for people who don't like beer at all."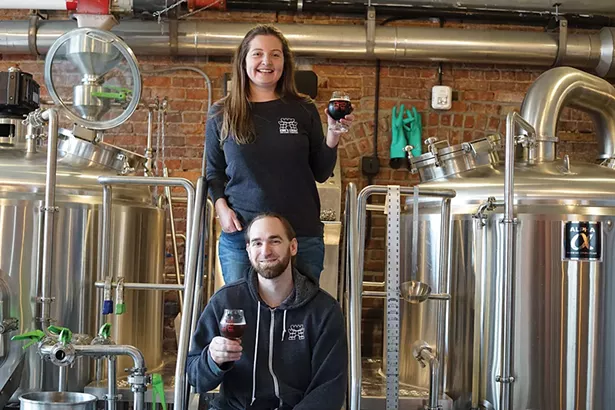 Photo by John Garay
Cortlandt Toczylowski, owner and headbrewer, and Caroline Bergelin, owner, graphics and sales, at King's Court Brewing Company.
Other residential projects in the city include Poughkeepsie Landing, a public-private partnership between Poughkeepsie machers the Bonura family and the city to redevelop a former industrial site on the waterfront north of the train station. The site will include 50 luxury apartments, 30,000 square feet of retail, and a publicly accessible riverfront promenade.
Currently in the midst of construction, Queen City Lofts is a LEED-certified complex that will host 70 apartments, all of which will be rented below market rate on the corner of Main and South Bridge Streets, 50 of which were set aside for artists. A lottery in January allotted the apartments.
The Holy Grail
The flip side of revitalization—and the focal point of anxiety for communities throughout the region—is gentrification. While all the city residents we interviewed for this piece expressed optimism in the direction Poughkeepsie was headed, there was an undercurrent of concern about not falling into the too-much-too-quick trap that's bedeviled other Hudson Valley towns. "There's a quickening pace to projects, initiatives, and change. And as much as we want to see positive change, we're hyper aware of securing inclusive and equitable outcomes from that change," says Elizabeth Celaya, Hudson River Housing's director of strategic initiatives. "The holy grail of revitalization is to do so without gentrification—and no one has gotten it right yet. It's real, and it's not something we can deal with down the road. When change happens, it happens in a blink of an eye. We need to put policy and regulations in place that will safeguard our community."
One idea to combat gentrification put forward by Poughkeepsie Common Councilmember Sarah Brannen (among others), is to create a land bank, as has been done with success in Newburgh and Albany. (Land banks are non-profits organizations authorized by the state to acquire title to vacant and abandoned properties in and transfer ownership in an equitable manner). "We're behind the curve on this," says Brannen. "There are more 500 vacant properties in the city—we could focus on rehabbing historic properties." Governor Cuomo recently signed a bill expanding the number of land banks allowed in the state from 25 to 35. Given its vacant buildings, homeless population, and housing crunch, Poughkeepsie would seem to be a shoo-in for the state program.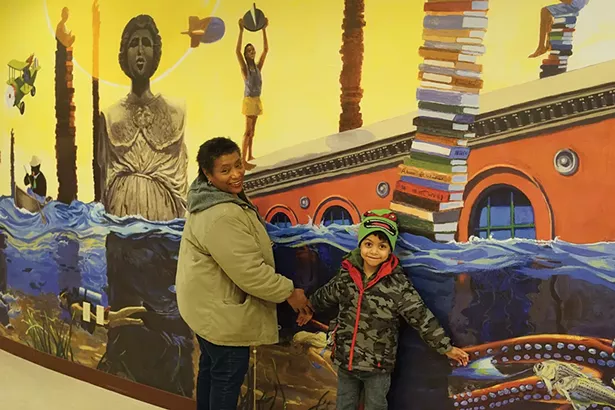 Photo by John Garay
April Coal Blocker and Banicio Sanchez, in front of a mural by James Ransome at the Adriance Memorial Library.
"What keeps me going," says Flad, who's been involved in the city's community affairs since the 1970s, "is knowing that there are people who haven't given up and look forward to plotting the future of the city. Poughkeepsie is a small city with all the urban problems you'd expect, but at heart it's really a small town with all the small-town virtues."