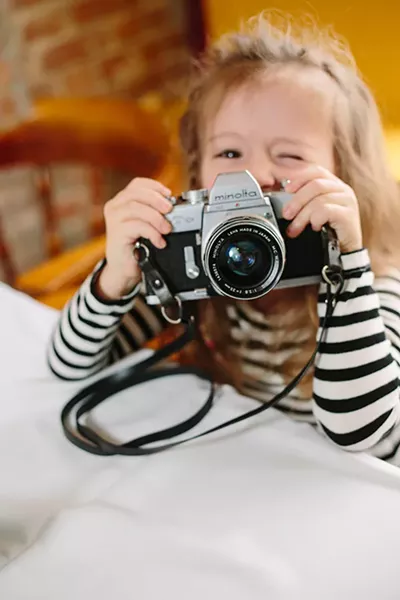 Thomas Smith
Say Cheese!
Growing up in Poughkeepsie, there was a sense that we were in the pulse of the Hudson Valley, that everything else was relative to it. We had the mall, the nice movie theater, the bakery where brides ordered their wedding cake, two big-name bookstores, Bowdoin Park's fireworks on the 4th of July, the first Adam's farmer's market, the best school district. In college, meeting classmates from Peekskill and Rhinecliff and Wingdale begged the question, "How far is that from Poughkeepsie?" They always knew the answer, too, even though I couldn't guess at the direction of their unfamiliar suburb.
As I got older, I watched my hometown and its city shift and morph, break down and rebuild, endure criticism, celebrate successes, memorialize parks and people, overhaul and modernize buildings and bridges. For an adult, Poughkeepsie is less about the distance between one friend's house and another and more about neighborhood events, small business mixers, hot air balloon launches in the summertime, bright orange leaves during autumn, hot chocolate on the sidewalk as the Christmas parade goes by. It's about preserving a community we want to see flourish, not fail.
The Middle Main Initiative, launched in 2009 and a program of Hudson River Housing, recently introduced their "Made In Middle Main" business campaign that supports Main Street's "problem area," namely the five-block section between Academy Street and Pershing Avenue. In order to look after the sector's eateries, arts and small businesses, the Initiative provides branded marketing materials for cohesive promotions (a "strength in numbers" approach), support for media outreach, educational seminars and social gatherings. Their aim is to make Main Street, the hub of the City of Poughkeepsie and the most troubled at that, more reinforced, enriched and dynamic. Among their accomplishments are three painted murals, five planted trees, 20 community meetings, 1,000 distributed copies of the Guide to Middle Main, 3,000 volunteer hours and more than $1 million invested in real estate and community development. Many of us have seen the attempts to resuscitate one of the most downtrodden belts of Dutchess County, whether they were one of Middle Main's endeavors or not. Some plans work but many don't, yet I still get the feeling that the City of Poughkeepsie may not be beyond hope. The town is pretty much as it's always been and each end of Main Street is prospering more than its flopping; it's just that center, with heavy traffic and a lot of potential, that needs a good makeover.
Our stomping ground has been filled with waves and lulls forever, as most neighborhoods experience, I presume. Ribbon-cutting ceremonies for new stores, promising restaurants that closed their doors after just a year or two. Families who've lived here for generations, high school grads who couldn't escape to the West Coast fast enough. Hopeful revitalization efforts, news reports of club brawls-turned-ugly. Poughkeepsie is the Hudson Valley's yinyang. Not primarily good (like Rhinebeck); not worringly bad (like Newburgh); but both, simultaneously. With luck and residents who are willing to work hard, it won't tip in the wrong direction.
13 slides