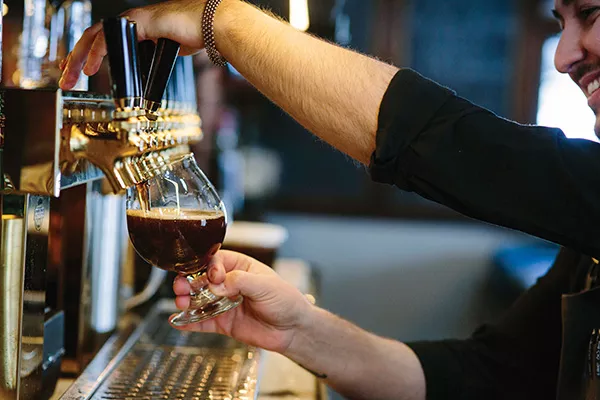 Thomas Smith
Christian Astorga pours a glass of house brewed beer
Poughkeepsie and beer go way back. The Dutch started brewing beer in the Hudson Valley almost four hundred years ago. In the 1830s, Matthew Vassar made his fortune in the brewery business in Poughkeepsie before founding the college that bears his name. Using wild hops that grew here with abandon, Vassar's "Albany Ale" is the stuff of legend among local beer drinkers. Fortunately, local craft beer is mounting a resurgence, and Mill House Brewing Company in Poughkeepsie is leading the way.
It started when siblings Eric and Amanda Baxter and their father, Bob, wanted to revitalize some property on Mill Street. They reached out to longtime friends Chris and Daniel Crocco, who have definite restaurant cred—Daniel is a CIA-trained chef; Chris is a well-respected owner/manager. The Crocco brothers opened Brasserie 292 in 2011, just a couple blocks away on Main Street. The Mill House team soon expanded to include Jamie Bishop and Larry Stock as brewmasters. The Baxters and Croccos had been enjoying Bishop and Stock's homebrews for years, so bringing them onboard and opening a brew pub was a natural evolution. It's a beautiful thing when talent and camaraderie go so well together. Mill House Brewing Company opened just six months ago, and already their Velvet Panda stout has won an award and lines are forming out the door.
It's easy to see why. Exposed brick walls and original fireplaces meet wrought-iron lighting and a marble-topped bar. There's outdoor seating on the terrace and two upstairs rooms comfortably hold ample farm tables (excellent places for private parties). The welcoming dining room includes plush round booths with amazing acoustics—even when the bar is bustling, you can talk with friends without resorting to shouting.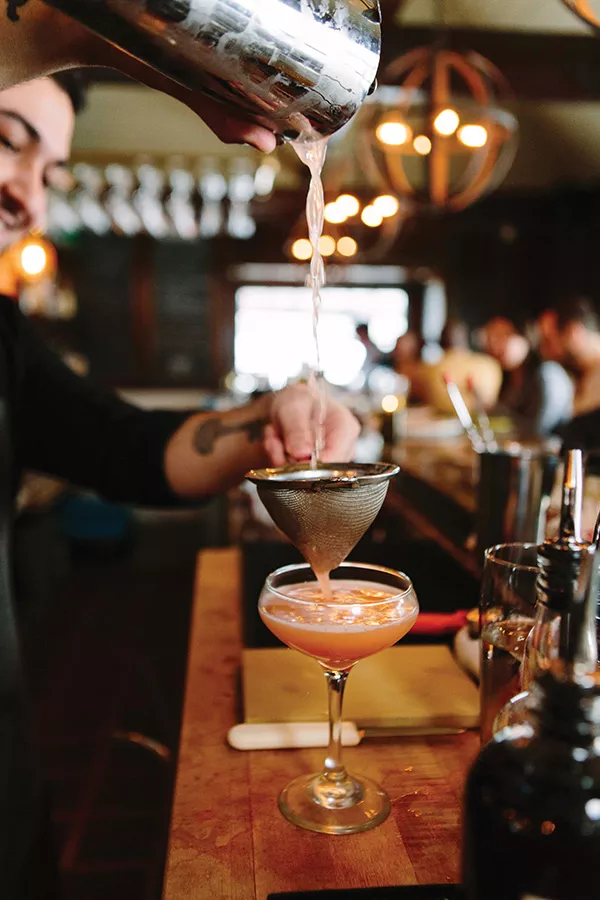 Thomas Smith
Mixing the signature Pink Panty Dropper cocktail
Through the glass wall separating the open kitchen from the vaulted-ceiling brewery, enormous gleaming steel tanks rise out of view. The brewing process starts right here, with the making of vast amounts of wort, the barley water concoction from which all things beer will evolve. A wood-fired oven and charcuterie carving station hint at the savory treats to come. You might catch a whiff of smoke wafting in from out back, which only makes you more eager for a cold beer and whatever is coming out of that smoker. The deli case just inside the front door bursts with house-made sausages, smoked ribs and duck bacon, house barbeque sauce, and rub. It's all available for retail sale and leaves no doubt there's some quality craftsmanship going on here.
With six craft beers on tap, it's hard to choose (most varieties, $3/9 ounces.; $5/16 ounces) A flight of five, 4-ounce glasses ($10) is a great start. The impressive Köld One, a German-style hybrid, crosses the line between ale and lager. The Alpha is an amber ale that's brilliantly smooth and an immediate friend to everything on the menu. The Zoe (named after Bishop's Belgian great-grandmother, a beermaker herself) is a dark, all-Belgian malt that's complex and higher in alcohol (8% ABV) than the others. (Zoe goes for $6/half, $8/full) And certainly don't miss out on the Velvet Panda, a stout run through a nitrogen line (instead of CO2, used with the other beers). The nitrogen makes smaller bubbles, which translates into a soft, thick richness in the brew and delivers a satisfying very dark beer. The surprise of the day was the Queen City Blueberry Cream Ale. Cream ale was one of the first American beer styles, and this one is a call-back to pre-Prohibition brews. Queen City is a light-bodied but very flavorful beer with a suggestion of blueberry.
The brew masters have been friends since fifth grade. Bishop and Stock worked in sales and construction, respectively, and brewed beer for fun, thanks to a home brew kit Bishop received from his wife as a birthday gift. "She created an animal," says Bishop. "By batch three I was brewing way more beer than I could drink." Now these "two best friends trying to brew better beer," as Bishop describes them, are turning their hobby into a livelihood. They're brewing large quantities with commercial tools. "Think of it as going from driving a VW to a Porsche!"
Thomas Smith
The MHBC Sausage platter
It's clear they're having a blast. "We just took our base Alpha Amber Ale and dry hopped it with chamomile flowers for a five-gallon one-off batch," Bishop says. Coming soon: the Pine Tar, made with Colorado Blue Spruce tips from trees in Bishop's yard, just like Ben Franklin and George Washington used, he says. The Pine Tar promises to be a locavore's dream, Hudson Valley terroir in a pint. "As a brewer, those are the things that get me going," Bishop says.
Beer finds its way into menu items, too, thanks to the deft skills and palate of Chef Daniel Crocco. The menu is salty and smoky, but it's a far cry from bar food. "We have everything that's good with beer," Crocco says. He brings his fine-dining technique to the fast casual environment, producing intense flavors on demand. The KO Wings ($9) are brined for a day in the Köld One. They get the house rub (same for the ribs) before they are smoked. Finally, they're deep fried and tossed with barbeque sauce made with Kilt Spinner beer. It's a lot of work for a wing, but it's what sets them apart from all those other wings you've eaten and long ago forgot.
The All American Burger ($11) is the biggest seller, but if you don't try the ribs, you'll be missing out (half rack/$18, full rack/$26). "Basically, all the barbeque stuff that we do, we try to keep it as original and craft as possible," Crocco says. "Barbeque is an art." He uses a variety of wood in the smoker, including beer-soaked oak chips that are byproducts of brewing the Kilt Spinner. It all contributes to flavorful ribs that are topped (not glopped) with the Kilt Spinner sauce that's tangy, smoky, and just a little sweet.
The wood-fired brick pizza oven does double duty, cranking out Moroccan-Spiced Lamb Ribs ($10) and Flank Steak Skewers ($10), as well as a variety of pizzas ($13-$16). The Steak Skewers are a particular treat. Think Thai satay inspired and then think again. They are easy-to-eat tender, still pink in the middle, served on a bed of arugula, and topped with a cashew sauce that packs a tiny kick. After the last morsel of steak is gone, you'll want to eat up all the cashew goodness you can on those bitter greens.
Thomas Smith
Executive Chef Dan Crocco in the kitchen
We can't ignore the sausage: Pale Ale and Cheddar Brat, Merguez, Hickory-Smoked Bayou Sausage, and Kielbasa ($11-15). They're all tempting. If you can't possibly eat another bite, buy these on the way out the door and you're set for dinner tomorrow.
Things are ever-evolving at Mill House (wholesale beer and sausages, anyone?) and there's always something new on tap. Be sure to stop in for their re-creation of Vassar's "Albany Ale" this fall. It's all good news for Poughkeepsie and beer drinkers alike. With locally grown hops now available (thanks to Dutchess Hops) and Blue Collar Brewing opening in Poughkeepsie in August, it appears the brewpub trend is gaining traction in the Queen City. We can all drink to that.
15 slides