Poughkeepsie Day School does not take the easy road. The preK-12 independent school offers a progressive education that liberates the mind and ignites passion and purpose, in order to provide the world with the agile, resourceful, self-directed, community-oriented citizens it most needs.

Instead of telling students to sit in rows and absorb information, students work with their teachers to construct their own understanding of the complex concepts presented or discussed in class. College admissions directors, alums, and even employers, have remarked that PDS graduates ask the right questions and lean into uncertainty with confidence.

Liberating the Mind

PDS turns interests—in music, or gravity, or creating art—into expertly designed experiences that challenge students to build new skills and grow their knowledge. The Poughkeepsie Day School philosophy believes that education begins in joy and deepens in challenge. Teachers encourage students to take pleasure in productive struggle, to treat failure as an exhilarating opportunity, and to cultivate a buoyant spirit of resilience.
The world is always changing. So PDS believes education is evolution. In a disciplined, thoughtful way, the school explores new ideas, adopts new practices, and adapts to new conditions. PDS offers students choice and electives that help them tailor the program to their interests. Creative expression through the arts is an integral part of the PDS program.
Igniting Passion and Purpose

Poughkeepsie Day School teachers curate learning experiences that captivate students and expand their sense of the world. The school holds the belief that education is freedom, meaning a deep understanding of an issue frees you to create original solutions to intractable problems, be that how to make a recipe work in the teaching kitchen, or model climate change in Antarctica.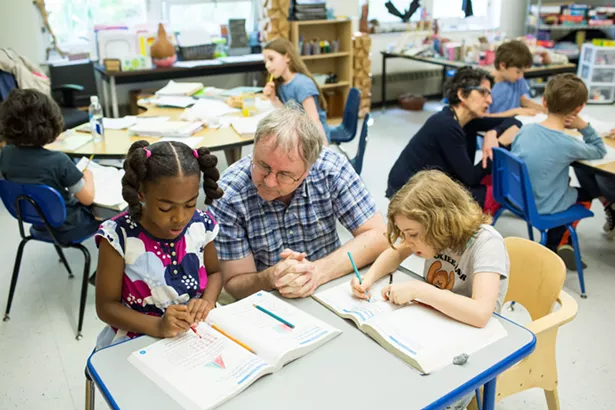 Encouraging Self-Directed and Community-Oriented Actions

All parents want their children to love learning. PDS teachers think the same way and believe that education is an invitation. It's an invitation into discovery. It's an invitation to learn how your classmates think. PDS seeks out students and families who bring new stories and experiences into the school community. Those who come discover that inclusivity is a transformative force. Students feel safe, they form lasting friendships and they acquire the necessary skills to join in a complex, rich conversation. It's about the individual and the community, small and large.
Poughkeepsie Day School believes education is a personal achievement and a community resource, asking its students to learn for their own reasons and act for the common good. Everyone knows that knowledge is power—and power must be used responsibly, with integrity, for the advancement of a more just society.
Educating the Whole Student

If this sounds, enjoyable and engaging, it is, for students and teachers. It's challenging, too. The tasks students at PDS undertake, whether it's building block structures, publishing scientific research or setting up public events to fundraise for a cause they are passionate about, are complex and given the time they need to develop. Education is integration. PDS cultivates the whole person—mind and body—in the pursuit of well-being, which takes time, but it's time that's worth taking. This education is an investment, one that pays off for students and for the community at large.
Poughkeepsie Day School is a progressive school in the Hudson Valley region serving 208 students, from Pre-Kindergarten through Grade 12. Our steadfast commitment to providing an education based on active learning and experience has made us a leading choice for education in the Hudson Valley for more than eighty years. Come to an Open House or call us at (845) 462-7600 for an individual tour.