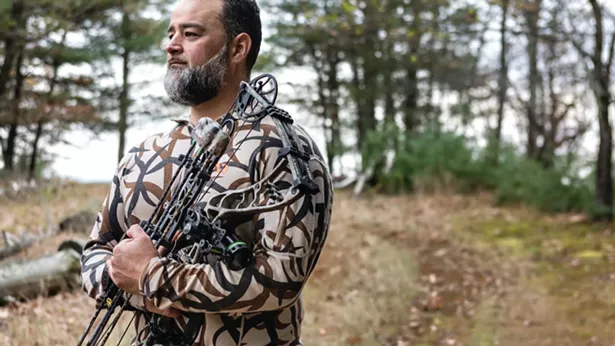 The fault lines that run through hunting are wider than ever, riven by cultural and political divides. But many of those who still hunt today are motivated by the same things hunters have always been motivated by: a desire for self-reliance, communing with nature, and transcending the humdrum of daily life. This portrait of a modern New York hunter reveals why.

Leon Vehaba comes from a long line of refugees; his grandfather, an Egyptian Jew, was kicked out of Israel. His father was a butcher, and Vehaba took up hunting because he wanted to be more involved in the production of the meat he consumed.
After starting out using a shotgun, Vehaba switched to bowhunting several years ago. He says it requires much more training to get an ethical kill shot—a single broadside shot that pierces both lungs or the heart—and he's honed his skills for years to be able to reliably make the shot. Hunting "comes from a place of sustainability and respect," says Vehaba.
There is a practical aspect to hunting as well. As the farm manager at the Poughkeepsie Farm Project, Vehaba knows firsthand the destruction deer can cause. He joined the deer management program at the Mohonk Preserve, which grants special dispensation to deer hunters to help mitigate overbrowsing in the Shawangunk Mountains.
Even still, Vehaba is thoughtful about the practice and ethics of hunting, and he rejects the stereotype of the hunter who "just likes to go out and kill stuff. Those people are few and far between—most are conservationists, have tremendous respect for the animal, and love to be out in the woods."
Original article:
https://therivernewsroom.com/2019/10/30/whos-hunting-now/