R.O. Blechman has been a major force in the field of illustration since the publication of The Juggler of Our Lady: A Medieval Legend in 1953, at the age of 22. For the past 30 years, Blechman has owned a house in the Columbia County hamlet of Ancram for 30 years—he and his wife Moisha moved in fulltime three years ago. Blechman's illustrations have appeared on 19 covers of the New Yorker, and also in the pages of Rolling Stone, the New York Times, and many other publications. His corporate clients have included Perrier, Alka-Seltzer, Enron, and IBM. Branching into animation, Blechman opened his own studio, The Ink Tank, in 1979. His hour long animated version of Igor Stravinsky's L'Histoire du Soldat was broadcast on PBS's "Great Performances" and won an Emmy for Outstanding Individual Achievement in Animation Programming." The Museum of Modern Art presented a retrospective of his animated films in January 2003. Blechman has had one-man exhibits in New York, Paris, and Munich and his work is in the collection of The Museum of Modern Art, the Library of Congress, and Chase Manhattan Bank. In 1983 he was named Illustrator of the Year by Adweek and in 1999, he was elected to the Art Director's Hall of Fame. Blechman is currently working on an animated feature version of Nathaniel West's A Cool Million, a satiric Horatio Algeresque story set in the Depression. Blechman's drawings are part of a group exhibit, "SKH/Political," which will be shown at SKH Gallery of Fine Art and Crafts in Great Barrington November 11 through December 1, with an opening reception on November 11, from 5 to 7pm. (413) 528-3300. Portfolio at
www.roblechman.com.
. —Brian K. Mahoney ..
R.O. Blechman on his work:
The Juggler of Our Lady
I did a graphic novel in college. (Who the hell knew what a graphic novel was at that point?) It was about the rise and fall of the Roman Empire. Kids think big, you know. It was shown to a publisher who said that they couldn't do much with the Roman Empire, it doesn't sell many books, but suggested I do something with a holiday theme. So I asked a friend of mine if he knew of any holiday-related material. And he said, "What about that medieval fable The Juggler of Our Lady?" So one night, the year after I left college, I sat down at my kitchen table in Manhattan and wrote and drew the book. To my amazement, it got published. It was such an untypical book at the time—it was an adult picture book and it received extraordinary acclaim. I don't whether it was worth it or not—it threw my career for a loop. For the next 10 years I could hardly work. Success at an early age can be very disruptive; you're not ready for it. Instant success at any age can be difficult to handle, but when you're 22 years old, it can derail a career. It was only 10 years later—after a decade of intense freelance work—that I resumed doing what are now called graphic novels.
Full Circle
It's curious that I'm part of an exhibit of political art because I was a political cartoonist for my college newspaper in Oberlin, Ohio. And I first wanted to sell political cartoons, but it was the pre-McCarthy era and there were very few outlets, and those few outlets were not very open to the stiffness and naiveté of my drawing. My drawing at the time was not good; but my ideas were terrific, to compensate for the fact that my drawings were so bad. I was also witty, but I never really went to art school. I was basically self-taught, so it took me many years to develop my style. Fifty years later, I'm in a show of political art—how's that for coming full circle?
Political Art
I think there's always a lot [of material for political cartoonists] to work with. As a matter of fact, probably there should be more political work when the scene is quiet than when it's noisy. I think that when a lot of people are banging drums you may not hear the noise as well as when just a few people are banging drums. But I don't know if the public is listening. It was Walt Whitman who said, "To have great art, you have to have a great audience." Well, to have political art, you have to have a politically aware audience. I'm not so sure that we have it now. I think most Americans are intimidated by power. They can't believe that our government can be evil. It's not so much that I think [the government is] evil, but that [it's] power-mad, which is a form of evil. Evil is a very strong word to use, but I don't think it's inappropriate. People just can't accept the fact that the government can be indifferent to its own citizenry.
Yiddish
Leo Rosten's children had the same the lawyer as I had, and my lawyer said, "Will you do my clients a favor and illustrate The New Joys of Yiddish?" For me, Yiddish was a secret code that my parents would occasionally speak when they wanted to conceal something from me, but I quickly understood what gelt and kino meant: Don't give the kid money [gelt], and he shouldn't go to the movies [kino]. And that was the extent of my Yiddish—that was all I needed to know.
Fuel Shortage, _the_ New Yorker, _1974_
Eustacia Tilly, _the_ New Yorker, _1992_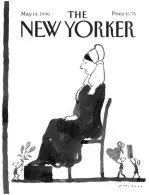 Mother's Day, _the_ New Yorker, _1990_
The Gutenberg Centenial, _1968_