Deborah DeGraffenreid
Rock Star Meadow in Lake Hill, a sculptural installation 20 years in the making.
A lifelong obsession with art-making can begin in strange ways. In Nick Della Penna's case, he wanted to build a wall between himself and his neighbor on four acres he owns in Lake Hill. "The need to put a boundary between myself and an irascible neighbor—a physical barrier—it was that silly and innocent," Della Penna says. The original wall was designed to follow the contour of Mount Tobias, which frames the property's skyline to the northwest.
Twenty years later, the former Long Island third-grade teacher has transformed his field into an idiosyncratic sculptural installation akin to the bric-a-brac assemblages of Simon Rodia's Watts Towers. Like Rodia, Della Penna and collaborator Estelle Ross had no prior artistic training, and they learned how to build the walls, archways, portholes, grottos, and sculptural filigrees of Rock Star Meadow in the doing. "Everything is experimenting," says Della Penna, "responding to the vision, to what's already there, and doing things you haven't done before to keep you excited and to keep from getting bored."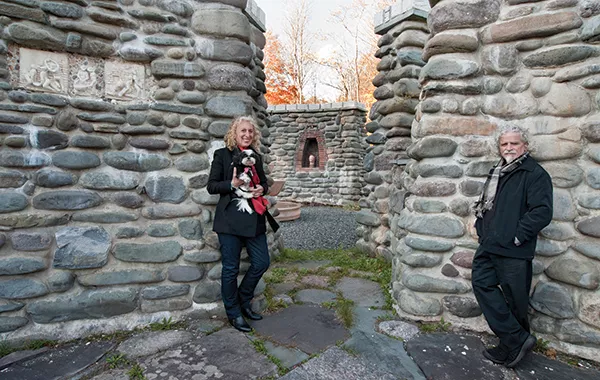 Deborah DeGraffenreid
Estelle Ross and Nick Della Penna.
The work continues to this day, with Della Penna and Ross currently building a 10-foot tall stone archway over the entrance drive. When asked how he'll know the work is finished, Della Penna is blunt. "When I can no longer move," he says. "Age brings with it a sense of finality, so now there's even more drive behind the work."
Rock Star Meadow is a monumental vision, albeit a private one. Although Route 212, a busy thoroughfare connecting Woodstock and Phoenicia, is just 100 yards from the meadow, few people know of its existence. This is going to change this month. On July 27, Chronogram and KMOCA will host a reception at Rock Star Meadow from 3-5pm. The site is another of the Hudson Valley's singular creations. The meadow is located at 4145 Route 212 in Lake Hill, next to the Lake Hill Firehouse. For more information, e-mail kmocagallery@gmail.com.