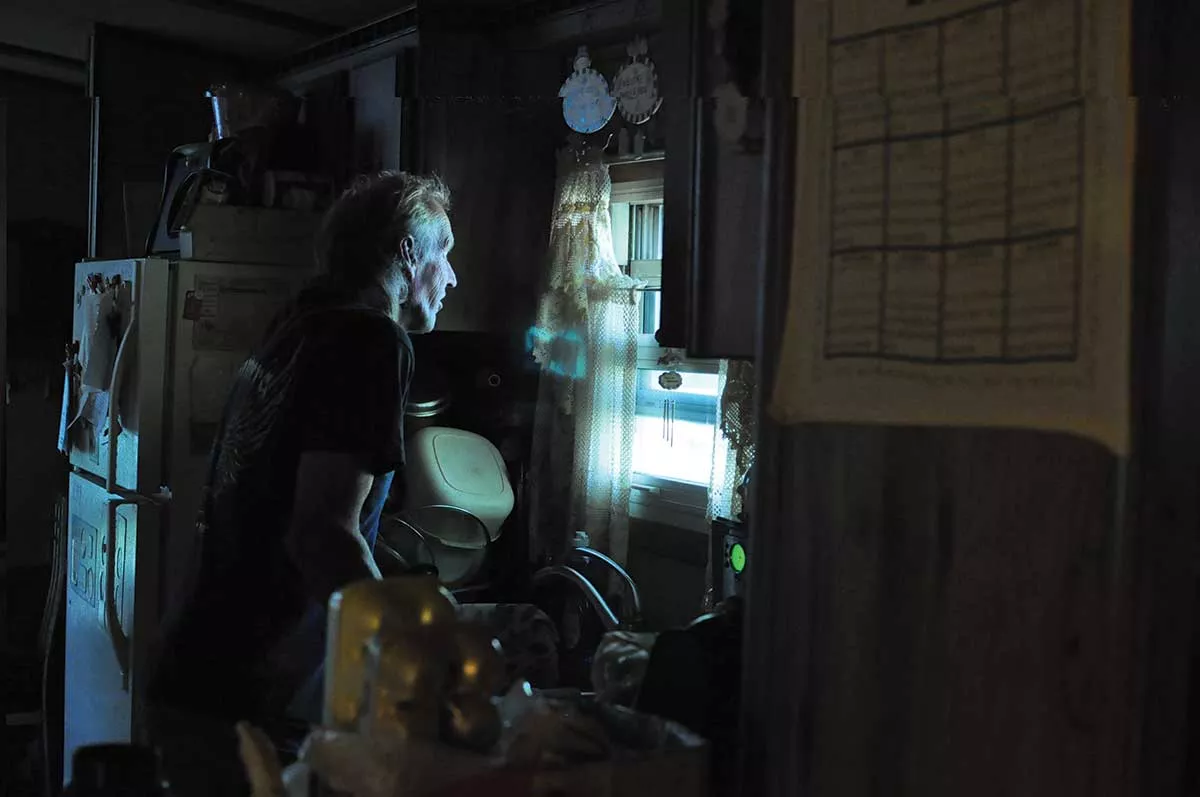 Brian Cohen
Fred Mcintyre at the window of his home in Connoquenessing Township. On a sunny spring day, Fred, his wife Janet, and the photographer had been sitting outside when the wind turned and came in from the direction of a well pad where some activity had been taking place; all three felt a burning sensation in their throats and around their eyes, and were forced to move indoors. May 17, 2012.
In her essay accompanying the photographs in the Marcellus Shale Documentary Project, Michelle Nijhuis tells the remarkable story of how natural gas drilling got its start. In 1821, William Hart, a gunsmith in Fredonia, New York, tried to capture the flammable vapors that rose from certain spots in the woods around Lake Erie. Hart, aided by neighbors, dug a 27-foot hole by pick and shovel, banging away at the dirt and rocks while the pit filled with gas. A single spark would have blown the entire dig to smithereens, but Hart and his associates emerged unscathed. When the hole was completed, Hart covered it with sheet metal, built a mile-long pipeline made of hollowed-out logs, and brought gas-powered light to Fredonia, impressing the visiting Marquis de Lafayette on his visit four years later.
Anti-fracking advocates would say not much has changed in 200 years. Hart's dangerous experiment in resource extraction is now being carried out throughout Pennsylvania by large gas companies rather than rogue wildcatters. Almost 9,000 wells have been drilled in the state since the gas boom began, and photographers Noah Addis, Nina Berman, Brian Cohen, Scott Goldsmith, Lynn Johnson, and Martha Rial spent 10 months in 2011 documenting the effect of natural gas drilling on the people and landscape of Pennsylvania.
An exhibit of images from the Marcellus Shale Documentary Project will be on view at the Center for Photography at Woodstock through August 18. Cpw.org; The-msdp.us.