In his life and art, Hendrik Dijk defies the current fashion for specialization. He is a painter, photographer, architectural and industrial designer, sculptor, teacher, contractor, and community leader. Last fall, he traveled to Virginia Tech to present a painting commissioned by the university to commemorate the 2007 shooting tragedy. It was an abstract work with a luminous blue background titled Threads of Remembrance. His exhibition this month at the Kingston Museum of Contemporary Arts (April 4 to April 30) couldn't be more different—photographs of World War II concrete bunkers in the Dutch countryside. This fall, Dijk will exhibit large-scale geometric paintings at R&F Handmade Paints in Kingston.
Born and raised in the Netherlands, Dijk moved to Kingston in 1986 and was one of the pioneers who sparked the renaissance of the Rondout district. His murals still adorn forlorn corners of the city, and the 1851 firehouse he and his wife bought and restored has become a beloved landmark.
Dijk is a co-founder and past president of the Arts Society of Kingston and founder of the Kingston Biennial Sculpture Exhibition. His geometric paintings are in collections around the world and have been exhibited at leading venues in the Mid-Hudson Valley, including the Kleinert/James and Carrie Haddad galleries and the Samuel Dorsky Museum at SUNY New Paltz. www.hendrikdijk.com.

HENDRIK DIJK ON HIS WORK

A Concrete Enigma
[Several years ago,] I passed by these bunkers when traveling near Utrecht. I asked a friend what they were, and he said, "I don't know, the Germans built them." I found out there are more than 200. They are only in a particular area of the Netherlands. It's called the New Dutch Waterline, an area with sluices and locks that could be flooded in three hours [as a defense]. These bunkers were built for the German soldiers [so that they could] flee aerial attacks.
What intrigues me is their decay. Nature has created patinas on these things. They are in the woods and in the fields among the cows; they have been incorporated in the farmyards because they are too expensive to remove. I want to inventory them and [ask people], What do you know about these places? For example, I would love to have a group picture of all the kids conceived inside of them.
A Peripatetic Beginning
When I was 15, I didn't know if I wanted to be a sailor or an artist. I became a sailor immediately after high school at age 16 and went into the merchant marine for a year. I learned very quickly I didn't want that to be my life; it was like a prison being on the big ship. I then attended the Gerrit Rietveld Academie [in Amsterdam], studying architecture and ceramics. It was very hard to get into the academy, which was founded by a member of a group that believed in the purity of art and included Mondrian. Then I traveled extensively, to Japan, Scotland, and South Korea, for half a year and did a lot of gouaches. I exhibited in Japan in 1975 and 1977. I came back to Holland and went into industrial design, making ceramics for a company that sold designs all over Europe.
On Photography
I started doing photography in 1980. It was basically satisfying to my eyes. As an artist your eyes are your life. [What I photograph] has to talk to me, it has to tell me it wants to exist. Photography was also really great because I didn't have to spend time in a studio—it was mobile. This summer I will have a display of my photographs in a very big Dutch furniture store in Amsterdam. The store is in a galleria mall that has Frank Gehry-type walls. It's the only furniture store in that mall and people come from all over Holland to shop there. I will be exhibiting three sizes of photos on panels arranged in a 15-by-3-foot grid.
A Fresh Approach to Design
My mind is always designing. The shed [I designed in my back yard] is in line with design-solutions stuff I've done in buildings. The thought was that the roofline does not need to be straight. I bought a big beam and cut out a curve. This is not complicated; it's a very simple carpenter's method that anybody can do.
[For buildings,] there needs to be a very good balance between openness in a space and simultaneously a feeling of protection. That's the task for space. The other one, for objects, is that it is different, interesting, functional, and so not boring. It's really playing.
Afternoon Painter/Evening Sculptor
I'm really behaving as if I don't have a worry in the world, and I can just do what I want. I've never ferociously marketed my work, which on one side I consider a weakness and probably a mistake. But I'd rather teach and share my knowledge with kids and have a chance to be taught by them, rather than get into a rut where I make $150,000 and have a show once a year and everything sells out and I'm not alive. I do identify with the Renaissance frame of mind. It's only in the 20th century where the demands of the market were that I paint like this and paint like that. What's wrong with being a painter in the afternoon and a sculptor in the evening? The only reason people became adverse to that was because of the demands of the marketplace. That philosophy is, luckily, being defeated.
Art for the People
Art changes people's energy. It slows you down like a massage; somebody tickles you. It wakes you up, just by forcing you to ask the question, What is that? I think it's a divine signal, because when people lose their creativity they are dead. Art is always a signal to people to really trust their own creative hearts.
People think that famous art and museums are the big idea. But they are just symbols. The essence of art is that it's being made and accessible to the common man, to people who have hardly any education but have this inextricable urge to express themselves. At heart I'm a blue-collar painter, because I really believe that art should hang in people's living rooms. That's the reason why I make smaller landscapes and do photography, [to make pieces that] are affordable.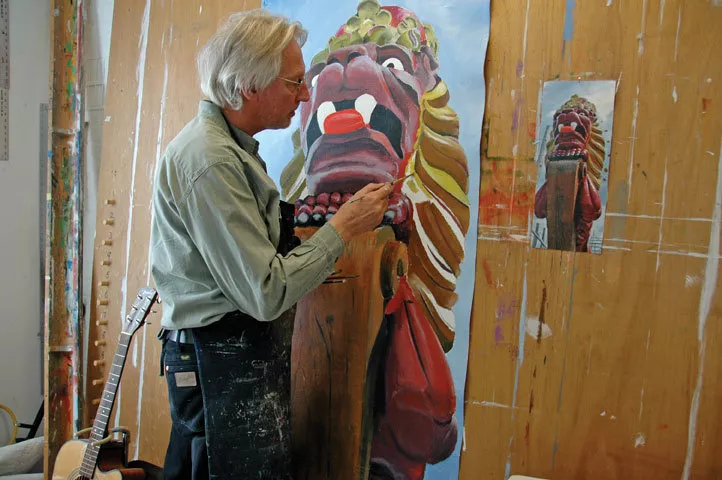 Hendrik Dijk paints Figure Head 1, which will be hung from lower Broadaway streetlights in June for the Quadricentennial celebrations.The banner shows the figurehead of the Zeven Provincieen, a replica of a 17th-century Dutch ship presently being built in Holland.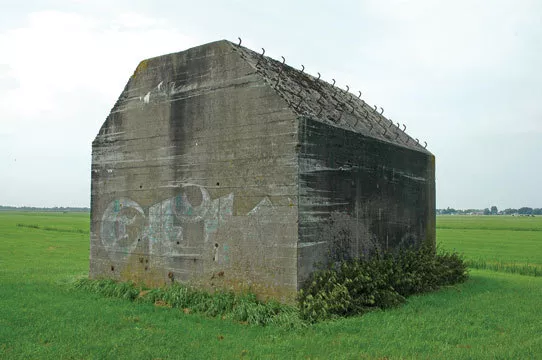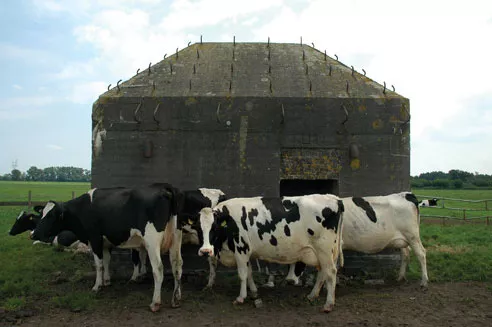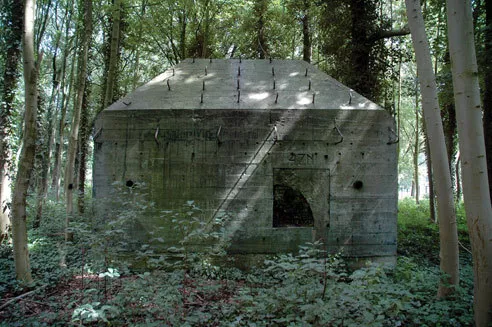 Rietveld 2, oil on canvas, 2008
Threads of Remembrance, oil on canvas, 2008