F-stop Fitzgerald has had a full career over the last 30 years in photojournalism, publishing, occasionally teaching, and even founding a gallery when he lived in San Francisco. He began his career there as a freelance photographer shooting music, art, and politics for various local publications. His images have appeared in over 100 periodicals, including
Rolling Stone, Village Voice, LA Weekly, Publisher's Weekly, GQ Japan, Variety, Darkroom, American Photographer, Spin
, and many others. He has lived in the Hudson Valley since 1988, and has recently entered local politics, running for Rosendale's Town Board in the current election.
An early chronicler of the punk scene in San Francisco, Fitzgerald has published six books about rock' n' roll culture, including contributing to X-Capees: A San Francisco Punk Photo Documentary. He returns to these roots this month, with an exhibition of photographs of recent performances at various venues in the Hudson Valley entitled "Rockers Shot Onstage!" at the Rosendale Cafe, through November 31. The opening reception—featuring a performance by son Weston's band, Preferably Tapioca—will be held on Sunday, November 4, from 4-7pm.

F-Stop Fitzgerald on his Work

The Rosendale Cafe show:
It's a body of new work, all digital, of local performers and performances. Everyone from an act like Big Sister, who's been around here a long time, to some national acts like Graham Parker and Little Sammy Davis, the Cowboy Junkies at Clearwater, or Burning Spear and Bo Diddley. It's a range of musicians, an interesting range from folk to rock to jazz. All local performances, all shot within the last year or two. We're lucky to have some really great venues here—Mark Morganstern does a fantastic job curating the musical program at the Rosendale Cafe, lots of historic bluesmen, and really talented newcomers as well. There are some other great places across the river, too.
I have a weird eye. I just can't do tabletop photography, or things that stand still. After 30 years of shooting, this summer I shot the first acceptable landscape I've ever taken in my life, in Oregon. I can't find images with stuff that's static. So rock'n'roll performance, dance, theater, those are the things I work well with.
With performances, I like unusual compositions. I like to work with a diagonal a lot, and with blurred motion and light. With the rock and roll stuff, it's got to be well-focused, but in terms of content, I've seen so many shots of somebody with a microphone in front of their face, it just makes my stomach turn. I can't deal with that at all. I like to try to get a smile, I like to get their eyes open, I like to try to find an unusual split second. Those are the things I'm looking for.
The Accidental Photographer

I first picked up a Polaroid camera as a Boy Scout, and just played with it then. Later on, I went to SUNY Geneseo. My senior year, I just needed a gut course that I could get an A in, to raise my average, so I took photography. Then, when I moved to San Francisco (where I went to go to grad school in psychology), I discovered that City College—tuition-free at the time—had a film and still photography course. It wasn't about art, it was really about technique, a two-year course. I did that as I was doing other jobs, just to learn the craft. It was no art school, but just about technique.
When I first moved back here [to NY], I applied to graduate school at Syracuse University. I went to the journalism school, and they said, "Your stuff is much too edgy, it's not journalism." Then I went to the fine art department, and they said, "Your stuff is much too photojournalistic, it's not fine art." Which in a way was a validation that I'd found some place in the middle for myself. When I do a magazine job, more often than not, I'll send in something that's blurry, has motion to it, depending on the objective, just to see if they'll go for it. I try to make it a little bit unusual. Sometimes they want the more straightforward images, so I'll shoot those too of course.

The Genesis of "f-Stop"
Back when I was taking that gut course at Geneseo, I was reading 20th-century American literature, so I invented it for myself—f-stop, F. Scott, why not? I did it as a joke, but when the punk scene came along, and people had names like Johnny Rotten or Sid Vicious, it just made perfect sense. Today, most people don't know my real first name, other than f-Stop. The town board campaign signs we have up now [listing him as "f-Stop Minissali"] are actually the first time I've intermixed them. The Board of Elections made me do it. They wouldn't take Fitzgerald, so I'll be listed as Richard "f-Stop" Minissali on the ballot.
The San Francisco Scene
I saw some tremendous music back in those days [mid '70s to late '80s]. I saw the Police when they were an opening act, I saw U2 in a place that wasn't much bigger than my studio here. I started shooting rock and roll just because I carried my camera with me in San Francisco, and I was always going to shows, to see the Grateful Dead in Golden Gate Park, that sort of thing. Then as the music changed [in the late '70s], I was just documenting it. That late '70s rock scene was fading, and there was this new thing, punk, coming in. I was there at the last concert by the Sex Pistols. I had an earache that night that really got painful. [Laughs.] It seemed appropriate at that show!
Then I collaborated on a couple of books, one called X-Capees, and a couple of my own books about the punk scene. I was kind of like the family photographer of the punk and New Wave scene in San Francisco. Saw some great music, shot a ton of stuff, and it's been fun to get back into that sort of thing [with the current Rosendale Cafe show].

Digital Conversion
I love the immediacy of digital [photography]. It's great, being able to send it off to a magazine that day is tremendous. I feel pretty good about handling the camera, but after spending about 30 years in the darkroom, I can make an 8-by-10 for reproduction in seconds, and now it takes me three hours in Photoshop. Now I have the new digital darkroom to work in—that's the challenge.
I'm done [with film]. I've sold my 35mm film cameras, with the exception of a few that are museum pieces; gave away all my film. Most of what I do is book and magazine work, and the occasional exhibition, so I really don't need film. My days as a silver engineer are over.
There's Always Room for Jello
One of the more memorable stories that happened was when I was covering the Bammies [Bay Area Music Awards] as the staff photographer for
Bay Area Music Magazine
. The Dead Kennedys were going to perform, and you can imagine, there was a lot of tension as far as what they were going to do. They showed up wearing white shirts and skinny black ties, looking like The Knack, and they asked me to sneak in some spray paint—they would've gotten busted for it if they tried to bring it in—and then they painted big dollar signs on their white shirts, with the tie going through it. It was great—they came onstage with these dollar signs on there, in this big music ceremony. It made quite a big scene.
I did a book on the Dead Kennedys but Jello and I didn't see eye to eye. I asked them for permission to do an authorized biography, and they said yes. But that meant to Jello that he wanted it to be his biography. And I said, "No, I'm not going to do that," so I deauthorized it, and I gave him a page at the end of the book to trash me. Which he did.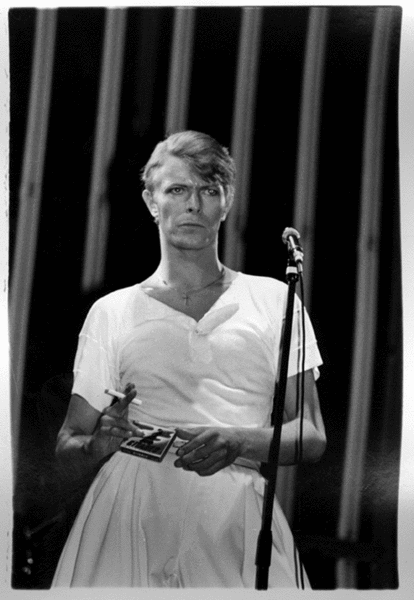 David Bowie at Oakland Coliseum, 1981.
Eddie Diehl playing at Backstage Studio in Kingston (detail), 2007
Margo Timmins of Cowboy Junkies at the Clearwater Festival, 2007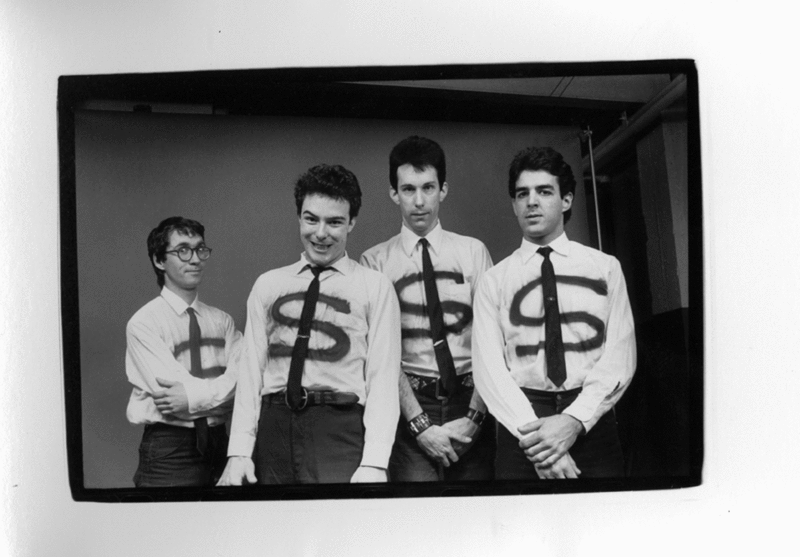 Dead Kennedys at Bay Area Music Awards, 1979
Versus, San Francisco's premier punk/fashionistas, 1979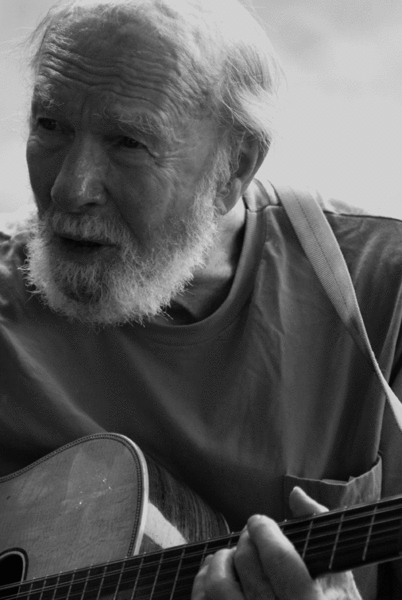 Pete Seeger at Clearwater Festival, 2007